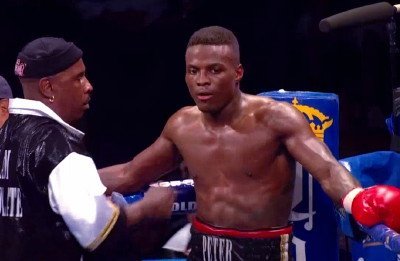 With nobody giving much love to WBO middleweight champion Peter Quillin lately, Golden Boy Promotions president Oscar De La Hoya took to twitter today to name drop WBO middleweight champion Gennady Golovkin's name in order to get Quillin some badly needed publicity.
De La Hoya said he'd like to see Quillin face Golovkin. The interesting part about that is Golovkin and his promoter have been after a fight against the 31-year-old Quillin for ages, but have had no such luck in getting him in the ring. So for De La Hoya to mention wanting to match Quillin against Golovkin today of all days, it suggests that he's trying to name drop in order to get fans interested in Quillin on a day that Golovkin is being celebrated following his 3rd round TKO win over Daniel Geale last Saturday night at Madison Square Garden in New York.
De La Hoya said on his twitter "Would love to see @KIDCHOCOLATE vs GGG, my Latino brother would do a number on the G man."
A fight between Quillin and Golovkin isn't a possibility without help from Showtime or HBO. Quillin fights on Showtime, while Golovkin fights on HBO. Quillin, the B-side, would have to be willing to fight on HBO in order for their fight to take place, because you're not going to get the more popular Golovkin moving over to Showtime to fight a guy like Quillin, who doesn't bring in huge ratings for Showtime. For Quillin to fight Golovkin on HBO, he'd likely have to get permission by Showtime before he could fight Golovkin on HBO.
Quillin is supposed to be fighting his mandatory challenger Matt Korobov soon, and that's a fight that he's going to need to get permission from the World Boxing Organization for him to bypass in order for him to fight Golovkin, if Showtime agrees to let him fight on HBO. The WBO would likely let Quillin bypass Korobov in order to fight Golovkin given that it's a unification fight. These things are possible if Quillin and Golden Boy Promotions are serious about wanting to take this fight.
If De La Hoya is serious about wanting to match Quillin against Golovkin, then he's going to need to realize that Quillin's chances of success will be minimal. He's not looked good even against the guys he's been fighting lately, and he's never been put in with anyone good. Quillin has been more or less fighting beatable guys his entire career and never was matched against the real top guys in the division for some reason.