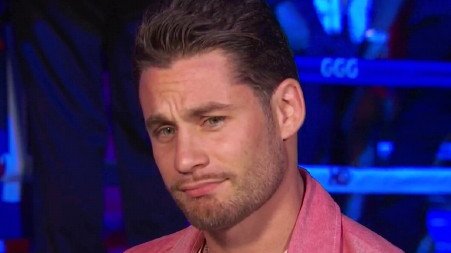 WBO welterweight champion Manny Pacquiao (56-5-2, 38 KOs) will be nearly 36-years-old when he steps inside the ring to face the younger more mobile Chris Algieri (20-0, 8 KOs) on November 22nd in Macao, China.
Algieri realizes that he doesn't have the power to be standing in the pocket to trade with the aging Pacquiao. But Algieri does feel that he can take advantage of Pacquiao's age and his problems moving around the ring in order to wear him down.
Pacquiao tends to cramp up a lot in the legs when he has to chase his opponents down, and Algieri wants to make sure that he puts him in that situation on November 22nd by forcing Pacquiao to move his short, 36-year-old legs.
"I'm going to be an entirely different fighter when I fight Pacquiao," said Algieri to Jim Lampley. "I'm different every fight and I train specifically for every opponent, so we're going to have a specific game plan for Manny."
The blue print is already out there in how to beat Pacquiao. The way to beat him is to circle the ring constantly, force him to follow, and nail him with shots while he's over-reaching. Pacquiao needs stationary fighters like Brandon Rios and Antonio Margarito to look good, and Algieiri isn't that type of a fighter.
Algieri is someone who is going to be trying to turn Pacquiao into another Ruslan Provodnikov by making him follow and eat jabs all night long.
"I'm going to use my conditioning to push the pace that he's not used to at this point in his career and look to dominate down the stretch," Algieri said.
Pushing the pace will definitely cause Pacquiao problems, because he's someone that needs to fight in a small square box in the ring at this point in his career. He's comfortable fighting in a small area, but when he's forced to use the entire ring, Pacquiao starts to look ragged and sloppy.
Algieri is going to have a considerable reach advantage over Pacquiao in the ring, and he's going to make sure that he's feeding him jabs constantly to the face for him to eat. Pacquiao will need to somehow get past Algieri's reach if he wants to get anything going in this fight, and I'm not sure it's going to be possible given that Algieri will be staying on the move constantly. We saw how Provodnikov was nearly helpless to try and land his shots against Algieri last June.
I suspect Pacquiao could find himself in a similar situation on November 22nd. The fight is in Macao, so I have a feeling that Algieri is going to need to really dominate Pacquiao in order to get a draw. He's kind of in the same situation Juan Manuel Marquez was in his first three fights with Pacquiao in losing controversial decisions one after another in fights that he appeared to win.