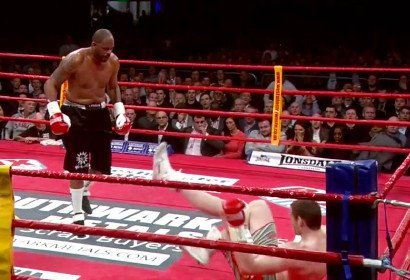 By Barry Freeman
So it's happened.
David Price (15-1-0), arguably the most exciting British Heavyweight prospect since Audley Harrison, has suffered his first defeat. Like so many British Heavyweights before him Price was saved by the referee from punishment at the hands of an American.
Tony Thompson's (36-3-0) crunching right hand put the first blemish on Price's ledger as referee Steve Gray had no choice but to stop the fight after Price bravely managed to beat the count but couldn't regain control of his legs to satisfy the referee that he wouldn't suffer further punishment. So is he to join the long list of British Heavyweights who couldn't quite make the step and at one point prevented us from having a Heavyweight Champion for nearly 100 years?
After a solid amateur career which saw Price clinch a Commonwealth Gold and an Olympic Bronze he was thrust into the limelight and rarely troubled as the Merseyside native amassed a 15 fight winning streak that included names such as Sam Sexton, Matt Skelton, John McDermott and Audley Harrison all of whom had, at one point or another, been some of the biggest names in British boxing.
Thompson was a two time Heavyweight title contender, on both occasions he was comfortably dealt with by Wladimir Klitchsko via an 11th round KO and a 6th round TKO. Rather ominously the man from Washington was predicting his own retirement should he suffer his fourth defeat at the hands of the 29 year old Price and for the best part of two rounds it looked as though this was the way the fight was to play out. Price dominated the pace and tempo as he was cheered on by a partisan crowd that was suddenly silenced as Thompson threw a counter right hook which caught Price on the side of the head. Price's 6'8 frame crashed to the canvas where it became clear that the younger man was struggling to beat the count as he rose to his feet his muscular legs seemed to be replaced by that of a baby giraffe. As quickly as that the dreaded L was placed on his record and now he has to suffer the almost unavoidable mockery thrown at him by so many internet forums and media outlets.
In reality while this does seem to put Price back a step or two it's far too early in his career to consign him to the also-rans. He got caught with a good shot and that was that. The knife wielding naysayers may have a point if he had been systematically beaten over a number of rounds but he wasn't. Of course it draws questions over his punch resistance as the shot wasn't exactly the reincarnation of Marciano's lethal "Suzy-Q"; however a fighter that punches like Price and is also vulnerable will guarantee exciting matches in the future even if they are not world level. Let's not forget Thompson is arguably the top American Heavyweight who if not for a certain Ukrainian duo could well be a Heavyweight Champion.  Maybe it was too much too soon.
Price now finds himself in the unenviable position of the too much risk for too little reward club. The hotly anticipated contest with Tyson Fury now looks further away than ever. Fury, who lost to Price in the amateurs, seems to have his eyes set firmly on the States after recently citing that he receives negative press attention in his homeland due to his gypsy heritage and he has already pulled out of two purse bids despite hurling homophobic insults at Price and fellow scouser Tony Bellew.
A perfect return fight could be Dereck Chisora who whilst performing bravely and stubbornly in a losing effort against Vitali Klitschko was brutally knocked out in 5 by David Haye in his last outing. The unpredictable Chisora would provide a stern test but isn't a concussive puncher and if Price matches Haye goes one better than Vitali and Fury, who outpointed Chisora in 2011, then he is right back in the mix.
You can guarantee this is not going to be the last David Price fight we are talking about: Win or Lose.