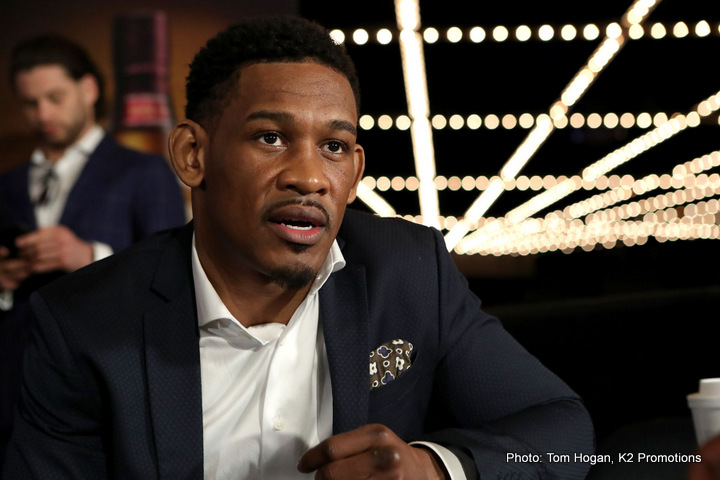 There is no doubt Danny Jacobs, with his closer than close decision loss to feared middleweight king Gennady Golovkin, took a good amount of the fear factor from GGG. So much so that a number of fans think Canelo Alvarez will beat Golovkin in their September showdown.
Once a fight most if not all felt GGG would win, Golovkin-Canelo is now a 50-50 fight in the opinion of nearly everyone; with perhaps a slight edge perceived for the Mexican superstar. And a great deal of the reason for this swing in opinion is the Jacobs-GGG fight. Jacobs, who along with his manager Keith Connolly, in speaking with RingTV.com, said he feels GGG was beaten back in March and that fans agree.
Jacobs says he has found it hard, very hard, to get himself a fight as a result of his close shave with Triple-G. Jacobs also says he wants a rematch, or a fight with Canelo should the flame-haired warrior defeat the defending middleweight ruler next month.
"[It's] been hard to find an opponent …….because everyone knows we beat GGG," Connolly said. "We want the Golovkin rematch but Danny's name hasn't come out of his mouth since the fight."
Jacobs agrees he is being avoided:
"I absolutely feel like I'm being avoided," the New Yorker said to RingTV.com. "After my last performance, the other top middleweights now know what I bring to the table and the fact that I'm verbally calling out these top guys and nobody seems interested shows that I'm the most avoided guy in the division and a lot of people think I beat GGG."
That is debatable, even if Jacobs has his share of supporters. The knockdown GGG scored clinched the fight for the defending champ in the opinion of many. But a return fight would be both intriguing and something that Jacobs deserves. But if Canelo does score the big win on September 16, Jacobs says he'd fight him instead.
"I'm willing to be patient while GGG and Canelo settle their business," he said. "and I'll keep winning and they'll be forced to fight me because of public demand."
But who will Jacobs keep winning against? If the top middleweights are indeed avoiding him, Jacobs can only fight who is available, even lower-ranked guys, and keep busy, keep sharp and hope he is right when he says public demand will call for his next shot at the crown.
GGG-Jacobs II would be another hard fight for both men, almost certainly, while Jacobs-Canelo would also likely be a tough night for both. Jacobs showed his stuff five months ago, but in an ironic twist, he may have taken up GGG's position as the most avoided middleweight out there. Ironic indeed.