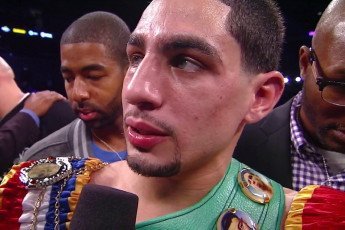 WBA/WBC light welterweight champion Danny Garcia (29-0, 17 KOs) and Viktor Postol have been ordered to start negotiations by the World Boxing Council. There's a purse bid that will take place next month on 9/12 if the two fighters haven't negotiated a fight by then.
This move by the WBC will very likely cause Garcia bypass the Postol fight and instead take a unification match against IBF light welterweight champion Lamont Peterson. The WBC will likely allow Garcia to steer around Postol if he takes a unification match.
If Garcia were to beat Peterson, he'd have 3 of the 4 140 pound titles. He could very well vacate the WBC title rather than take on the dangerous Postol, which is very likely to happen.
Postol, ranked #1 by WBC, presents a credible threat to Garcia if he decides to take the fight. Postol is a big upgrade from Garcia's last opponent Rod Salka, and he's an arguably tougher opponent than many of Garcia's previous fights against the likes of Erik Morales, Zab Judah, Lucas Matthysse and Mauricio Herrera. What makes Postol a tough style match-up for Garcia is a high 5'11" height and his high work rate.
Postol is capable of throwing 100 punches per round for 12 rounds without any problems, and he's not someone that Garcia can control with a jab or by holding like Garcia did in his win over Matthysse last year. Garcia would need to out-punch Postol to get a win, and it could turn out to be a grueling affair for Garcia if he takes the fight.
Postol would then fight Matthysse if Garcia and his dad/trainer Angel Garcia feel like this is too tough of a fight to take. Garcia has sounded ambivalent recently about whether he should hold onto his IBF and WBC 140 pound titles. He's interested in moving up to 147 and he feels he matches up with the top guys in that weight class.
I think it's safe to say that Garcia won't bother taking the Postol fight. He'll either vacate or take the unification fight against IBF champ Lamont Peterson. If Garcia beats Peterson, then he'll vacate the WBC belt or move up in weight to fight at 147. Postol is just too tough and too dangerous for Garcia to risk his future fighting him.