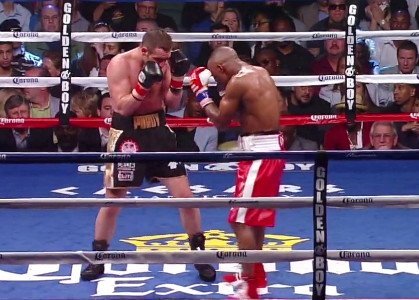 Yesterday Team Khan came out with a statement saying that the rumors about Amir Khan (28-3, 19 KO's) facing Floyd Mayweather Jr. in May were false and that Khan would be fighting IBF welterweight champion Devon Alexander (25-1, 14 KO's) on December 7th. Alexander's trainer Kevin Cunningham doesn't believe the statement from Team Khan, because the Khan-Alexander fight still hasn't even been negotiated and there's only 2 months to go before the fight.
Cunningham is saying that if the Khan-Alexander fight isn't negotiated by October 7th, Alexander won't take the fight because they want at least 8 weeks to train to get ready. They don't want to be told at the last minute the fight is happening and end up not ready.
Khan has been training in the Bay Arena with his trainer Virgil Hunter, but he has an advantage because he knows what he plans on doing. Alexander and Cunningham don't know whether the rumors or true that Khan will be fighting Mayweather or if he's truly interested in facing them.
Cunningham told Dan Rafael of ESPN "I've been told by my people the Khan situation probably not happening, so I don't know what they're [Team Khan] talking about. If we don't know eight weeks to prepare, we're not taking the fight December 7…I think the statement is a bunch of bull****."
Golden Boy Promotions CEO Richard Schaefer is still saying that Khan intends on fighting Alexander on December 7th. If that's the case then why hasn't the fight been negotiated? It's Khan that wants to fight for the world title against Alexander, so why hasn't Golden Boy negotiated the fight yet?
It looks very fishy, as if Khan and Golden Boy are waiting around to find out what Mayweather Jr. is going to do. Who knows? It's possible that they're negotiating with Mayweather right now and leaving Alexander as a fallback plan if the Mayweather fight doesn't happen. But that's not fair to Alexander, because he's hanging there without knowledge of what's going to happen with the Khan fight. If Golden Boy and Khan make Alexander weight for another month before they decide to take the fight in December, then it's obviously not going to happen.
Alexander should move on and push Golden Boy to put together the Zab Judah fight on December 7th so that Alexander can at least still fight on the December 7th date.
It's definitely a good move by Alexander and Cunningham to draw a line in the sand by saying that they need to know by this week if the Khan fight will happen, because they could have him waiting until the minute in theory before they finally let him know whether they're going to take the fight or not. That's so wrong. Alexander is the champion, and yet he's waiting around like he's the challenger. He should be the one calling the shots.