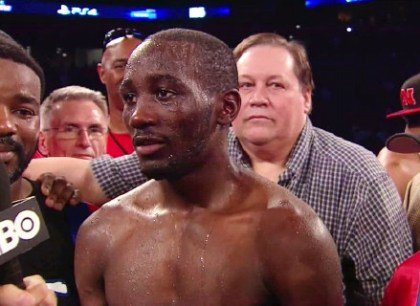 Unfortunately, Terrence Crawford's 2015 is not going the way Top Rank wanted it to and by year's end it will be considered somewhat of a loss. Sure, Crawford's bank account gets bigger and there's nothing wrong with that but his 2014 fighter of the year momentum has all but faded. In the spring, Bob Arum spoke of names such as Lucas Matthysse and Manny Pacquiao as possible opponents in Crawford's near future.
Matthysse earned a hard-battled victory over Ruslan Provodnikov and looked poised to be a perfect match for Crawford at junior welterweight. It was time for a big name after Crawford has successfully dipped his toes in the 140 waters by dispatching Thomas Dulorme. Matthysse would go on to fight and lose to Viktor Postol on October 3rd. HBO's budget issues caused a long break in mid-to-late summer the lasted well into fall. Those same issues were the reason why Golovkin vs. Lemieux was on HBO PPV and why Crawford couldn't fit in a third fight this year. 
In walks Dierry Jean, a solid one-loss competitor but clearly not a top name at 140 pounds. His only loss came to the well respected Lamont Peterson in a fight Jean was fairly non-competitive in. The outcome for Saturday is all but decided and unless the unexpected happens, Crawford will have gone 2-0 in 2015 but will come out on the other side of it feeling like he's stuck in neutral.
Protecting Crawford while Pacquiao's injured shoulder heals may make sense in the long run but it sure is a buzzkill for Crawford and his not-so-deep resume. Let's hope Terrance won't stay stuck in marinating mode for too much longer. Bob Arum's plan of passing the torch from Pacman to Crawford does seem to be in place based off recent reports. Then again, other reports say that Matthysse is also being looked at maybe even harder now since his TKO loss. I wouldn't doubt if we see Crawford on a Pacquiao undercard to build the PPV for late next year. Until than Terrence must handle his business in the ring this Saturday night, live on HBO in front of his hometown fans of Omaha, Nebraska. 
As far as his bout with Dierry Jean from an X's and O's standpoint honestly there's not a whole lot to breakdown. That's not to say Jean will be a pushover because his style should mesh well with Crawford's. With Pacquiao looking on and a home crowd to please, I'm sure Terrence will give us some drama. After all his style is very aggressive and even up on the scorecards in recent fights he's been hurt. In the end though, after a few exciting moments there's no doubt in my mind that Crawford will get his hand raised. I could see anything from a clear decision on the cards to a late stoppage in spectacular fashion.
 
My Official Prediction is Terrence Crawford by Unanimous Decision or Late KO.
Written by Chris Carlson Owner and Host of Rope A Dope Radio blogtalkradio.com/ropeadoperadio 
Follow on Twitter @RopeADopeRadio