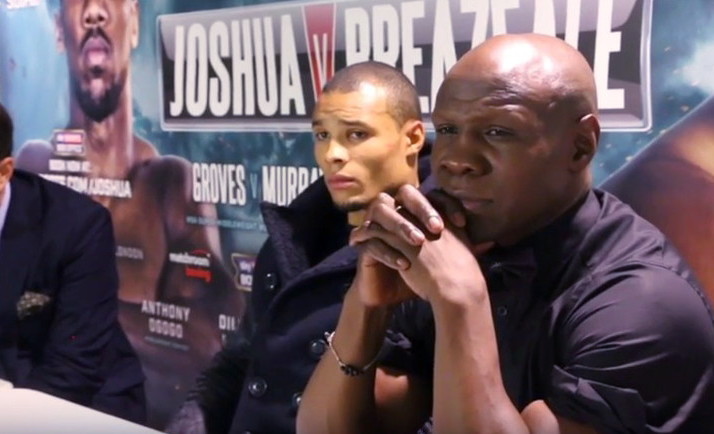 There is little argument that Chris Eubank Jr has the potential to be a world level fighter. There is however, countless column inches about the nature of the involvement of his father and the effect it will have on his career.
The question is this: Are Chris Eubank's actions a carefully considered ploy to draw attention and pressure away from his son, or are they the actions of a man hungry for the limelight with a desperate need to rekindle public interest in himself?
Many will tell you that Snr is living vicariously through his son in order to glean a little spotlight for himself. What possible benefit is there for the fighter when his manager is parading around at weigh in's and dancing on the stage, or, standing centre ring between rounds and offering nothing more constructive than a pose and a stare?
Why do we so rarely see Jnr in front of the camera, facing questions or engaging with an audience? Is this a plan to create distance and a level of mystique around him, to leave the boxing audience wanting more? Or a perhaps, more simply, Snr would rather the attention and glare of the cameras be focused squarely on him?
The other side of the argument can be made, for example; it is common place for football managers to field questions and do interviews in order to take the pressure off of a team or individual. By putting themselves up for criticism they divert and control the negativity, allowing the athlete to perform to the best of their abilities. Is it inconceivable that this level of consideration and planning has gone into Team Eubank's planning?
Perhaps by shielding Jnr from these external pressures they are allowing him to develop his considerable skill set in private and evolve into the complete fighter he undoubtably has the potential to become. This would be a luxury that is unavailable to fighters like Anthony Joshua because of their constant media presence and the level of interaction and exposure they receive.
Eubank Snr has faced questions on this topic many times, his argument always centres around him being best placed to guide his son. That it is impossible for anyone else to understand the business of boxing and the "warrior code" better than he does due to his in right exploits. Whilst he had a colossal in ring career – confusing the requirements of a fighter and a manager is a novice mistake. In the press conference for his sons fight against Tom Doran he belittled the credentials of well respected coach Dave Coldwell because of his limited fighting career. Perhaps someone should remind Eubank Snr that when Joe Calzaghe beat him for the vacant WBO Super Middleweight strap he was managed and trained by his father, Enzo, who had never had a sanctioned fight, amateur or pro in his life. Calzaghe went on to retire as an undefeated two weight world champion – impressive stuff for a fighter with a coach who couldn't possibly understand the nuances of the sport! Simply put, you do not need to be a great fighter to be a great coach. There is no correlation between the two, and whilst being similar in many ways, they are polar opposite in others.
How will Eubank Jnr's career be affected by the constant circus following him that is his father? When Adam Booth entered the scene it seemed as though common sense had prevailed and the astute and well regarded coach looked like an excellent match for the tenacious and determined prospect. That relationship has ended under a cloud of mystery and Jnr appears to be back where he started – squarely in his fathers shadow. How can he possibly maximise his potential with the current team surrounding him?
The PW view is this:
It's all about the money and the show !
Snr has been quoted more than once referring to Jnr as a product. It seems that his primary objective is to put money in front of titles, legacy and the development of his sons career. Yes, he is a prizefighter, but those who go on to earn the real money in this sport do so from a solid basis and experience. The rush for PPV on ITV in an event that cannot be called a fight, the breakdown in discussions over the GGG fight, and the inability to negotiate successfully with any top tier British promoter all evidence the failings in Team Eubank.
The desperation to 'stick it to the man' and get one over on the establishment seems more of a vanity project for Snr than a considered approach that is best for Jnr's career.
Let's hope that regardless of his fathers best efforts, Jnr is able to make the most of his undeniable potential. If he does, there is a chance that Britain will have another top tier fighter very soon.
Tweet: @pugilisticwords
Read more: pugilisticwordsmith.wordpress.com