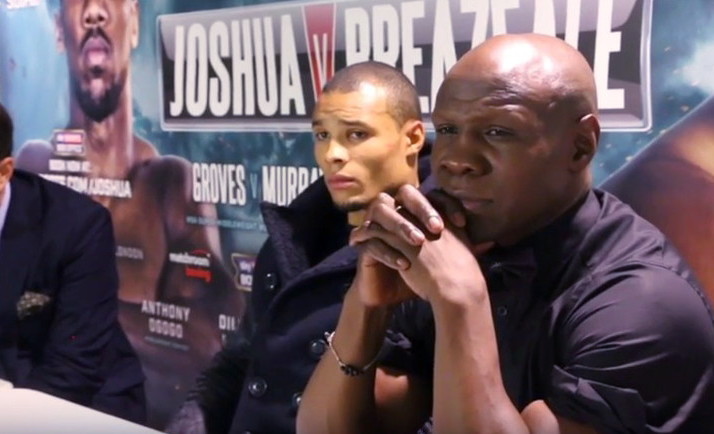 We've seen some shocking, unlikely match-ups get made just recently in boxing; where two men from different weight classes, sometimes with more than one weight class between them, got it on in a catch-weight bout. Recently, no-one saw Canelo Alvarez-Amir Khan coming, or Gennady Golovkin-Kell Brook; while going back a few years, the Manny Pacquiao-Oscar De La Hoya fight was widely ridiculed when it was first announced.
Might a Tony Bellew-Chris Eubank Junior clash be the next catch-weight contest that will get shot down initially but then just might catch on with the fans? Due to a highly entertaining and amusing twitter battle between the two British stars, Eubank – the former British middleweight champ who recently moved up to 168 pounds and won the lightly regarded IBO belt at the weight -called Bellew out.
"Me & you at a catch-weight then my pen's ready," Eubank Jr tweeted in response to Bellew basically calling him a fake world champion. ("I've seen better belts at Matalan," Bellew said in reference to Eubank's IBO strap)
Of course there is a long way to go before this fight actually happens – and it's not a match-up everyone would agree with or support – but it is not beyond the realms of possibility. If Bellew agreed to step back down to cruiserweight, 200 pounds, Eubank, a huge middleweight and also a big super-middleweight, could possibly bulk up to around 185 or 190. At 6'3," Bellew would enjoy a big height advantage over the 5'11" Eubank, but there have been bigger height differences in match-ups of the past.
Bellew, who has plenty of options, some of them at heavyweight, might look at the potential money that would be on offer for a Eubank fight. If sold right, this one could prove to be a big British Box Office event; on which TV channel, who knows?
One thing is sure though: Eubank – who has called out everyone from GGG to James DeGale, from Andre Ward to Billy Joe Saunders (in what would be a rematch of the fight Eubank lost; arguably the only true world class fight he has had) and now Bellew – needs to back up his talk and actually get in the ring with one if these names. It's way past time, isn't it?
One more interesting point: Chris Eubank Senior actually stepped up to fight at cruiserweight during his own career. Might Junior do the same?