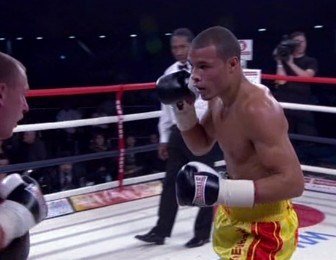 British middleweight contender Chris Eubank Jr (19-1, 14ko) and Ireland's Gary 'Spike' O'Sullivan (21-1, 14ko)have re-ignited their public feud through a series of social media exchanges that began when Eubank posted a sarcastic, veiled and somewhat patronising message aimed at O'Sullivan's team mate Frank Buglioni, who lost his WBA (reg) 168 lb title challenge to Fedor Chudinov in London last night.
Yesterday afternoon the Brighton fighter, who this week signed with British promotional heavyweights Matchroom Sport, tweeted;
"@FrankBuglioni I doubt you will win tonight but if you do I will come up to super middle and fight you for the world title so try your best."
This prompted a series of angry outburst from the Irishman, who trains alongside Buglioni at the Celtic Warriors gymnasium in Dublin, and who has been trying in vain to coax Eubank into the ring for some time now.
"Shut the f*** up you mouth piece or I'll come down to Brighton and punch you around the place #Prick," as well as "You have unfinished business at middleweight you coward. Grow some balls and face me, then move up. #coward."
Eubank, who chose not to reply, will make his Matchroom debut on October 24th's Kell Brook/Diego Chaves card against what Eddie Hearn is promising what will be a "top 15 opponent," although it remains to be seen exactly who that will be given the short notice. That card [disappointingly] remains a PPV despite the loss of the Klitschko/Fury title fight from Germany that was set to be broadcast as a televised split.
O'Sullivan, who has been under the wing of Dropkick Murphy's bassist Ken Casey's promotional group, boxes again on American soil on October 10th after three successful outings already this year, this time against Colombia's (31-4, 22ko) Fransisco Cordero on a PBC on NBC card from Lowell, Massachusetts.
O'Sullivan was also keen to point out a tweet from one of his followers that suggested Eubank needs to fight a "real boxer like Spike." – It had been favourited by the WBA, with whom Jr holds a lightly regarded interim version of their world middleweight title.
"What do you say about this you prick," he wrote. "Even the WBA say you should fight me. #bottlebank."
Twitter @Undilutedpoison