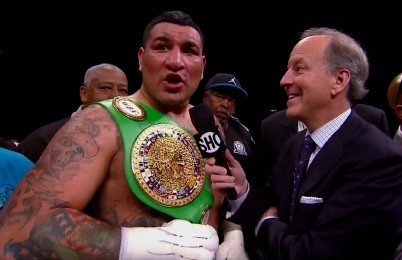 You've got to hand it to former football player Seth Mitchell. The once-beaten 31-year-old had limited amateur experience and "Mayhem," as the Brandywine slugger is known, has not found the transition from the field to the ring to be a natural one. But whatever shortcomings Mitchell has as a fighter – and his critics maintain they are plenty – the 26-1-1(19) contender makes up for them, or almost makes up for them, with sheer heart.
Mitchell is not blessed with a good chin, and he appears lost and unsure what to do when hurt (see his stoppage loss to Johnathon Banks and the early going of the return), but he is making the most of his boxing career. By even taking the revenge win over Banks – a fight that resulted in Banks seeming totally disinterested in capitalising on the early, near fight-ending success he had – Mitchell showed he is game, and his next fight, an almost-made match-up with the vastly experienced Chris Arreola, further proves Mitchell is willing to take risks. But is a fight with Arreola, 35-3(30) too much of a risk for Mitchell?
32-year-old Arreola lost his last fight, on points to the dangerous Bermane Stiverne, but "The Nightmare" remains a hungry, dangerous fighter himself. Possessing hammer fists, decent speed, a good killer instinct and a good engine, Arreola seems, in my opinion anyway, to have way too much for Mitchell. Certainly Arreola will know his top-level career is over should he fail to run over Mitchell and if he shows more ambition than the disappointing Banks did in June (he could hardly show any less ambition!), there is a good chance the Mexican/American will indeed leave "Mayhem" looking like a road accident victim.
Again, Mitchell and his team deserve a ton of credit for taking this fight (set for September 6th in Indo, CA), but even if Arreola has peaked and is on an ever so slight decline (the three losses he has suffered are no proof of this, and maybe a more "desperate" Arreola will fight with even more fire), he is still by far and away the best, the most heavy-handed and the nastiest fighter Mitchell has thus far been in with.
I can see Mitchell trying to box and feel his way in, but Arreola will have other ideas. Look for Arreola to hurt his man early and then jump all over him, feeling Mitchell's vulnerabilities to a solid punch will prove his undoing once he lets his two-fisted attack fly with venom. Mitchell, as he did in both fights with Banks, will try his best to hold on/fight back/survive, and massive props must go out to him if he can do so against Arreola. But I don't think Arreola will be denied once he has his man hurt – and he WILL hurt Mitchell at some point; my guess is early on.
This fight really does have the look of a genuine nightmare for Mitchell. Maybe even a career ending one.
Prediction: Arreola by KO or TKO inside three-rounds.