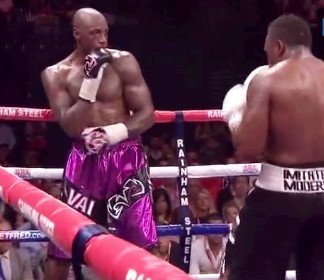 Earlier tonight, British heavyweight Dereck Chisora (17-4, 11 KO's) got a surprise stoppage over American Malik Scott (35-1-1, 12 KO's) in London, England. Chisora stopped Scott in the 6th round, and there's still questions remaining whether Scott beat the count.
Replays show that Scott was on his feet at the count of 9, but the referee waived it off anyway. Chisora said after the fight that he wants to go to Germany and fight WBC heavyweight champion Vitali Klitschko again.
Chisora said this in the post-fight interview with BoxNation: "I want to fight the Klitschkos. I want to go back to Germany. Me and the older brother [Vitali Klitschko] have unfinished business."
Vitali beat Chisora by a 12 round unanimous decision last year in February in a fight where Vitali injured his left shoulder in the 2nd round and had to fight with just his right hand for the remainder of the fight.
This made the fight closer than it likely would have been, although it wasn't close as far as the judges' scorecards. Vitali won by the scores 118-110, 118-110 and 119-111.
It looks Chisora knows better than to try and fight Wladimir, because Chisora spit water in his face on the night of his fight with Vitali. Wladimir likely won't agree to fight Chisora as an optional opponent. Chisora can certainly ask for the fight but Wladimir would almost surely ignore him and choose to fight other guys.
Vitali may not be fighting too much longer, and it's doubtful that he'll use up one of his remaining fights in facing Chisora in a rematch. There's not much to gain for Vitali in fighting him again, because if he was able to beat Chisora with one hand back in 2012, then it should be an easy task fighting him with two hands.
Chisora's promoter Frank Warren figures that he'll get elevated to the top 15 with this victory over Scott, and he plans on putting him back in the ring on September 21st.