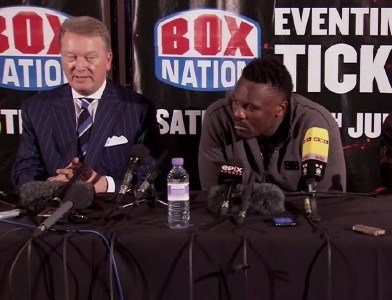 When British heavyweight titans Dereck Chisora and Tyson Fury clash this summer in a blockbuster rematch it could be an eliminator for the WBO World title promoter Frank Warren said today.
The public will get to see both big men in action on Saturday 15th February when they both feature at the Copper Box Arena, Chisora headlines with a WBO and WBA International title defence against tough American Kevin Johnson – who replaces injured Andriy Rudenko – while Fury is chief support in a ten-rounder against experienced Argentine Gonzalo Omar Basile, live and exclusive on BoxNation (Sky Ch. 437/Virgin Ch. 546).
Chisora has a score to settle with Fury who beat him back in July 2011 taking the Londoner's British and Commonwealth belts plus his unbeaten record.
Since then both men have gone on separate paths.
Chisora turned his career around after losses to Vitali Klitschko and David Haye, to rebound last year with four back-to-back stoppages to capture the European and WBO and WBA International titles and is now ranked inside the top ten of three major governing bodies.
Fury is still unbeaten and out of the six fights since Chisora, he's stopped five early with Johnson the only man taking Fury the distance. Last time out he flattened Steve Cunningham in the seventh round in New York after he was floored in the second round.
Warren said, "I'm delighted that Dereck Chisora and Tyson Fury, the two leading heavyweights in Europe behind unified world champion Wladmir Klitschko, will both feature on the big Copper Box Arena show on Saturday 15th February,"
"Dereck faces the well respected American Johnson who Tyson beat on points just over a year ago. He's got a win over the current WBO number one Alex Leapai, plus he took Vitali Klitschko the distance in their world title fight. It's unfortunate that Rudenko pulled out injured, it's not ideal, but things happen and Dereck's a pro, but he knows he can't afford to slip up,"
"I'm looking forward to Tyson making his debut under my promotion, in association with Mick Hennessy, and he will face the experienced Argentinian Gonzalo Omar Basile. Through no fault of his own Tyson only had one fight last year – an up-and-down thriller against Steve Cunningham in his American debut – when he trained hard for two fights against David Haye who then pulled out injured out of both fights,"
"The name of the game is for Dereck and Tyson to look good and come through winners at the Copper Box Arena and then in the summer I'll look to get an all-British final eliminator sanctioned by the WBO for the world title in a big grudge match with the winner going on to challenge for the world title,"
"I'm very excited to be working with Tyson, Peter and Mick and making the fights that the fans want to see."
Chisora said, "Johnson comes in with a great record and is name that fans know. This is by no means an easy fight, he's taken Tyson and Vitali the distance and he stopped Leapai. I'm excited and looking forward to it. I have to beat Johnson and then Tyson is waiting for me in a world title eliminator which is a great incentive to really do a demolition job on Johnson."
Fury, who slammed David Haye for pulling out of two fights against him, said, "The heavyweight division has been wide open for a long time but not many people have been there to go and smash the titles off the Klitschkos. Wladimir promised to fight the winner out of me and Chisora in the first fight and I never got the fight against him. Good riddance to Vitali, Grandpa robot, he wouldn't fight any real opposition and he retired because he knew I was coming for him. I just can't wait to get the rematch in the summer against Chisora and then get to take Wladimir's head off. I'm glad that me and Chisora will be a final eliminator, Wladimir can either vacate the WBO title or fight me. I see a 100 percent improvement in Chisora, he's a lot fitter and stronger, he's better conditioned and a real athlete now. I'm focused on beating Basile first then it's Chisora. The first fight was a good one, but I hope that this fight is one of the best ever all-British heavyweight fights."
An action packed card at the Copper Box Arena features super-middleweight star Frank Buglioni defend his WBO European title against Gaetano Nespro, plus Bradley Skeete in a showdown against former world champion Vivian Harris for the Vacant WBA Intercontinental Welterweight title. An all star line up features former amateur star and unbeaten pro Thomas Stalker, Tyson Fury's cousin and undefeated heavyweight sensation Hughie Fury, plus top talents Lewis Pettitt, Georgie Kean, Billy Morgan and Steve Collins Jnr.
Tickets for Rock The Box III, priced at £40, £50, £70 and £120, are available from Eventim on 0844 249 1000 or online at www.eventim.co.uk
Watch live and exclusive on BoxNation (Sky Ch. 437/Virgin Ch. 546). Join at www.boxnation.com