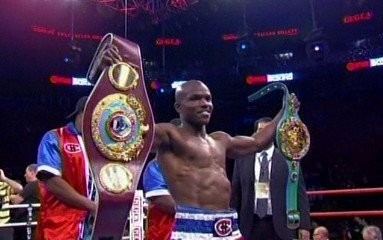 Rematches can be momentous or insignificant. The Zale vs Graziano II, Raging Bull vs Sugar Ray (all), or on the other hand the Brown Bomber vs. Conn II, or Marciano vs Jersey Joe II. You just never know. When it comes to Pacquiao vs Bradley II, it would seem fans will be treated to an exciting bout. Bradley is young, and Pacquiao recently demonstrated he can still box pretty well, and both have desire and determination to reach new heights, so it should be a good one.
Andre Ward, who is friends with Timothy "Desert Storm" Bradley offered his opinion that Bradley will win because he wants it more. The only thing wrong with that is Andre doesn't know how badly Manny "Pacman" Pacquiao wants it. He has no way of knowing. However, Andre does know what desire and self-confidence can do for a fighter. He has repeatedly demonstrated he has the mental toughness to go along with physical ability. Apparently, he sees some of that in his friend, and why not? Timothy has overcome all of the obstacles places in his path, including being decked a few times. He has demonstrated what Jack Dempsey meant when he said, "Champion get up when they can't!"
Bradley has voiced his opinion about the first fight. He believes he deserved the decision, even if most don't. He also believes he was handicapped for much of the fight I with an injury. Consequently, it follows that he feels he should perform even better in fight II than fight I. Since then he has been seriously concussed, recovered, and then went on to beat Pacquiao's conqueror. Not bad! Seems as though he's not only willing, but ready for fight II. He describes the time following his win in fight I as deplorable. Apparently, moronic fans leveled some nasty insults his way. Consequently, he feels he has something to prove. He wants to stick it to these imbeciles.
Pacquiao also makes a good argument about his readiness for fight II. For one thing, he (along with many others) feels he got screwed on fight I. He truly believes there should have been no doubt in the judges' minds who won the fight. He and his team poo poo away Bradley's injury excuse as a poor attempt to mitigate the misdeed perpetrated by the judges. Manny is too polite to call Bradley any names, and he said he respected the judges. But, deep in his gut, we know he would like to wring their necks. Instead, he probably said a prayer for them, which is what all of us are supposed to do when faced with similar situations. Amen. But, Pacquiao got kayo'd in IV with Marquez. What kind of negative impression does something like that leave on a fighter's mind? Pacquiao shrugs it off. In fact, he did so right after the fight. He stuck around long enough to be interviewed and to congratulate Juan Marquez for his victory. Manny firmly believed it was just one of those things. He got careless and paid for it. He further believes he was winning the fight and had Marquez in serious trouble before "the punch" landed. Manny has demonstrated over and over again that he too believes in himself and his abilities. He hasn't ever shown any kink in his armor, even when it comes to JMM. He'd fight V with JMM in a heartbeat. Just as Bradley had to take time to heal, Manny rested long enough to remove any doubts about there being a residual effect of fight IV with JMM. He feels he proved there isn't with his one-sided victory over tough hard punching Brandon Rios. Now he feels he can set things right.
One key factor that holds some importance is Bradley hasn't tasted defeat. He has got up from knockdowns. He has fought on even when his brain has been rattled. He might have got a break or two here and there, but the point is he's always come out on top. That's not a bad thing to have on your side of the ledger. He's been the distance with Pacman, so he knows he can do that. In his mind, he probably feels he only has to tweak things a bit here and there, and he can achieve another victory. He's not worried about scoring a kayo.
Somehow, I don't think that's what's in Pacquiao's mind. It's more likely the Pacman would like to knock Bradley's head off and remove any doubt whatsoever about what occurred with the decision in fight I. You just can't depend on judges, though, no matter how hard you pray. That's not to say Manny prays for victory, because we know he doesn't. No, this is a less spiritual wish or strong desire to turn the Desert Storm into a mere pleasant breeze, barely perceptible. How does Manny plan on doing that. It's a safe bet that he plans to throw a lot more multi-punch combinations. The Desert Storm doesn't plan on remaining stationary long enough to let that happen.
So, expect both men to be intelligent and box wisely, not exposing themselves to any unnecessary risks. Manny has more than just a little edge in the power department, but Bradley hits hard enough to hurt anyone. There's always the issue of the "head" too, when lefty's and righty's meet. That wasn't a factor in fight I. Let's hope that's true in fight II as well. Manny needs to freeze the mobile Bradley with feints and keep him there long enough to score with combinations. There no secret for Bradley, he needs to keep moving, darting, side to side, in and out, breaking up Manny's timing with his jab and well placed shots of his own. Even if he isn't hurting Manny, he will be upsetting Pacman's timing and scoring points at the same time.
So on and on the reasoning goes. For most, It will end fight night. Then all questions should be answered. Claims will be realized or crushed. If Bradley pulls off another win, he will continue to do what he has been doing all along, and that is to prove he is a damn good fighter.
If Manny manages to beat down the grit from the storm, he will strengthen his already lofty P4P position and rekindle the public interest for the big fight with Money. That, along with the fact that he's offered to fight him for nothing, might push the weights on Manny's side of the scale to the tipping point.
It's tough, isn't it, to pick a winner. Both men are excellent, maybe even great fighters. Both are very likable. They elevate the sport and are good role models for youngsters. Hence, it's tough to choose on any basis, whether personalities, styles, or skills. It would seem they both deserve high marks. What kind of grade will you give them? Who are you picking in fight II?