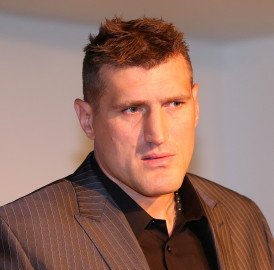 (Photo: Michael Freitag) By James Slater: You've got to hand it to unbeaten upcoming world heavyweight title challenger Mariusz Wach: not only is the Polish giant the biggest, tallest challenger of Wladimir Klitschko's career to date, "The Viking" is also in possession of a gigantic sense of humour.
Today, at a second press conference to hype the November 10th clash set for Hamburg, Germany, Wach, 27-0(15) let loose with some good lines. Not showing any nerves at all, Wach, who does seem to truly believe he will win against the odds in November, managed to slightly annoy the cool and calm "Dr. Steel Hammer."
"It will be almost impossible to win against a world champion like Wladimir Klitschko on the scorecards," Wach said in Warsaw. "So, most likely, I have to knock him out. I just don't know if I want to do it, because I'm not sure if the last guy I knocked out is still in the hospital or not."
Wach seems to have full belief in his punching power, and being the first fighter that can look directly into Klitschko's eyes, Wach has fans wondering if he can get some bombs off on Wladimir's chin. Klitschko goaded his upcoming challenger to try his best to KO him – "I heard a lot about my so-called glass chin," Wladimir said. "Wach is just one of my previous opponents predicting a KO" – and the defending champion said all the pre-fight talk is nothing more than "fun and games."
But it will be all business in the ring in November. Wach is portraying himself as a kind of cartoon villain, yet he will, I'm convinced, give it his all in an effort at landing some real hurt on Klitschko once the bell rings. In terms of class, experience, talent and ability, Klitschko is a million miles away from Wach (and practically any other active heavyweight you care to mention aside from his brother, or so it seems), but Wach has the proverbial puncher's chance. This, along with the Pole's size, is selling the fight. Wach's ability to fire out sharp quips like the one he let loose with today will not hurt the promotion any, though.
And who was the last guy Wach KO'd yet isn't sure if he's still in the hospital? That was the recently retired Tye Fields, who went down and out in the 6th. Maybe Wach was thinking about his brutal KO of Kevin McBride, who, a couple of fights ago, fell like a tree in the 4th. That KO raised eyebrows and has some fans thinking Wach has that puncher's chance against Wladimir. Both Fields and McBride are fine by the way, and out of hospital!
As for the round Wach will choose if he decides he has to KO Wladimir, the 32-year-old says it will be the 8th or the 9th. Could we be in store for a real heavyweight explosion on November 10th?