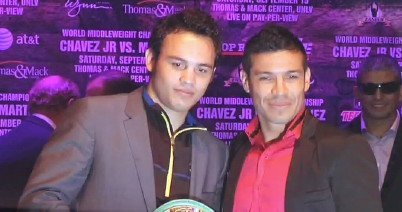 By Michael Collins: September 15th's pay-per-view card headed by WBC middleweight champion Julio Cesar Chavez Jr. vs. Sergio Martinez, has a lot of notable fighters on the card but pretty much is nothing but mismatches aside from the main event. Normally when you pay good money to see a PPV event you'd like to have a decent undercard of at least one good undercard fight. Sadly, the Chavez Jr. vs. Martinez undercard is a pretty disappointing one.
This is what you get for the undercard:
Gullermo Rigondeaux vs. Robert Marrroquin
Rafael Marquez vs. Wilfredo Vazquez Jr
Matthew Macklin vs. Joachim Alcine
Mikael Zewski vs. TBA
As far as I can tell these are mismatches. You can twist it any way you want but those appear to be all mismatches from what I can see. Rigondeaux is going to destroy 22-year-old Marrroquin. That's not even going to be a fight, because Marrroquin has already been beaten at the 2nd tier level. It didn't even take a top tier fighter to beat him and Rigondeaux is the best of the best at super bantamweight. This is a terrible fight.
37-year-old Rafael Marquez is four years past his best and he's facing Vazquez Jr., one of the best in the super bantamweight division. I'm not excited about seeing either of these guys on PPV. Marquez has lost two out of his last four fights and hasn't beaten a top level opponent since he defeated Israel Vazquez five years ago. That's a long time ago and while I think Marquez was a great fighter back then, I don't see him as one now. As far as Vazquez Jr. goes, he's lost two out of his last three fights. I'm not interested in seeing him anymore.
Middleweight contender Macklin has lost his last two fights against Felix Sturm and Sergio Martinez. Why should I want to see a fighter that's lost his last two fights? Where's the upside to that? I don't see Macklin as a championship level fighter. I think he's a decent domestic level guy, but that's about it. I would never pay to see a domestic level fighter. And his opponent 36-year-old Alcine was knocked out in one round by Alfredo Angulo in 2010. That doesn't make me want to see Alcine fight anyone. This is mismatch. Macklin will beat this guy and I don't care.
Mikael Zewski vs. TBA. I'm not interested in paying to see Zewski fight.
Since there's not a whole to watch on this card in terms of competitive fights, I'd like to see Bob Arum drop the price down steeply to see the $10 range. I see the main event being worth that much and the undercard zero.