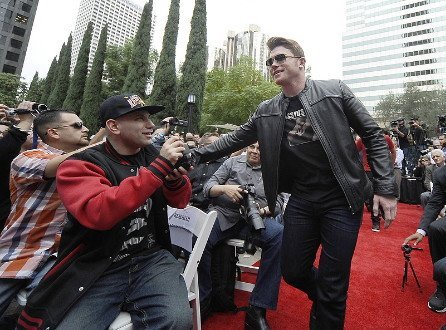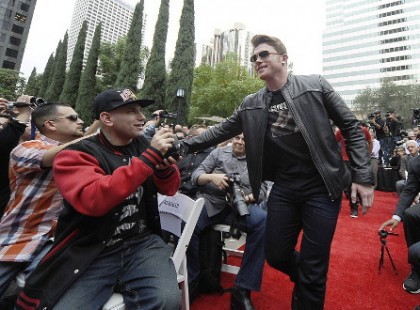 (Photo credit: Hogan Photos) Former WBA/WBC junior middleweight champion Saul "Canelo" Alvarez (42-1-1, 30 KO's) still feels he's going to be the guy that carries the sport of boxing for a long time to come despite his one-sided loss to Floyd Mayweather Jr. last September. Canelo was pretty well clowned by Mayweather until the 36-year-old fighter backed off in the last 4 rounds and took it easy on him. Canelo isn't bothered that he looked so bad. He thinks he's going to bounce back in his next fight against his hand-picked opponent Alfredo Angulo ((22-3, 18 KO's) and resume where he was before his loss to Mayweather.
"Losing is part of boxing. Muhammad Ali lost and he's still the greatest of all time," Canelo said. "So a loss isn't going to prevent me from being the future of boxing."
Canelo is one of those fighters who will be popular even if he's just a contender. He doesn't even really need to beat anyone for him to have huge support from his built in fan base. Before his loss to Mayweather, Canelo hadn't fought anyone really good for him to deserve the huge interest from fans. Canelo was more famous for being famous than for what he had accomplished in the ring. He was the Anna Kournikova of boxing, and nothing has changed in that respect now that he's been exposed.
Canelo is going back to fighting the types of opposition he was fighting pre-Mayweather, and he'll do well against these type of fighters. Fans probably won't get to see Canelo fight someone really dangerous like Erislandy Lara, because chances are Canelo would lose to him as bad as he did to Mayweather. But even if Canelo did lose, it wouldn't keep him from being the future of boxing.
Like I said, he's the Kournakova of boxing and it really doesn't matter if he loses to the top guys. Canelo will still be popular for a long time to come. He'll win some and lose some, but the popularity will remain regardless of the outcome of his fights.
Golden Boy Promotions would be smart to make sure that they match Canelo carefully to avoid as many losses as possible, because if he gets beaten too many times, it'll hurt his PPV numbers to a certain extent.