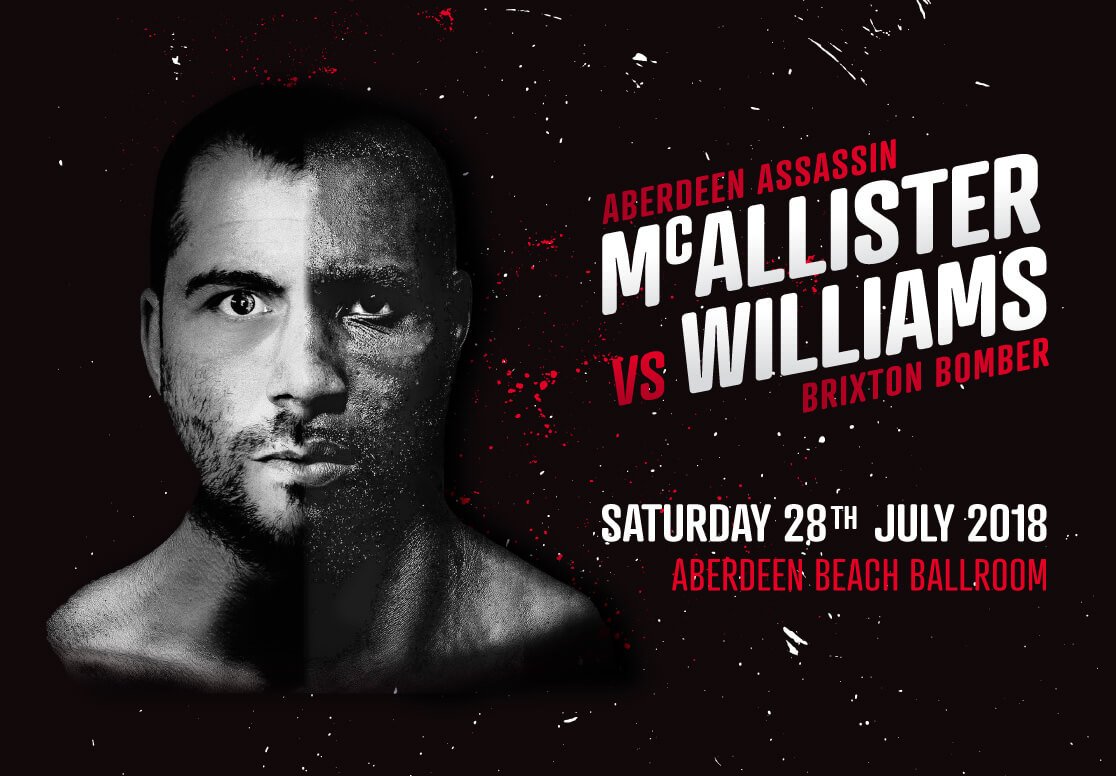 Tonight in the UK, when all eyes will be on The O2 in London and the action taking place there – the Dillian Whyte-Joseph Parker fight headlining a good card – a heavyweight bout that has to rank as a pretty bizarre one will also be taking place. In Aberdeen, former Mike Tyson conqueror and world title challenger Danny Williams will take on Lee McAllister (image by assassinboxingevents.com) in a fight that will have the WBU belt at stake.
For those fans who recognise the name and are scratching their heads – yes, Scotland's McAllister is a former lightweight! 35 year old McAllister, 35-3(9) was losing to John Murray in a British lightweight title fight challenge in 2009, and he was both winning and defending the Commonwealth lightweight title later that same year and into 2010. Now, incredibly, McAllister, who has not boxed since April of 2013, will face Williams; a man who will be around 70 pounds or more heavier than him.
45 year old Williams, 52-26(39) is nothing like the force he was back when he was upsetting Tyson in 2004, or when he was challenging heavyweight king Vitali Klitschko, but he still figures to have way too much strength, weight and punching power for McAllister. Fans have been urging for Williams to quit for years – his career really suffering a bad spell in 2011 to 2013, when "The Brixton Bomber" picked up nine losses in a row – but Danny has soldiered on for reasons known only to him.
What on earth can we expect from tonight's strange match-up?
Williams has won his last four, all against limited opponents who all had losing records. While in a fight that does not appear on BoxRec, McAllister defeated a heavyweight named Lee Kellett over four-rounds back in April.
McAllister, who spoke with The Evening Express, says he plans to use his edge in speed to upset the bigger but slower Williams.
"A lot of people have said I am crazy to go in the ring with Williams but I have different ideas," he said. "I have the belief that I can not just beat him if I stick to my game plan – but beat Williams comfortably. No one expects me to win but being written off just inspires me. The more people say it can't be done, the more I want to do it and rise to the challenge. I am jumping up eight divisions from when I started at lightweight. It is history making as there has never been a lightweight champion stepped up to win a title at heavyweight. You cannot hit what you cannot catch. I'm hoping to be a lot sharper than him. I am used to fighting at the lower weights and am faster, although obviously I don't punch as hard. If I can avoid his punches and keep out of his way I can do it and get that win."
All power to McAllister for taking on such a big task and if he can win he will indeed make a little bit of boxing history. As for Williams, if he does lose to a former 135 pound fighter it will surely signal the end of his career.