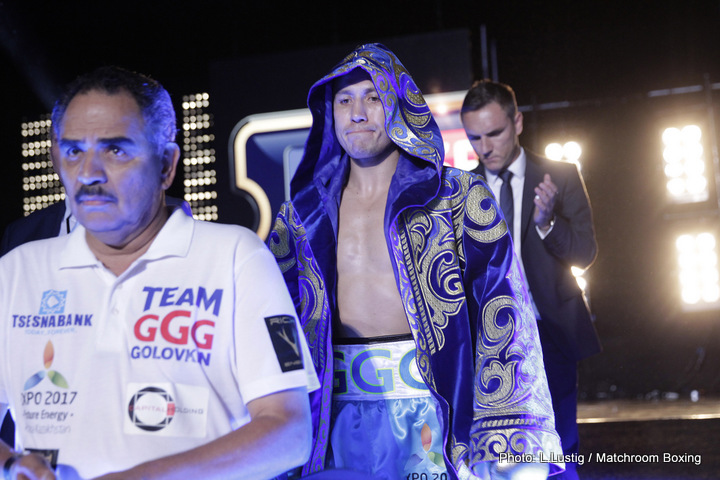 It seems there is a growing number of people who feel middleweight king Gennady Golovkin should move up in weight if he's to achieve true greatness. The likes of Floyd Mayweather and Roy Jones Jnr have said this, insisting GGG must "take a risk" by stepping up, to either 168 or, unrealistically (in the opinion of others) 175-pounds.
Can Triple-G, a reasonably smallish middleweight really be expected to move up 15-pounds and tackle dangerous light-heavyweights such as Sergey Kovalev? This is asking too much of even as special a fighter as the 34-year-old (who recently stated he'd consider going DOWN in weight, to 154, if the right mega-fight were possible) surely? But GGG's coach, the knowledgable Abel Sanchez, says in time his fighter will indeed look at moving up to light-heavy, and that when he does so, look out Kovalev, Andre Ward and Adonis Stevenson.
"Triple-G beats everybody that's out there right now, including Kovalev," Sanchez said to Behind The Gloves.com. "But we're not at 175, so it's not something that's up for discussion. But I think Triple-G would beat Kovalev. I think Triple-G would beat Andre Ward, I think Triple-G would beat Stevenson. But right now we're at 160 and until we move up then we can talk about those [match-ups], because I think they could be possibilities in the future."
As avoided as he is at middleweight, the thinking is, Golovkin will have no choice but to move up in weight soon enough – but to light-heavyweight? Imagine the weight, height and reach GGG, at 5'10" and with a wingspan of 70," would be giving away to the likes of Stevenson. But his trainer knows best and maybe GGG will indeed be swapping punches with the best 175-pounders in the world pretty soon.
If Golovkin, 36-0(33) can beat such fighters, we will have to find a much grander accolade than "great" when it comes to describing him.