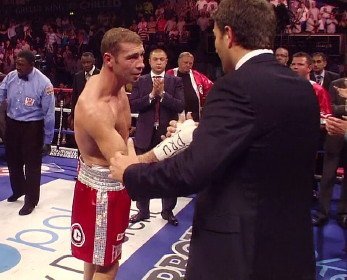 By Michael Collins: Former IBF super middleweight champion Lucian Bute (30-1, 24 KO's) will be moving up in weight for his fight on Saturday night to challenge NABF light heavyweight champion Denis Grachev (12-0-1, 8 KO's) for his title at the Bell Centre, in Montreal, Canada. It's risky and some say foolhardy thing for the 32-year-old Bute to be doing considering that he was destroyed in his last fight by Carl Froch in five rounds last May in Nottingham.
Moving up in weight to face an even bigger puncher than Froch is like asking for trouble. However, might not be a bad idea for Bute to be testing the waters in the light heavyweight division so that he has an escape route should he lose to Froch in their planned rematch next year in March in Montreal. If Bute loses to Froch for a second time than there would be few options for Bute at 168, and it might be a good idea for him to move up in weight and pronto if he wants to find success in the remainder of what time he has left in his career.
Beating Grachev is going to be like working with an explosive that can go off at any time, because this guy just finished destroying a very good fighter in Ismayl Sillakh last April, and that was no easy task to beat a guy like that. Sillakh is a fine fighter and probably good enough to beat most of the opposition at 168 if he were to move down in weight to fight in that division.
Bute can't let Grachev land his big shots because he'll knock him out if he connects often enough. Bute used to be a really good mover earlier in this career when his legs were working well for him, but he's definitely slowed down in the past three years to where he's more stationary and sitting down on his shots more. Bute can't afford to fight like that against Grachev because there's too much potential for Bute getting hit with something big and getting stopped.