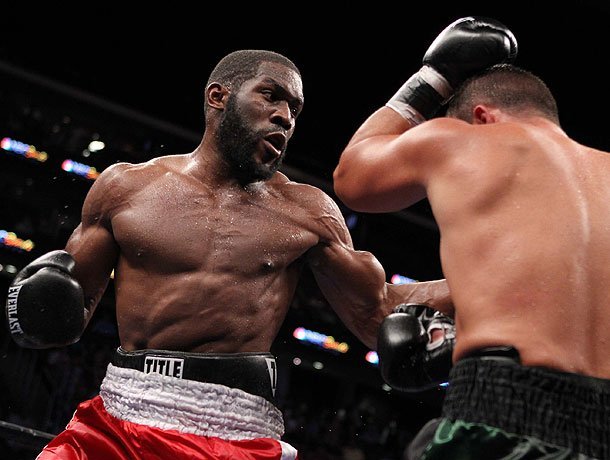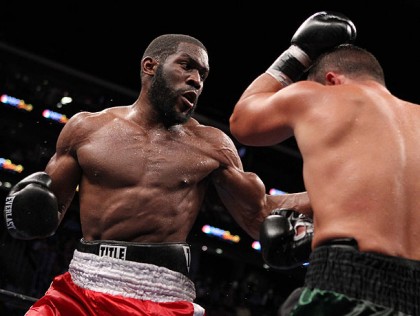 Former heavyweight world title challenger Bryant Jennings (20-2, 11 KOs) will be fighting this Saturday against 35-year-old Don Haynesworth (13-1-1, 11 KOs) in an 8 round fight on the undercard of the Vasyl Lomachenko vs. Guillermo Rigondeaux fight at Madison Square Garden in New York.
Jennings, 33, weighed in at 227.2 pounds on Friday at the weigh-in for Saturday's fight. Haynesworth came in at a heavy looking 271 lbs.
Haynesworth looked heavy and untrained. This could be a real mismatch, which is what the whole idea is behind Jennings fighting a no name like Haynesworth. It's not supposed to be a competitive fight. It's supposed to give Jennings rounds, make him look good in front of the boxing fans at Madison Square Garden, and have him get pushed up the rankings the easy way.
Haynesworth has recent wins over these fighters:
• Earl Ladson (15-25-1)
• Tommy Washington Jr. (6-9)
• Robert Dunton (11-15-1)
• Mark Brown (15-6)
Haynesworth's only loss of his career came against Robert Dunton in 2015 in losing a 4 round decision. Haynesworth avenged that loss recently in stopping Dunton in the 6th round last April.
This is Jennings' second fight of his comeback, which he began last August with a victory over Daniel Martz. Jennings had been out of boxing for 2 years pervious to that after losing to Luis Ortiz and Wladimir Klitschko. You got to give Jennings credit for taking the fight against Ortiz. At the time Jennings fought Ortiz, the Cuban fighter was still fighting at a high level and looking good.
Jennings is signed with Top Rank. They're hoping to work him into position for him to fight for a world title against WBO champion Joseph Parker. More likely than not, Jennings will eventually get a title shot against IBF/WBA heavyweight champion Anthony Joshua in the near future. That's an even better deal for Jennings, because he can make big money fighting Joshua if he can become his mandatory challenger.
Jennings is rated #12 by the World Boxing Association right now after his first comeback win over Daniel Martz. If Jennings can keep winning, he might be able to earn to No.1 spot with the WBA or one of the other sanctioning bodies. That'll enable Jennings to get retirement money fighting Joshua. We're talking a lot of money that can be made for Jennings if he can get a fight against Joshua as a mandatory challenger.
Jennings was a good fighter during his best years of his career. He defeated Artur Szpilka, Andre Fedosov, Siarhei Likhovich and Mike Perez. It wasn't until Jennings fought Klitschko and Ortiz that he ran into problems.