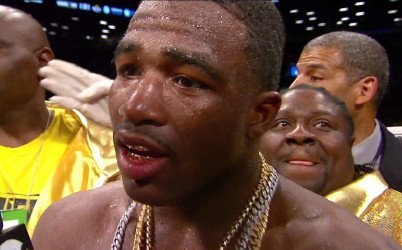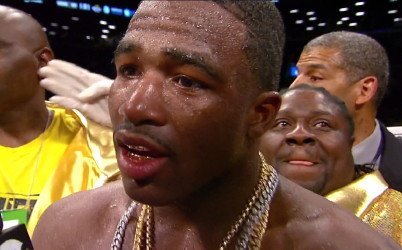 Former WBA welterweight champion Adrien Broner (27-1, 22 KO's) realizes what he did wrong in his loss last month to Marcos Maidana (35-3, 31 KO's), and he wants to fix those problems in a rematch as soon as possible. Broner doesn't want to fight anyone else until after he gets Maidana in the ring and proves that the loss was just a fluke thing, and not something that was indicative of him lacking super star class talent.
"A y'all bout to see me back in the ring in some weeks," Broner said on his twitter. "And I ain't fighting nobody until I fight Chino Maidana again. I'm a warrior. I give props when it's due and Chino Maidana out-hustled me that night but this rematch will be different!"
It's probably going to take at least one more loss for Broner at the hands of Maidana to come to terms with the reality that he's just ready to be fighting in this weight class. Broner doesn't want to accept that he doesn't have the physical tools to fight in this weight class yet, but over time he'll gradually understand that he was better off being a big fish in a small pond in the lightweight division.
There's no question that Broner got out-worked by the 30-year-old Maidana in that fight. Broner was comfortable to sit back, and look for single pot shots to try and hurt Maidana. Broner must have assumed incorrectly that his power would make up for his lack of work rate, because he essentially fought Maidana much in he same way that he had his smaller opponents in the super featherweight and lightweight divisions. Down in those weight classes, Broner's power was much more pronounced than at welterweight.
Broner was able to throw few punches in those smaller weight classes and still get a stoppage win. But things are different at 147, and Broner has been slow to adapt to the new weight class. Broner should have figured out after his narrow win over Paulie Malignaggi last year in June that he needed to increase his work rate and improve his defense so that he could better compete in the welterweight division. He couldn't do anything about his hand speed or power, because those two things were set and nothing he could correct.
If Broner does stay in the welterweight division and face Maidana, then he's going to need to force himself to change his skill-set to the division. That means he needs to get hit less, throw more punches and move a little more than he's shown in his last two fights in the division.