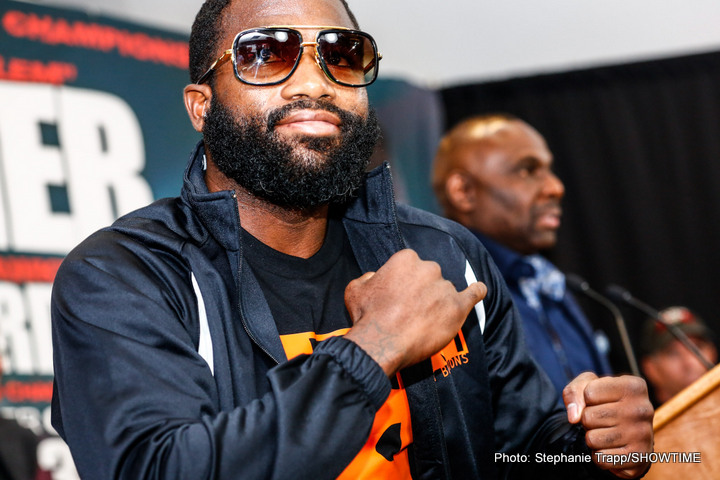 Adrien Broner has publicly responded to Floyd Mayweather's recent comments to fighthype.com about him, saying, 'There a lotta hate coming from your way, man….and I don't like it.'
Broner, who was recently upgraded to WBA (sup) 140 lb champion after winning his 4th world title against Khabib Allakhverdiev, released an online video in which he claimed calls to his 'big bro' and former mentor have gone unanswered, meaning he had no choice but to go public with his response.
Mayweather had himself been responding to initial 'F*** TMT' comments from Broner, playing down 'The Problem's' title win over Allakhverdiev and suggesting the Ohio native has a lot of growing up to do.
Broner, appearing visibly angry and upset that he has been 'reduced to this' in the 10 minute video, says.
"I learned this sh** from you. It was you who told me this out your own mouth. You said 'we are in boxing to get the biggest reward for less punishment. That's what you told me.
"So for you to go talking about one of my accomplishments and downplay summat that I did…That's fu**** up! There ain't no TMT fighter that's got 4 world championships in 4 weight classes…..Only YOU!
"I don't care if I fought your assistant in my last fight, I'm still 4x world champion. Just like you say, 'when it's all said and done' I will go down in history books as winning 4 world titles in 4 weight classes, if I quit boxing today.
"[You said] I'm disrespecting Al Haymon? That a contradicting-ass saying 'cause Al Haymon the one that got me the fu***** fight! [with Allakhverdiev]
"I don't pick these motherf******! I don't know these motherfu***** from Russia! I don't know him, I never heard of him! So you saying you'd be ashamed and wouldn't call yourself a world champion, then you the one disrespecting Al Haymon.
"If I'm disrespecting Al Haymon, then I'm disrespecting you? You disrespecting yourself, ni****!
"C'mon Floyd, this sh** lame, bro. Pick up the phone and call me."
"That was some gay-ass sh**, for real."
The full response video is below…. The perfect promo for Broner vs TMT's Ashley Theophane???
Twitter @undilutedpoison