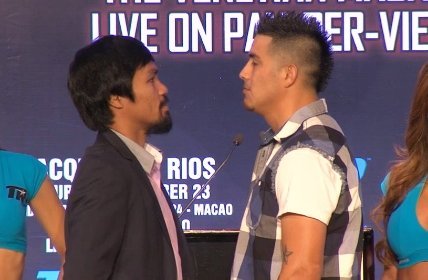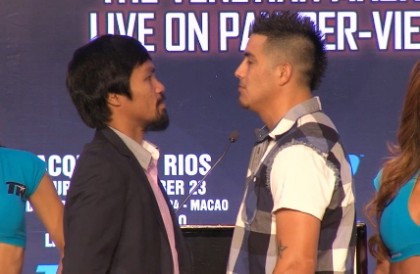 Manny Pacquiao (54-5-2, 38 KO's) could be facing the equivalent of a better version of Antonio Margarito when he steps inside the ring against Brandon Rios (31-1-1, 23 KO's) on November 23rd at the Cotai Arena, Venetian Resort, Macao, Macao S.A.R., China.
The two fighters met today in Macao, China in their media tour in China to start publicizing their November 23rd pay per view fight. When the two fighters stood face to face, you could see immediately the size difference between them.
Rios, 5'8", not only looks a lot taller than the 5'6 ½" Pacquiao, but he also looks a lot heavier as well. Pacquiao could be dealing with a younger, more active version of a Margarito-like fighter. This is coming at a wrong time for the soon to be 35-year-old Pacquiao, because he took a lot of punishment against Margarito, but he did it when he was three years younger. Now nearing 35, it's not good timing for Pacquiao to be facing this kind of puncher in Rios.
Rios looks at least 20 pounds heavier than the Filipino fighter, and I don't think that's going to change much when the two step inside the ring in November. Rios is going to lose some body fat during training camp, but for the most part he's going to be sporting a considerable size advantage over Pacquiao.
Pacquiao doesn't rehydrate up in weight when he fights at welterweight, and that means he's going to be giving a lot of weight to Rios. It wouldn't matter if Pacquiao wasn't coming off of two straight losses, but it's important now because of how Pacquiao was knocked out in his last fight against Juan Manuel Marquez. Rios has the power to do exactly what Marquez did to Pacquiao and then some.
Rios said to press "I'm going to show the world that everybody that talked bad about me; they said I'm a punching bag. They're going to find something out. They're going to see on November 24th. Brandon Rios is going to win."
Pacquiao is going to get hit with some really hard shots in this fight, and if his chin isn't what it once was before his KO loss to Marquez, we could see Pacquiao going to sleep on November 23rd once Rios connects with one of his big shots.