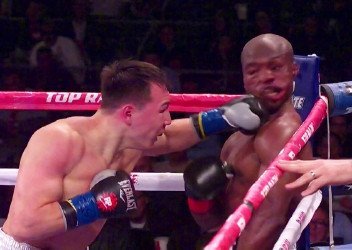 Manny Pacquiao's promoter Bob Arum hasn't changed his mind about his desire to have Pacquiao fight either Tim Bradley or Ruslan Provodnikov in his next fight on April 12th. The only change that Arum has made is he's stopped mentioning 40-year-old Juan Manuel Marquez as one of three candidates for the fight because of Marquez repeatedly saying that he doesn't have any interest in ever facing Pacquiao again after having fought him 4 times.
"The two guys that are the front runners are Tim Bradley and Ruslan Provodnikov," Arum said.
Arum's not concerned about Pacquiao drawing low numbers in facing these guys, because he sees the disappointing numbers from Pacquiao's last fight against Brandon Rios being because the fight took place in Macao, China and not in the U.S. Arum believes that having the Pacquiao-Rios fight take place overseas meant that a lot less fans hear about it because many members of the media weren't able to take the trip to Macao.
I'm not sure that I agree with Arum's views about Pacquiao's diminishing pay-per-view numbers. I think the numbers were bad because boxing fans weren't interested in seeing Pacquiao fight Rios, a fighter who was coming off of a loss to Mike Alvarado. It didn't help that the undercard for the Pacquiao-Rios fight was a really poor one. You can't put Pacquiao in against just anyone and expect the fight to sell well on PPV, especially when the undercard is a poor one.
There's some interest in a Pacquiao-Bradley rematch among fans, but it's hard to see this fight as one that will attract a huge amount of interest like Pacquiao's fights against Marquez and Miguel Cotto. Pacquiao can't sell his fights on his own, and Bradley isn't a big enough star and neither is Provodnikov for Pacquiao's next fight to bring in 1 million buys. Arum is going to need to focus a lot more on his undercard fights if he wants to help make up the difference.
For boxing fans who don't care about PPV totals, they probably won't care whether Pacquiao fights Bradley or Provodnikov. They just want to see Pacquiao fight. But if Pacquiao's fights continue to tank then it's going to be a strong sign that Arum needs to add some new blood to his promotional team.