In a highlight reel knockout, Anthony Joshua (26-3, 23 KOs), stopped the 39-year-old Robert Helenius (32-4, 21 KOs) in the seventh round in his tune-up fight on Saturday night in front of a packed O2 Arena Crowd in London, England.
Joshua came into the seventh round with a bloody nose and two puffed-up eyes, but he made sure the fight didn't progress any furth by knocking Helenius flat on his back with a huge right hand to the head.
The referee stepped in right away and halted the contest on the spot while Helenius was still down. The time of the stoppage was at 1:27.
– Heavyweight Derek Chisora (34-12, 23 KOs) outworked a timid-looking 41-year-old Gerald Washington (20-6-1, 13 KOs), winning a ten round unanimous decision in a fight with few eye-catching shots landed.
Washington was on his bike throughout the contest, making it hard for the slow-moving Dinasaur-like Chisora to get to him. In one of the rare times in the fight in which Washington let his hands go, he connected with a storm of shots at the seventh round that had Chisora looking in distress.
The judges' scores were 98-93, 97-94, and 96-94. Chisora suffered a cut over his right eye from a clash of heads in round two.
– Undefeated heavyweight contender Filip Hrgovic (16-0, 13 KOs) stopped Demsey McKean (22-1, 14 KOs) in the twelfth round. Hrgovic, 31, shook McKean to his boots with a right hand to the head in the 12th and then tagged him with four consecutive hammer fists to the back of his head to get the stoppage.
Interestingly, the referee didn't say anything about the rabbit punches from Hrgovic, which was odd.
Hrgovic hurt McKean with a right hand to the top of his head in the ninth round with the Aussie holding on.
Both guys were exhausted through most of the contest, with lots of holding and a lot of mauling. McKean came alive in the 11th, landing a left hand to the breadbasket of Hrgovic that shut his offense down entirely for the remainder of the round.
– Johnny Fisher (10-0, 9 KOs) defeated Harry Armstrong (5-2-1) by a seventh round knockout to capture the vacant BBBofC Southern Area heavyweight title. Fisher knocked Armstrong down in round one in the first fifteen seconds.
In round seven, Fisher landed a scorching overhand right to the head of Armstrrong that almost dropped him. Fisher then unloaded a storm of shots, resulting in Armstrong's corner throwing in the towel. The official time of the stoppage was at 1:19.
– Light welterweight Campbell Hatton (13-0, 5 KOs) put in a workmanlike performance tonight, defeating the tough Tom Ansell (10-5, 2 KOs) by an eight round points decision.
Campbell worked Ansell over with nice body shots and uppercuts, but the power wasn't there for him to get him out of there.
By the seventh round, Hatton had nothing left on his shots and was just winging weak punches and making a lot of noise with his grunting. Referee Sean McAvoy scored the fight 78-74.
Campbell will need to make huge improvements in his power if he hopes to one day compete for a world title at 140.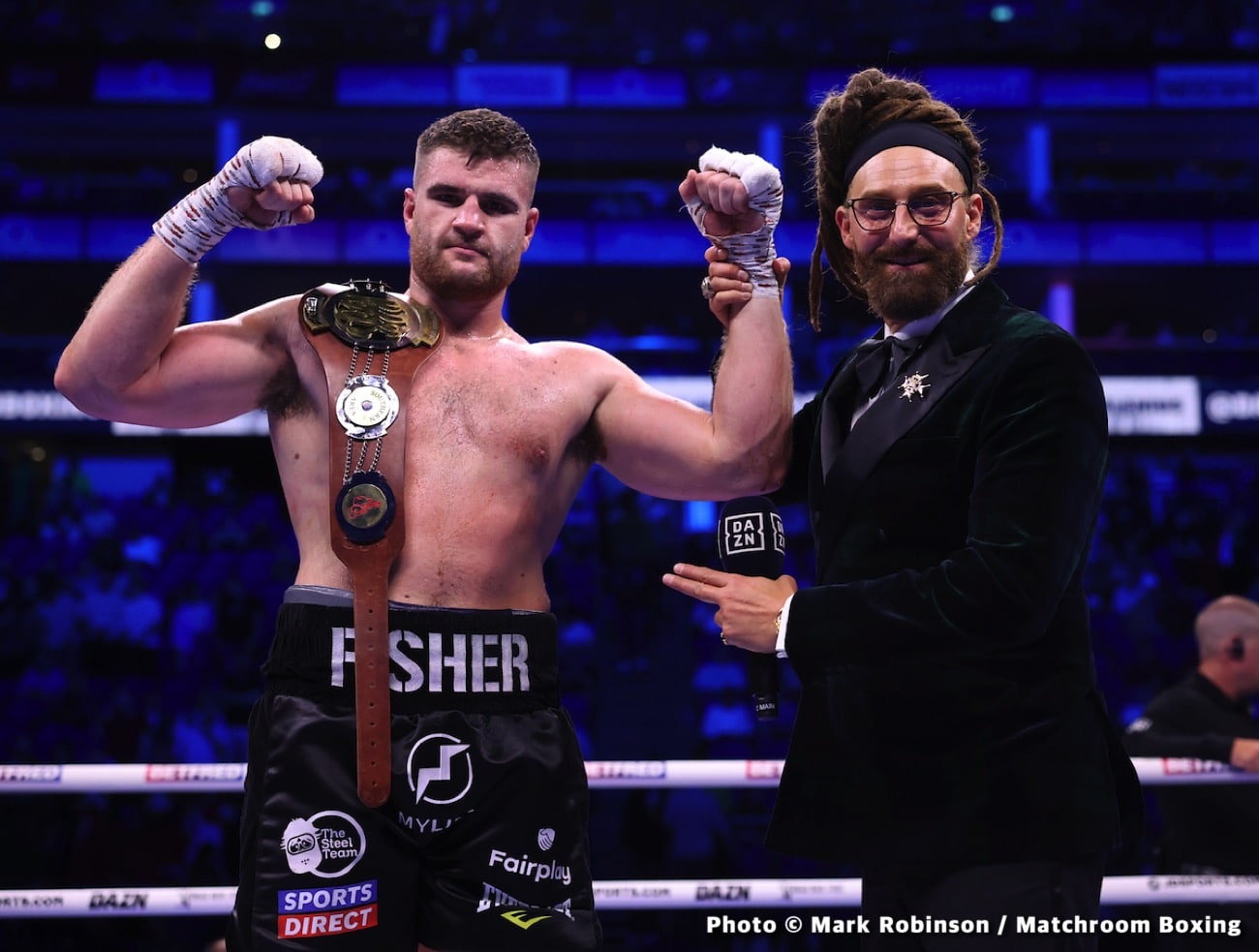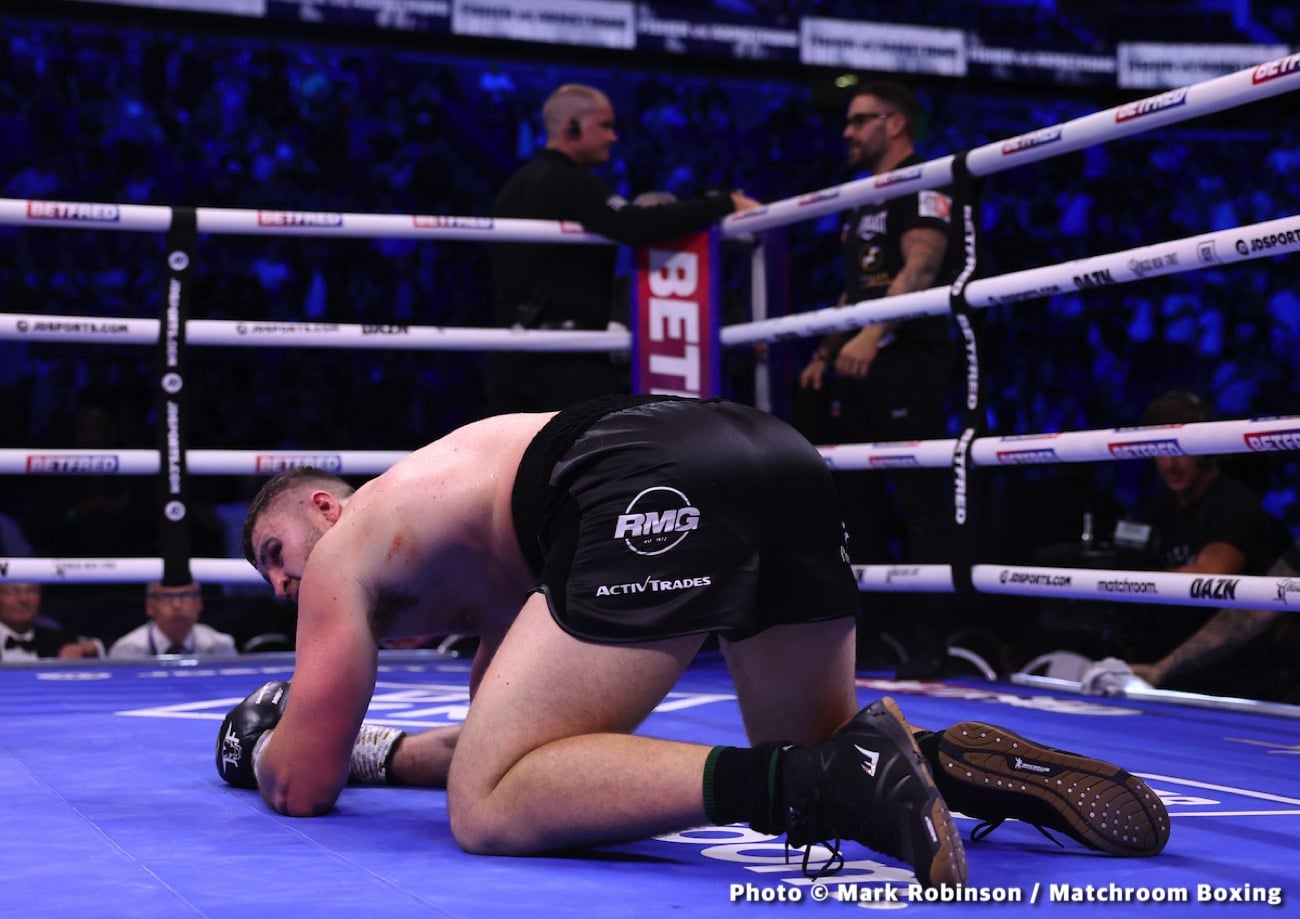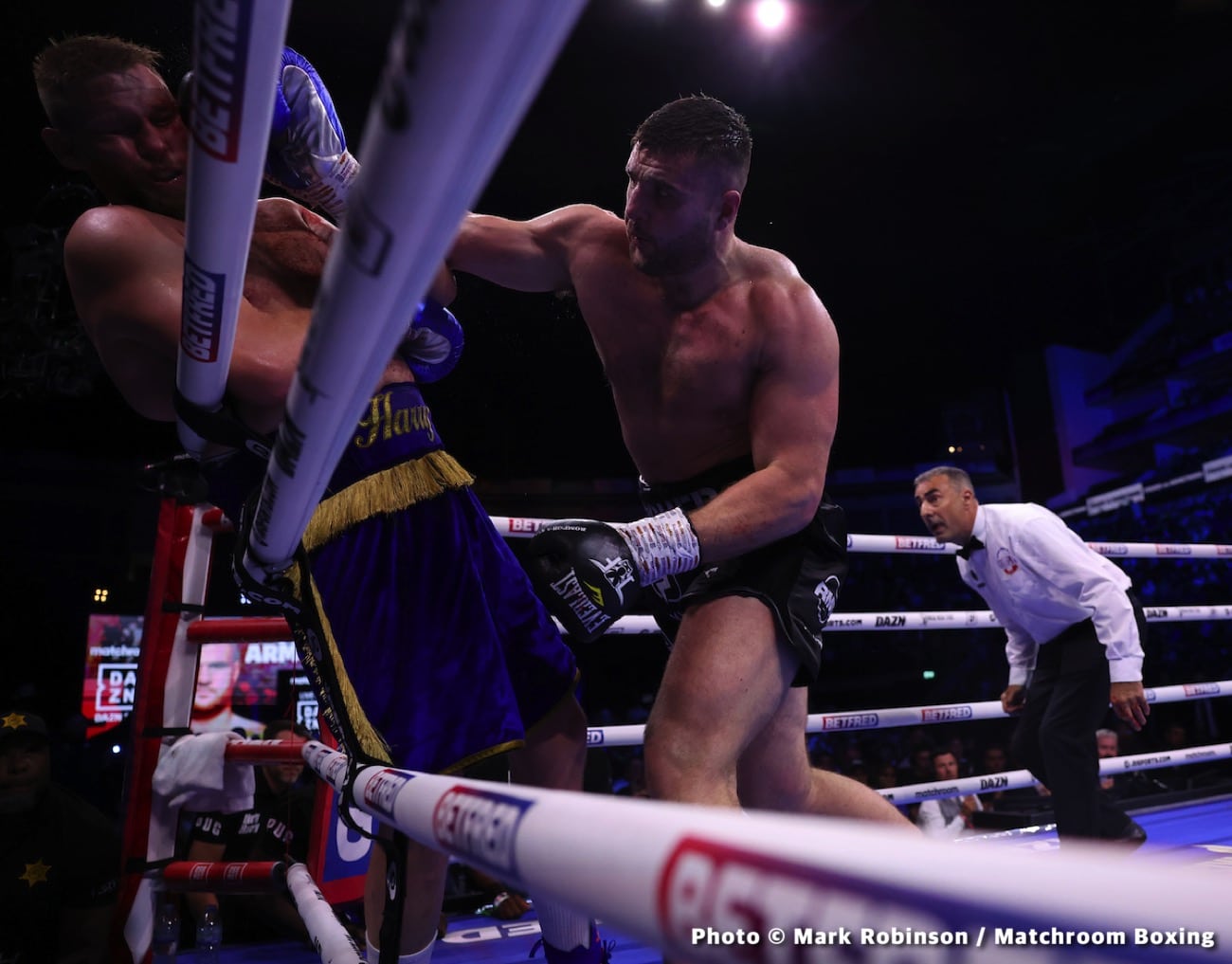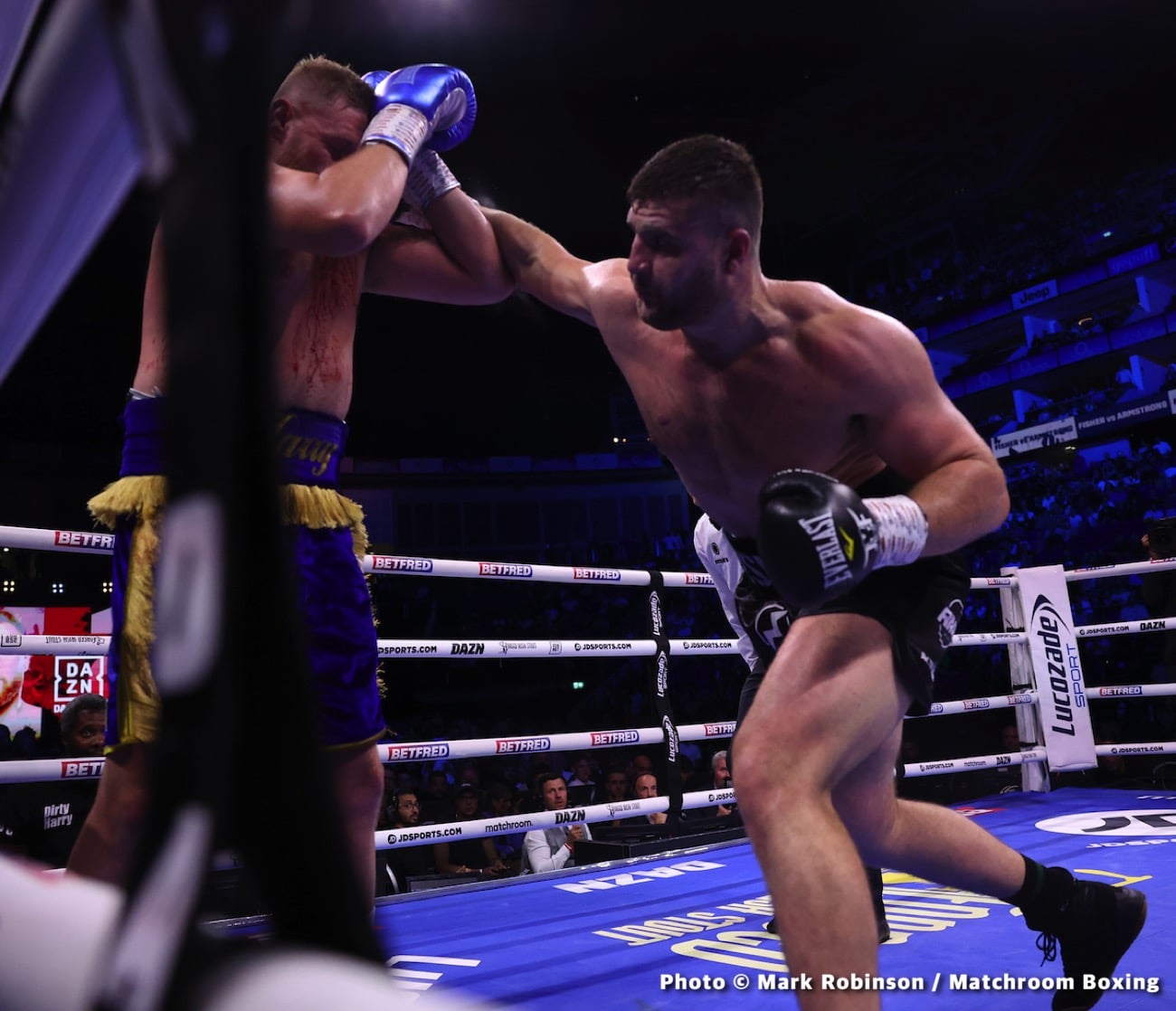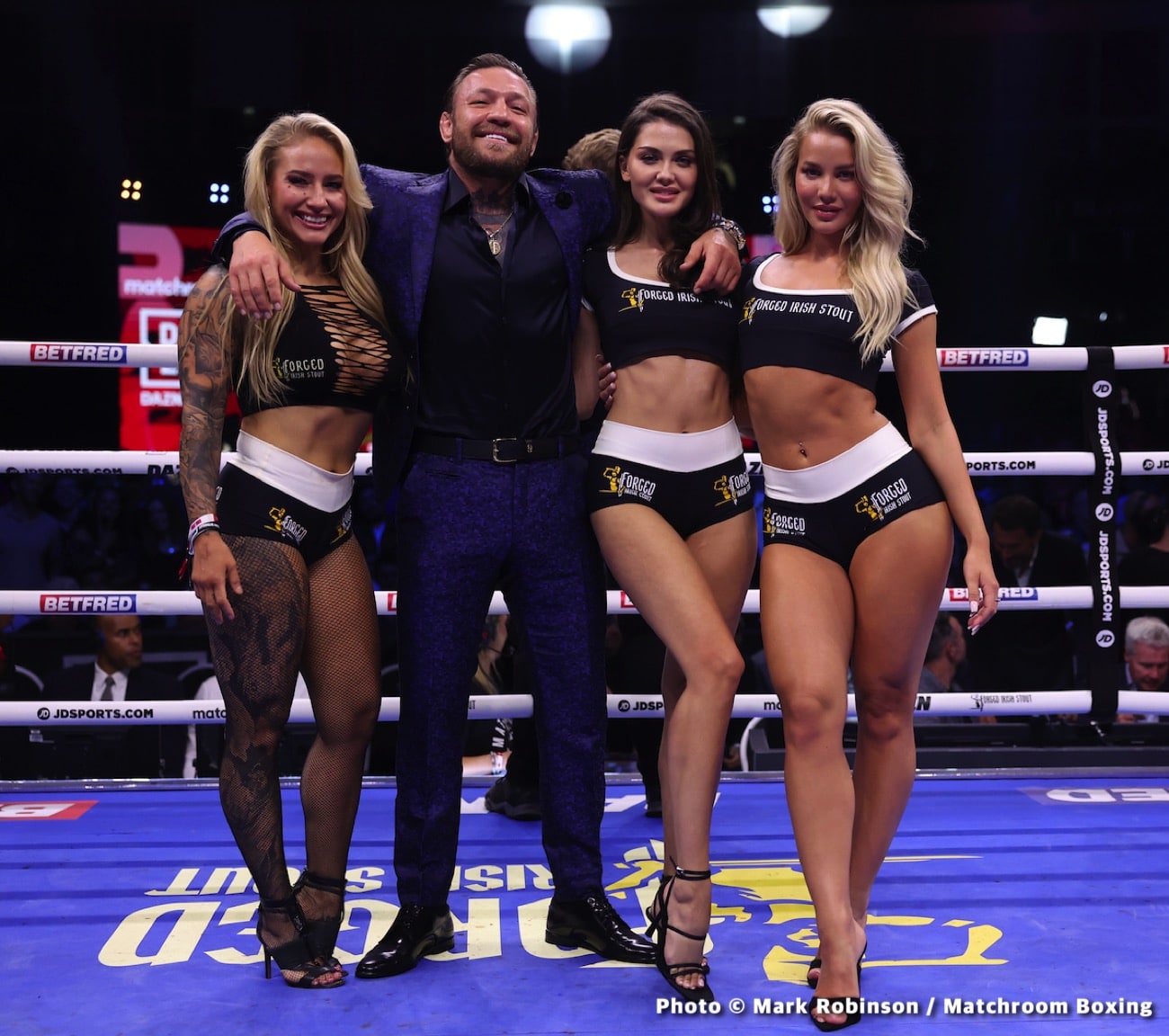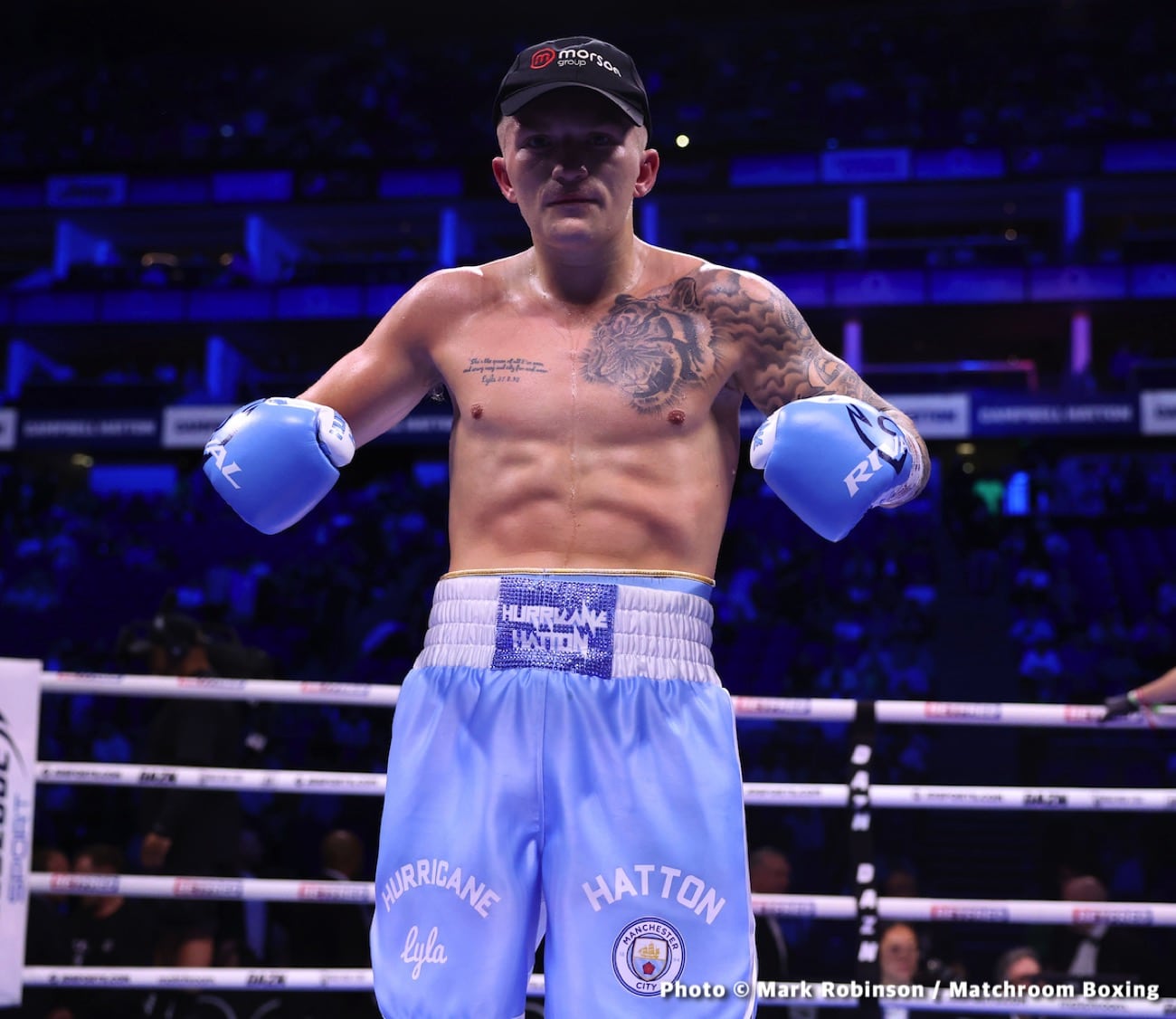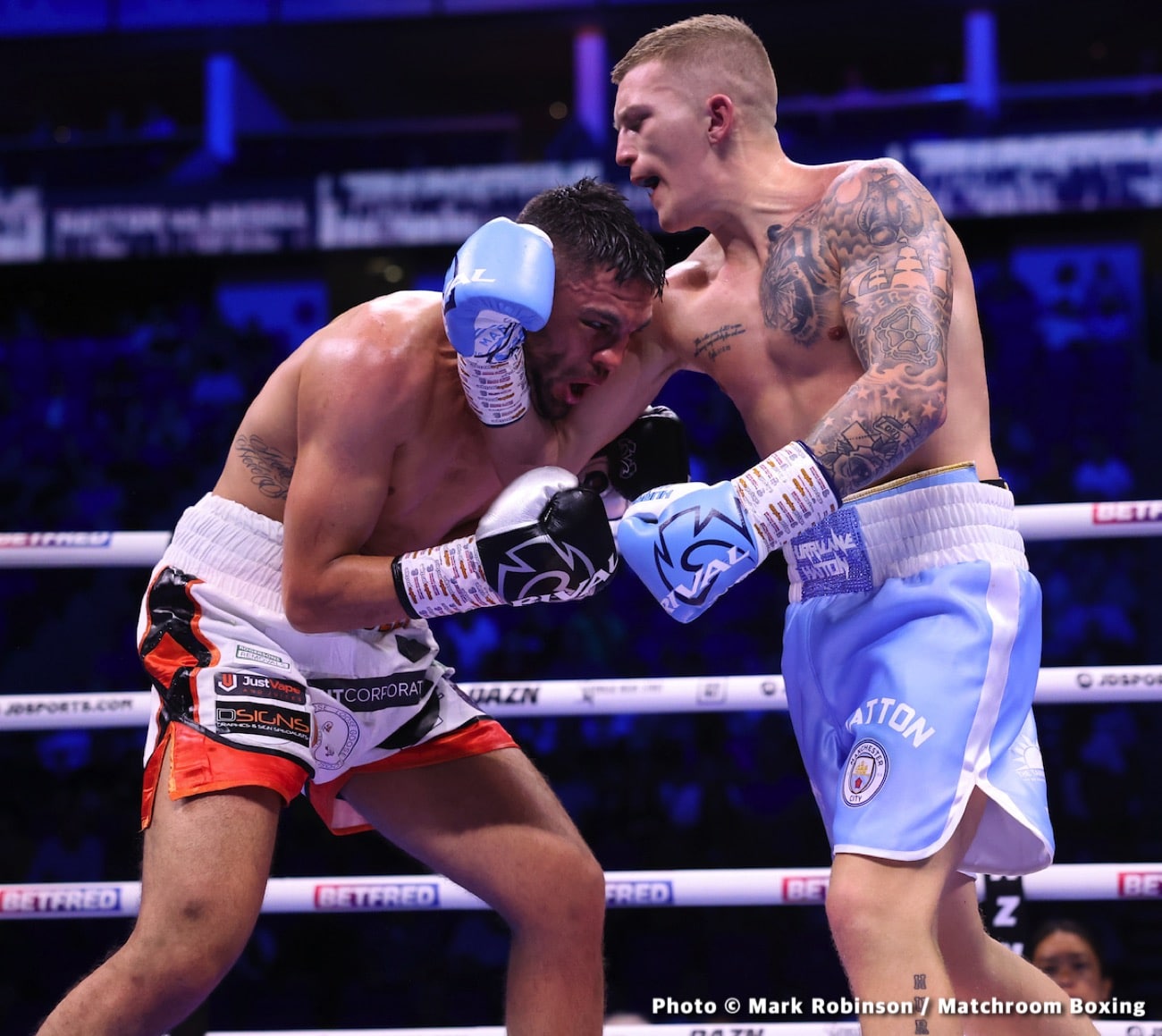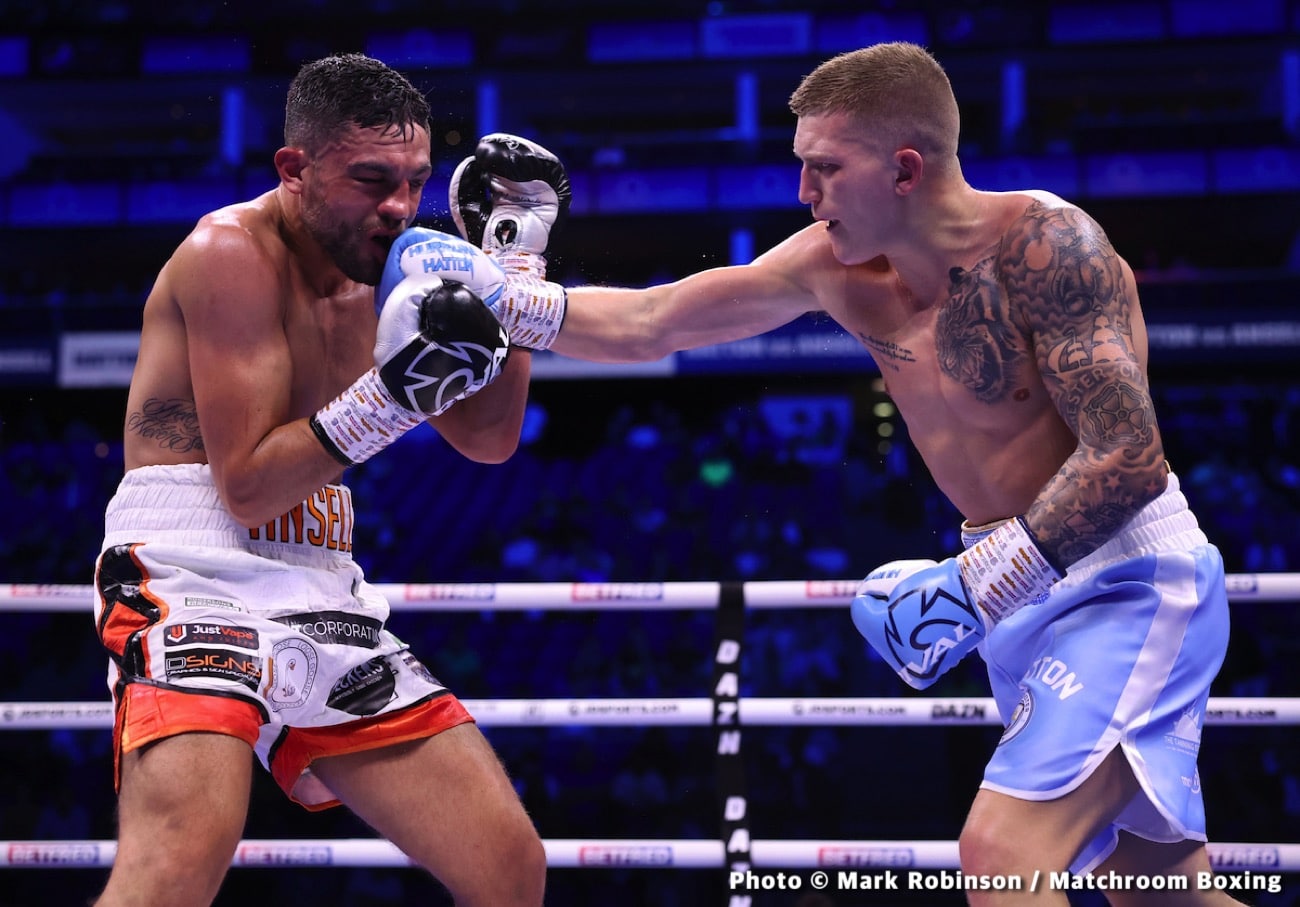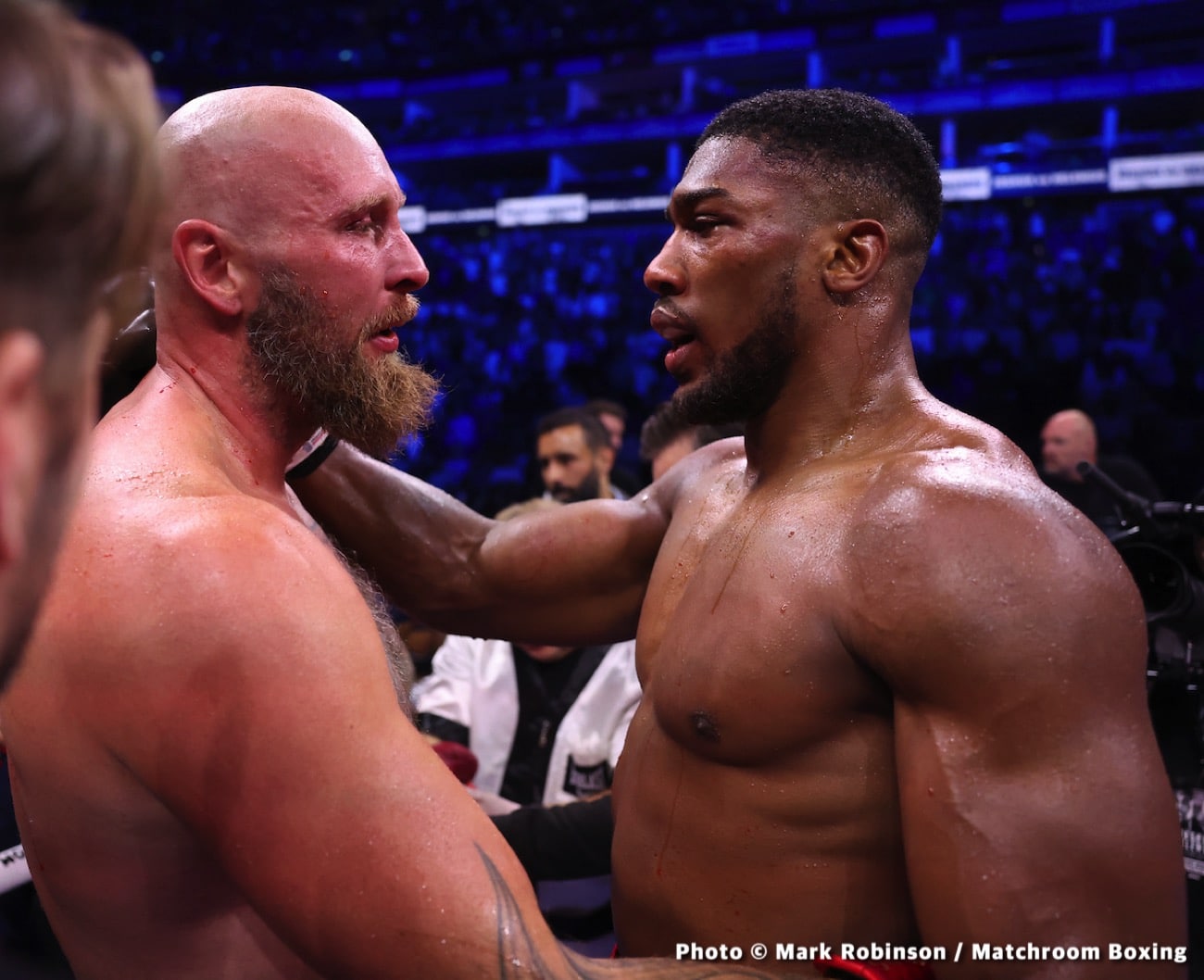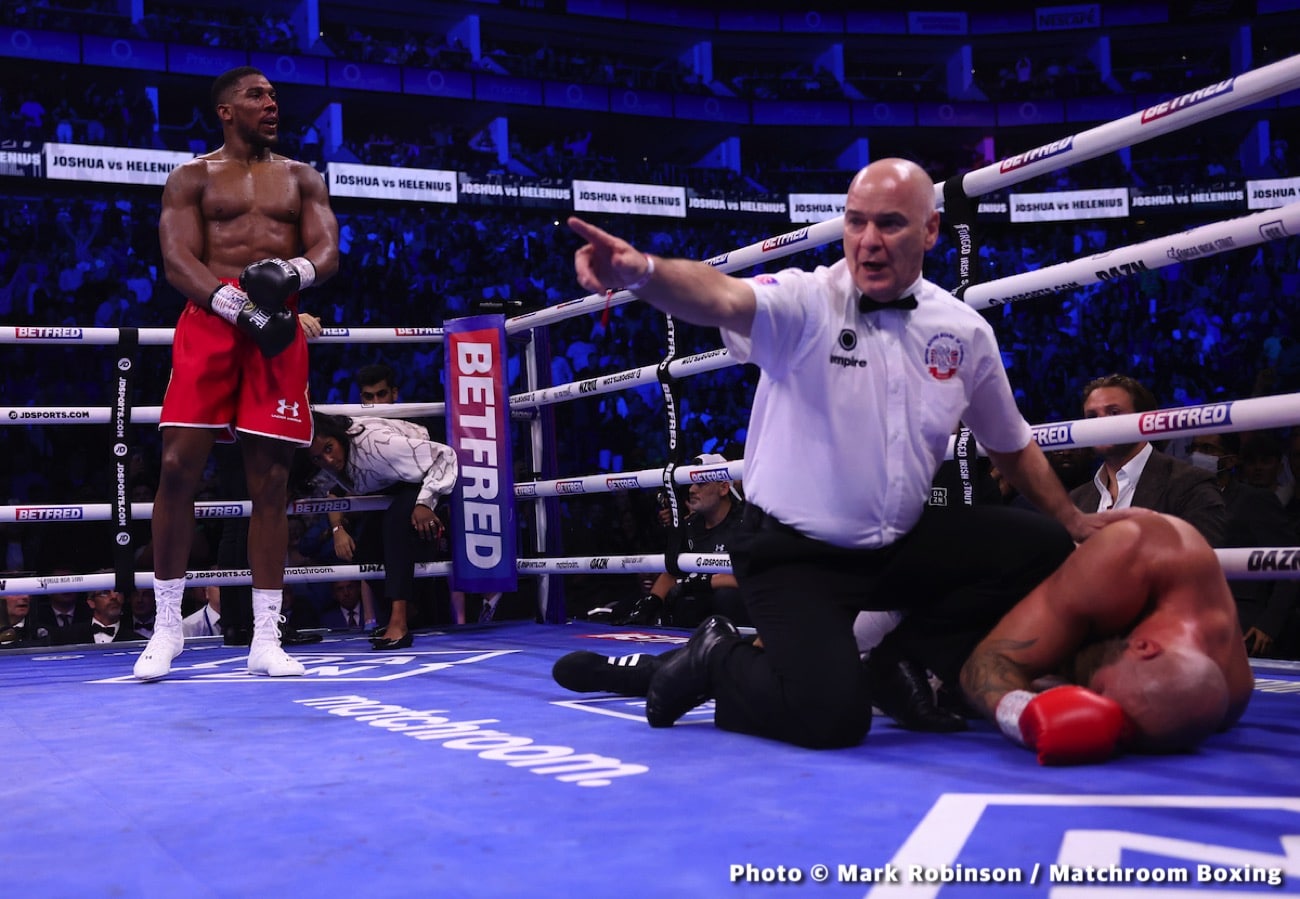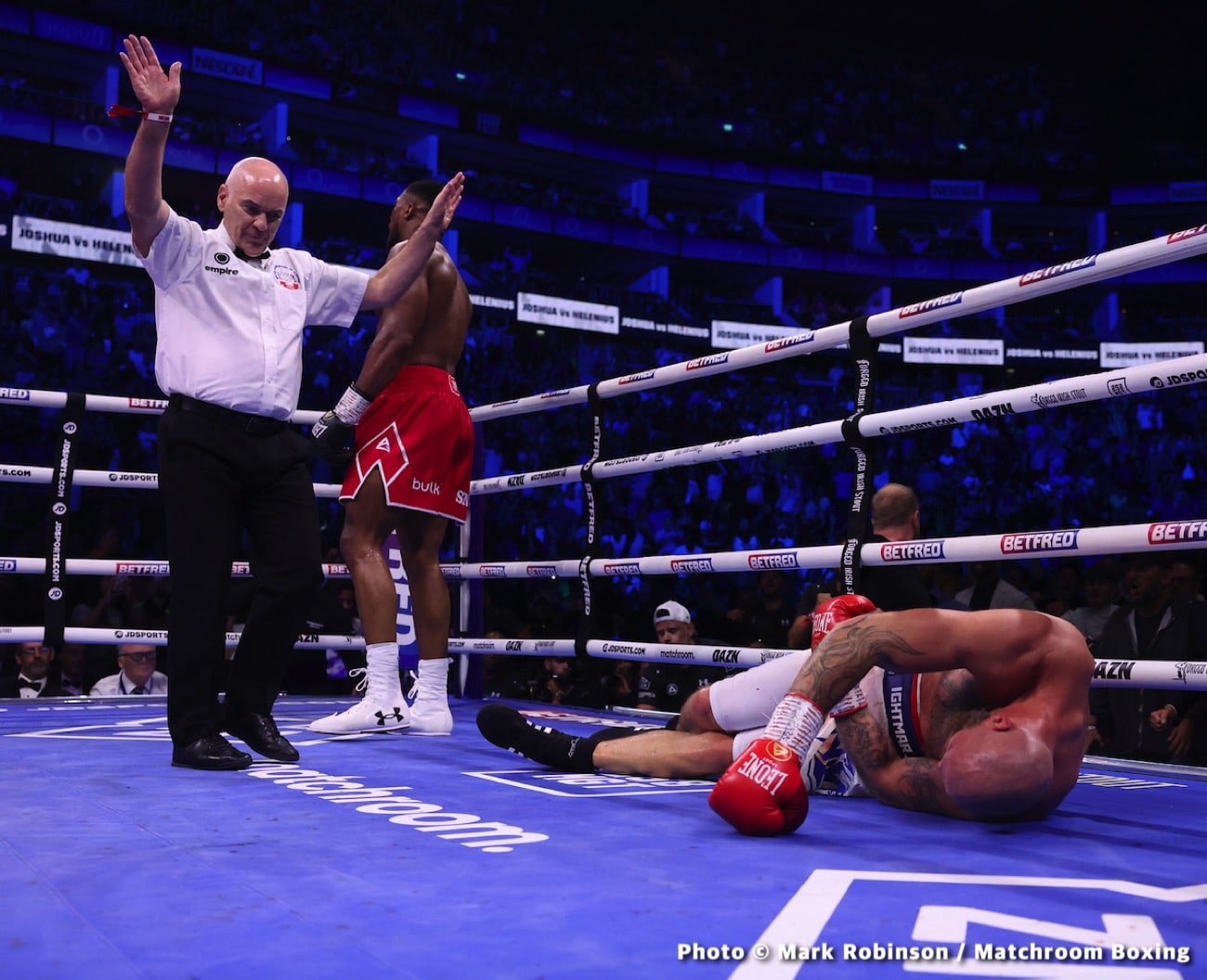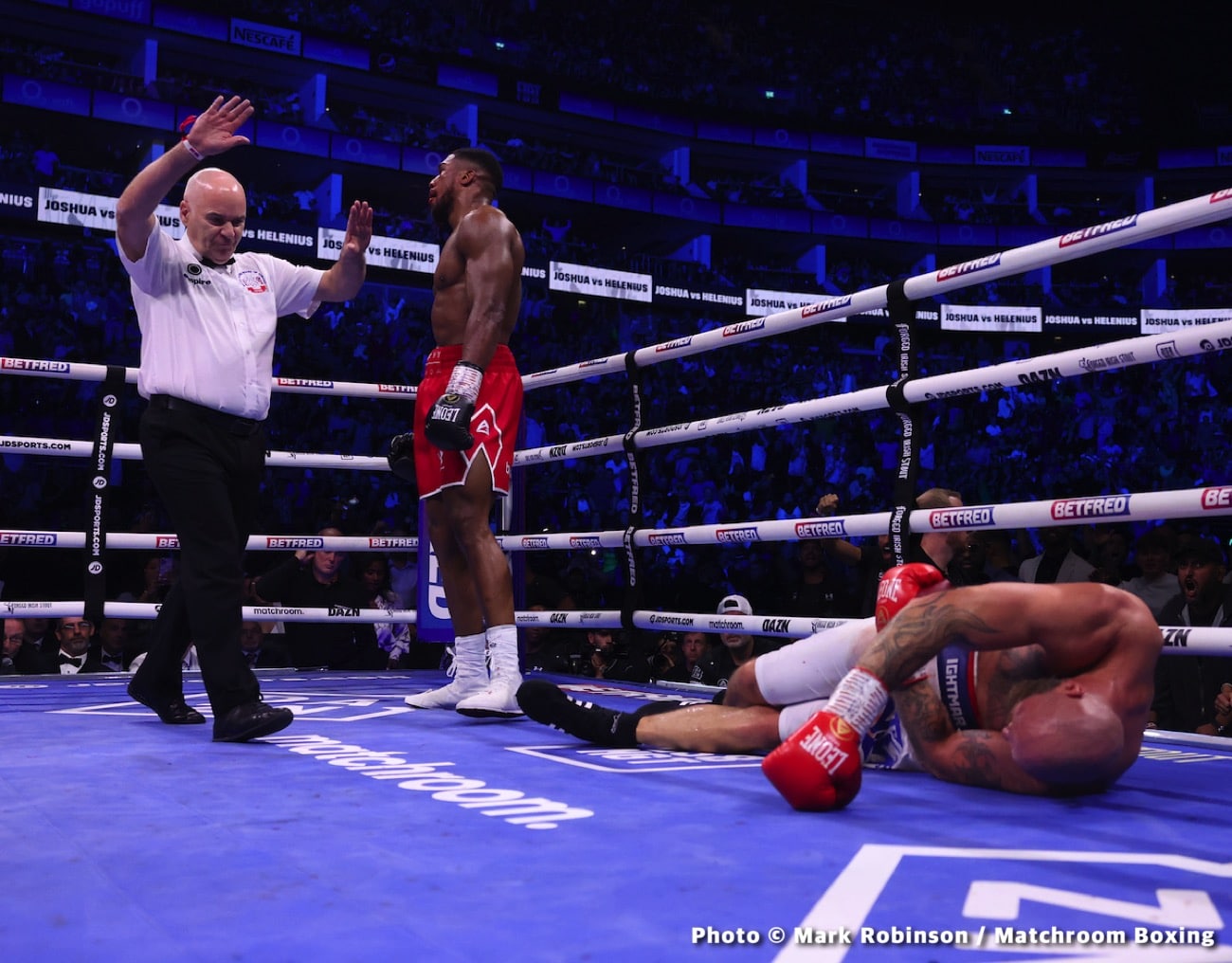 Anthony Joshua is taking a big risk tonight, facing Robert Helenius in a tune-up fight in London at the O2 Arena in London. Joshua (25-3, 22 KOs) spent his entire camp training for Dillian Whyte, who was removed from the card after a positive test.
If Joshua loses to Helenius (32-4, 21 KOs) tonight, he can say goodbye to a potential $60 million fight against Deontay Wilder in January. No pressure, right?
Big moment fight for Joshua
"It's a big moment fight. AJ will fight anyone. Hrgovic is on the card, but he's trained ten weeks for a southpaw [Demsey McKean]," said Eddie Hearn to DAZN Boxing Show on why Robert Helenius was chosen for Anthony Joshua.
"Joshua has had no southpaw sparring. Andy Ruiz pops up on Instagram, and he wants $10-15 million, and is he really going to fly over on Monday and fight on Saturday? You've got Agit Kabayel that we already agreed with, and he wanted double the money for that deal.
"Manuel Charr popped up and wanted three million. So you're going through all these different people, and ultimately, who is going to give up a proper fight, who is going to be credible enough, and who is going to prepare us for Deontay Wilder? Robert Helenius was the guy.
"Tall, stand up, can crack a bit, good jab, and you're also going to appreciate that you're going to get criticism. Gerald Washington was an option, but he hasn't boxed in two years. I also didn't want to interrupt the Chisora-Washington fight, which I also really like as well.
"Delboy's name got put in the mix, but he wasn't ever really an opinion. There were probably three or four and one of them was Washington, and one of them was Helenius.
"I think Kabayel & Joshua agreed to it, but we couldn't get the financial deal done. I think it was pretty straightforward. People will say that he [Helenius] got knocked out by Deontay Wilder. Watch it back.
"He actually tried to walk Wilder down and walked onto a shot. He boxed on FOX a couple of times, bashed Adam Kownacki, went the distance with Dillian Whyte, and beat Dereck Chisora in a close fight. Credible and is coming off a win," said Hearn about Helenius.