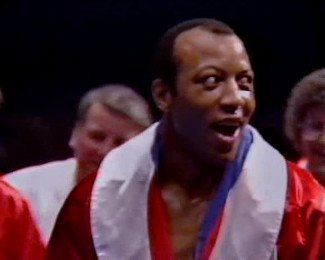 James "Bonecrusher" Smith was a late substitute when he sent reigning WBA champ "Terrible" Tim Witherspoon to the canvas three times well inside as many minutes to become the new WBA king. With the win, Smith, aged 33, also earned himself a big money fight with new WBC champion, Mike Tyson – at the same time knocking Witherspoon out of the Tyson sweepstakes.
This happened 31 years ago today, and fight fans who were getting somewhat pumped up over seeing a Tyson-Witherspoon fight – this fight very possibly being the toughest test to date for the rampaging, close to his peak Tyson – were forever disappointed. Indeed, we have James Smith to thank for the ultra-intriguing match-up that was Tyson Vs. Witherspoon never happening. Would an in-shape Witherspoon have exploded the Tyson myth befiore it even got into full swing, or would Tyson have destroyed the Philly warrior in style? Maybe we would even have seen a great, great fight had these two heavyweight champions collided in 1987.
Now though, "Bonecrusher" Smith was the new World Boxing Association heavyweight king at the expense of Witherspoon. Witherspoon, aged 28 at the time of his loss to Smith, had actually beaten "Bonecrusher" in a previous encounter. Winning a clear unanimous decision over Smith in 1985, Witherspoon was expected to defeat him again in December of '86. For previous to his 12 round loss to Witherspoon, Smith had also failed in a world title shot against the great Larry Holmes, being stopped on cuts in 12 rounds in November of 1984. Going back even further, however, the record showed how Smith had brutally KO'd Britain's Frank Bruno in 10 rounds in May of '84.
Clearly, at times the big punching Smith could get the job done. Going up against Witherspoon the second time, the challenger did just that and shocked both the defending WBA champ and the odds.
Coming out fast, Smith soon had a sluggish looking Witherspoon in trouble. Sent crashing to the floor three times, Witherspoon was beaten via the three-knockdown rule. The time was a quick two minutes and twelve seconds. Witherspoon later claimed he was actually somewhat happy at the result, as he was now free from the grasp of Don King – who now had no time for the loser and ex-champ he used to promote. Perhaps Tim meant what he said, he certainly looked disinterested going into the fight with Smith, and who could blame him if he knew that were he to win the majority of his purse would be swindled from him by King anyway?
Still, we cannot take the legitimacy of the upset win away from the man from North Carolina. James Smith could not be blamed even if "Terrible" Tim was not in the best of shape mentally. "Bonecrusher" could now enjoy his championship – for a while at least. Next up, however, was the 33-year-old's unification bout with the 20-year-old known as "Iron" Mike.
Unfortunately, Smith's performance against Witherspoon was something of a one-off and certainly a career best effort. In his fight with Tyson the following March, the man known as "Bonecrusher" became instead a bone clutcher, in a dreadful non-effort against the fearsome Tyson – losing by a lopsided decision on points.
It is the Tyson fight Smith is probably best remembered for, and a stinker of a fight it really was. But on his day Smith was also a decent and very dangerous fighter. If only he'd not left it to the very last round to fully open up against Tyson.