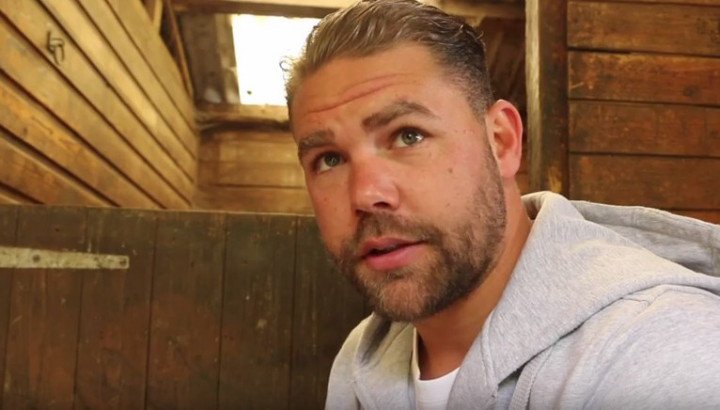 WBO middleweight ruler Billy Joe Saunders has a big and meaningful fight for the first time in over a year, and the unbeaten southpaw is expected to formally announce it later today: Saunders, 24-0(12) is expected to face fellow southpaw Willie Monroe Junior, 21-2(6) on September 16 in London.
And today via instagram, Saunders appeared in a short video in which he had harsh words for both Monroe Jr. and Chris Eubank Jr. Saunders, in one of his biggest wins, decisioned Eubank back in November of 2014, taking Eubank's unbeaten record, and he has been close to fighting him again. The rematch has not been made, though, and, in light of Eubank's move up to super-middleweight and his entry into The World Boxing Super Series eight-man tournament, it's likely it never will get made.
Still, Saunders had more to say to Eubank in his video than he did to his next challenger.
"The Mongoose (Monroe's nickname) – I'm going to show you what I'm going to do (extends middle finger to the camera). And still, WBO king, Billie Joe Saunders," he stated. "Eubank, he is nothing but a pussy! I will beat you with my eyes shut. I will beat you with these sunglasses on. I signed to fight you twice. W****r. I'm number-one."
It's strange that Saunders is seemingly so occupied with Eubank Jr, a man he may never actually face again. Shouldn't Saunders be more focused on Monroe Jr? Monroe is a very capable boxer, quick, clever and skilled. The September fight shapes up as being Saunder's toughest defence since he beat Andy Lee back in December of 2015.
Monroe gave the feared Gennady Golovkin a decent test back in May of 2015, his fast hands troubling GGG in the early rounds. Since then, Monroe has picked up two good wins, over Gabriel Rosado and John Thompson. Saunders has been largely inactive over the last 19 months (just one fight, a sub-par showing against Artur Akavov in December) and he better be in top shape for Monroe.