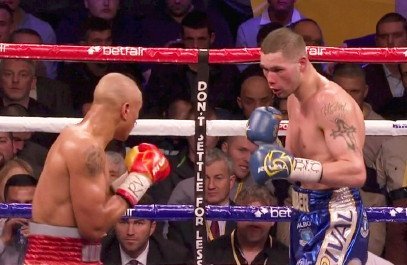 Matchroom Sport promoter Eddie Hearn says that he's thinking about putting a rematch between WBC Silver light heavyweight champion Tony Bellew (19-1-1, 12 KO's) and Isaac Chilemba (20-1-1, 9 KO's) on the undercard of the Carl Froch vs. Mikkel Kessler 2 undercard on May 25th at the O2 Arena in London, UK.
Bellew and Chilemba fought to a 12 round draw last Saturday night in a WBC light heavyweight eliminator bout in Liverpool, UK.
Bellew fought well enough to deserve a loss in the fight, but he lucked out when the judges scored the fight a draw. Chilemba was a bad match-up for the hard hitting Bellew because he was unable to hit him with his big swings couldn't deal with Chilemba's quick reflexes and excellent defensive skills.
Hearn might want to think hard before he puts Bellew back in with Chilemba so soon because it's probably too soon to be putting him back in with a more advanced fighter like Chilemba. Bellew looked like an unskilled brute against Chilemba, swinging and missing like a drunk for 12 rounds and not much is going to change in that regard by Hearn sending his fighter Bellew back out there with Chilemba so soon.
Hearn said in an interview with the dailystar.co.uk "Maybe he [Bellew] is not ready for a Chad Dawson, so maybe it's a blessing in disguise [that Bellew struggled against Chilemba]. Maybe he needs to build again, learn more and come back better…he may not be able to deal with Dawson."
If Bellew isn't even ready to deal Chilemba then how can he handle facing a guy that's even better than him in Chad Dawson?
The one advantage that Bellew will have in a rematch against Chilemba is the fight will once again take place in the UK where he'll like be given the benefit of the doubt if the fight is anywhere close. A lot of people thought that Bellew should have lost to Chilemba, yet the judges gave Bellew a draw. Now he's going to get a second chance and he may get the decision this time. I don't think Bellew can beat Chilemba, but I can see him getting the decision anyway if it's a close fight.