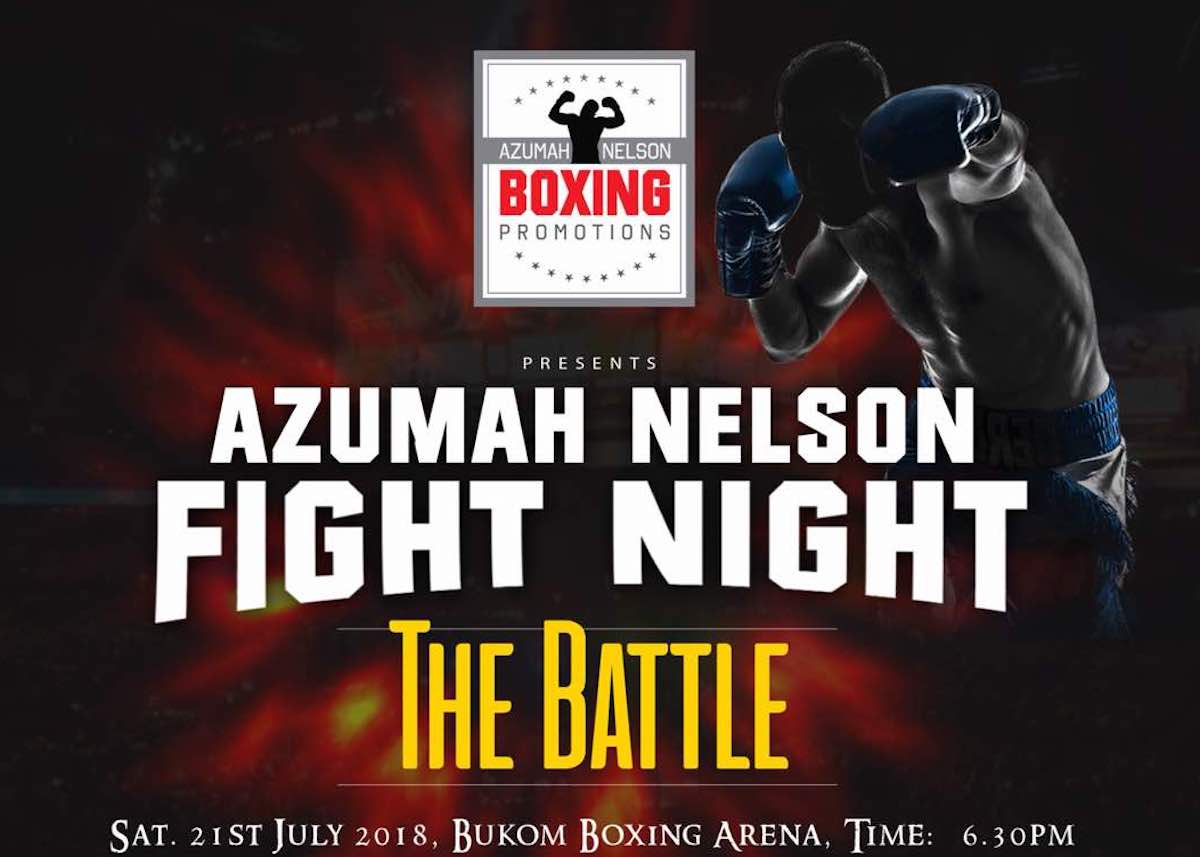 Azumah 'The Professor' Nelson, the legendary 3-time world boxing champion, born July 19, 1958 will celebrate his 60th birthday with an action packed fight night at the Bukom Boxing Arena in Accra on July 21.
The Azumah Nelson Fight Night – The Battle will witness six evenly-matched bouts along with pre-fight amateur exhibitions to whet the appetites of the thousands of dignitaries and fight fans expected to patronize the show two days after the legend actually turns 60.
"First of all I thank God for my life, not everybody can get to 60 years old, and even when they do most people are often times sick, in some hardship and all kinds of things but by God's grace I'm strong, I'm well and can do everything so I thank God for my life and the favour that he gave me. 21st is going to be wonderful so I'm calling everyone to come and celebrate with me.," Nelson told this writer's Facebook boxing magazine page, Dornu's Corner in an exclusive interview in Accra.
"I saw my career as a boxer from my infancy and I took it up, I trained so hard, focused and I said I wanted to be a world champion because if you are a boxer you have to be a world champion for people to recognise you. So I put everything that I had into boxing, I worked hard and by his grace I became a champion and today that I'm 60 years old I don't think there is anything left for me to achieve in boxing again. All I have to do is prepare the young ones coming up to take over," said the man whose son, Azumah Nelson Jr has shown a lot of promise in amateur tournaments but has yet to decide to follow in the footsteps of the legendary father by turning pro.
As expected, the man inducted into the International Boxing Hall of Fame in 2014 and declared the WBC's greatest super featherweight of all time will stage a tough line up of fights when his Azumah Nelson Boxing Promotions present Azumah Nelson Fight Night- The Battle to celebrate the big occasion.
In the event, WBA Pan-African super featherweight champ, Wahab 'Seunzy' Oluwaseun faces Mouibi 'Togo Warrior' Sarouna of Togo in a first defence of the title the Ghana based Nigerian defeated Bright Ayala to win at the same Bukom Boxing Arena back in March.
But the fight that could shake the very foundations of the sports emporium is the Ghana super featherweight championship between the titlist, Abraham 'No Shaking' Osei Bonsu and undefeated Patrick 'Alige' Ayi.
Meanwhile, the winner between the crunch bout featuring Michael 'One Bullet' Ansah versus Isaac 'Zongo Fire' Dowuona in a final eliminator for the national super featherweight title will be waiting to take on the winner of Bonsu-Ayi in the future.
Another fight with scores to settle is the rematch between Benjamin 'Daddy Lumba' Lamptey and Sheriff 'One Time' Quaye which is spiced up by the vacant Ghana lightweight title at stake. The duo previously fought in the first title fight to take place at the Bukom Boxing Arena on its inauguration night back in November 2016 with Quaye edging a close split decision win, but Lamptey has never accepted the verdict and has sworn to set the record straight with his fists come July 21.
World title chasing Emmanuel 'Kwahu Tyson' Danso makes a return to the ring against Stephen 'Anero' Abbey in a super middleweight contest scheduled for 8 rounds whilst Kpakpo 'Punisher' Allotey tests his highly rated credentials against hard-hitting Robert 'Stopper' Quaye in their national super featherweight title cum final Commonwealth eliminator.
But Azumah Nelson has not forgotten where it all began, adding three amateur fights to serve as curtain raisers to the birthday boxing party featuring some of the most promising fighters rising up in the country. Set within the AIBA rules of 3 rounds each, Shakul Samed of Akotoku Academy, a junior brother of Ghanain pro boxers Bastie and Isaah Samir, will face Jonathan Tetteh of Discipline Gym in a lightweight (60kg) contest.
Two other scheduled fights see Daniel Selasi Gorsh of Bronx Gym against John Commey of Black Panther Gym at flyweight (52kg) and Alfred Kotey of Akotoku Academy versus Alfred Lamptey Black Panther Gym bantamweight (56kg).
"I started with amateur so on the day of the fight, early in the afternoon we will begin with amateur fights. So everybody should come early to see the amateurs fight and then they can see where I started from because I came from amateurs, I passed through the ranks before I became a professional and got to where I got," Nelson said.
"I'm very grateful to the sponsors, everywhere we go they welcome us. Once they hear the name and know that it's Azumah Nelson they are very open to us. I am happy for their support and look forwards to more Azumah Nelson Boxing Promotions," the Professor said.