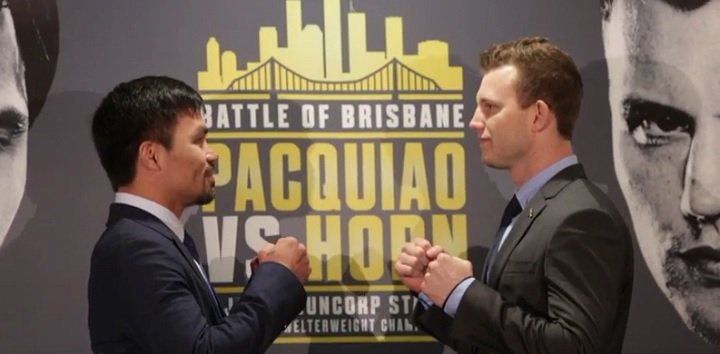 Australian fighting legend Jeff Fenech, who ruled over three weight classes during an exciting career that was somewhat stifled by bad hands, knows all about the rough stuff. A genuinely tough man, the former bantamweight, super-bantamweight and featherweight champ liked to make it rough, rough, rough for his opponents; even employing borderline illegal tactics on occasion.
Fenech was quite simply relentless during his prime years. And the long-retired warrior who has also shown talent as a trainer and analyst, says his countryman Jeff Horn has to make things as hot and as rough as possible for Manny Pacquiao when they fight for the WBO welterweight belt Pac Man currently holds.
The fight, the biggest in Australian boxing history, goes down on July 2, and Fenech is backing the unbeaten Horn to pull off the big upset – if Horn adopts the necessary tactics during the fight:
"Just bash the bloke in close," Fenech said to The Courier Mail when explaining the tactics he advises for Horn. "It's no more Mr. Nice Guy now. I'm not saying break the rules but you have to rough Manny up. Jeff, do everything to hurt him in close. Twist him, twist his knees, use your weight advantage, bully him – bang your shoulder into him. Manny can punch at a distance. Stay on his chest and make him feel all of his 38 years."
That's quite a game-plan from "The Thunder From Down Under!" Will Horn get away with such rough-house tactics should he employ them, though? And if Horn does try to take liberties, might he awake a sleeping giant, as it were – and suffer the wrath of Pac Man as a result? Pacquiao has been accused of being too easy on his opponents on occasion, failing to destroy a foe by stoppage since 2009. Even Freddie Roach wants, no, craves, a KO win from his star pupil in this fight.
If Horn follows Fenech's advice and angers Pacquiao, might it backfire on the challenger in a major way, and might Roach get to see the brutal KO he wants? One thing: if Horn can bring the kind of fire to the fight that Fenech brought to his ring wars, the huge outdoor crowd and the millions watching on ESPN in the US will be treated to some fight on July 2. While it lasts, anyway.