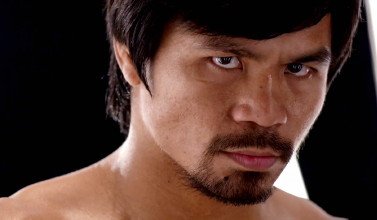 Top Rank promoter Bob Arum says he's going to stick it out with the negotiations between his fighter Manny Pacquiao and Floyd Mayweather Jr and not nail like he did in 2009 when he attempted to negotiate a fight between the two stars for the first time. For boxing fans who may have forgotten what happened in that situation, Arum quickly pulled Pacquiao out of the negotiations when the two fighters reached a stalemate over the blood testing that Mayweather wanted.
Instead of sticking it out and finishing the negotiations, Arum moved Pacquiao into a fight with one of his stable fighters Joshua Clottey and the fight failed to do impressive numbers like some of Pacquiao's other fights.
It was a huge blunder on Arum's part because had he stuck it out the fight very likely would have been signed with Pacquiao getting a 50-50 purse split. It's unclear what the purse split will be this time if the fight gets signed, but you can bet it won't be anything close to a 50-50 split. Try 60-40 or maybe 65-35 in Mayweather's favor.
"We are going to push this to the end. We're not going to let them off of the hook," Arum said via the Examiner.com. "We want this fight to happen. The public wants it. It's time to stop [expletive] around. He needs to get some cajones. Even if it's a difficult fight to accept for him, he needs to take it and do the best that he can," Arum said.
Arum's remarks run counter to the recent comment Pacquiao's adviser Michael Koncz recently said where he commented that they're only giving the negotiations until the end of January and then they've moving on to find another opponent. The question is why would Koncz and Pacquiao be in such a hurry to move on? It's not as if they have a viable opponent for Pacquiao.
If they don't stick it out with the Mayweather negotiations, then Pacquiao will be stuck fighting the likes of Jessie Vargas, one of Arum's stable fighters who holds the WBA light welterweight strap. Vargas is considered a paper champion in the eyes of some boxing fans. A Pacquiao-Vargas fight would likely bring in similar pay-per-view numbers as Pacquiao's recent fights against Chris Algieri and Brandon Rios.
Arum has no other choice but to stay with the negotiations for the Mayweather fight until they get him to sign. This may be the last chance the 83-year-old promoter has in getting the Mayweather fight, and Pacquiao needs this fight more than ever right now. The fight might give Pacquiao a surge in his pay-per-view numbers so that if Arum starts matching him back up against Tim Bradley, Rios and Algieri, he could improve his PPV numbers even if he does nothing in terms of improving his opposition.