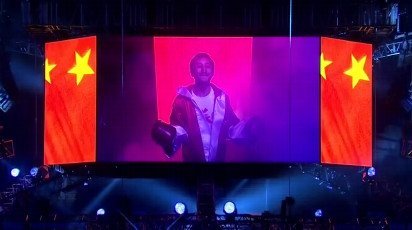 In a not surprising move, Top Rank promoter Bob Arum will be sticking unbeaten Chinese flyweight Zou Shiming (1-0) on the undercard of the November 23rd Manny Pacquiao vs. Brandon Rios pay per view card from Macao, China. Shiming, 32, has a fight scheduled 6-round bout this month against Mexican novice Jesus Ortega (3-1, 2 KO's) that Shiming has to take care of first at the Venetian Casino & Resort in Macao, China.
Shiming's fight on the Pacquiao vs. Rios card will be an 8 round bout, and following that Arum wants to move Shiming up to 10 round bouts. The idea here is to quickly move the former two-time Chinese Olympic Gold medalist quickly so that he can fight for a world title by next year provided he keeps winning and looking good in his bouts.
Arum thinks he can turn Shiming into a hugely popular fighter both in China and in the United States. Arum is counting on the Chinese Americans backing Shiming in high numbers in the same way that Filipino Americans support Manny Pacquiao in the U.S for his bouts that take place there, as well as purchasing his fights on PPV.
Arum said to esnewsreporting "We're taking a measured approach [with Shiming]. If all goes well [this month], he'll fight an 8 round fight in November. Once he's in a 10 round bout we'll evaluate him how quick we're going to go. We have loads of loads of Chinese Americans who live in this country and we think by next year they'll be ready to embrace Zou Shiming here in the United States."
By putting Shiming on Pacquiao's PPV cards in strategic spots, such as the co-feature, Shiming will definitely get that exposure to U.S audiences. At the same time, Arum will be helping his PPV cards in China get a lot more PPV buys by having Shiming fight on Pacquiao's cards like the Rios card. Arum is selling the Pacquiao-Rios card for $5 to Chinese audiences on PPV, and it could end up making massive amounts of money if the experiment pays off.