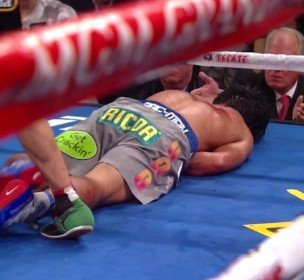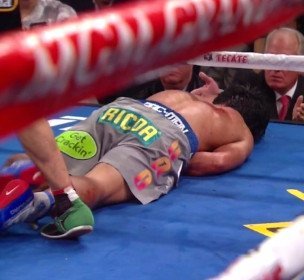 Despite Juan Manuel Marquez's apparent reluctance to fight Manny Pacquiao for a fifth time, Top Rank promoter Bob Arum remains extremely confident that he's going to get the fight made for September in Singapore or Macao, two places where the fighters can escape the taxes from the pay per view money that they get from U.S boxing fans. Arum is looking for the perfect hotel-casino in Macau or Singapore to stage the fight.
The rematch would likely be promoted as their previous fights with the fighters traveling to three or four major cities in the U.S to hold press conferences, and then the fight would take place outside of the U.S on fight night.
You can make a strong argument that Arum isn't exactly doing Pacquiao any favors by putting him back in the ring with a guy like Marquez after the way that Pacquiao was knocked out by Marquez last December. Marquez knocked Pacquiao out cold with a nice right hand in the 6th round of that fight.
The chances are high that Marquez is going to land a lot of hard right hands if the fight takes place, and Pacquiao looked like a shell of his former self in their December fight. Marquez hit Pacquiao hard twice in the fight and both times he hit the deck. Arum might be better off taking the safe route by putting Pacquiao in with the light hitting Tim Bradley to keep Pacquiao from potentially getting knocked cold again.
Marquez is expected to get a considerable bump up in pay from the $6 million that he received last time he fought Pacquiao. Marquez may get as much as $10 million this time, while Pacquiao will likely make his usual $20 million. Given that the fight is expected to make even more money than last time they fought in December, Pacquiao could end up with more than the $23 million that he was guaranteed last time.
Of course, the question remains why would Marquez agree to take the fight if he's not going to be getting anything close to a 50-50 deal? The answer would be that it's still much more than the money he'd receive to face Arum's other Top Rank fighters like Mike Alvarado, Brandon Rios or Tim Bradley.
Marquez can make in one night against Pacquiao likely 10 times what he'd make in fights against those guys because it would be PPV. If Arum were to put Marquez vs. Bradley, Rios or Alvarado in a PPV fight it's not likely that it would attract a lot of buys from boxing fans. My guess is the fights would be lucky to attract 100,000 buys.