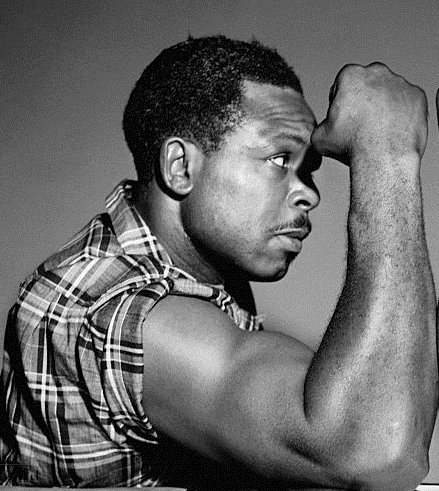 Has there ever been a more cerebral fighter than the legendary Archie Moore? One of the finest light-heavyweights in the sport's long history, Moore, a master at placing a punch – hence his astonishing number of KO wins – used his brains as much as he used his physical prowess.
Smarter than his ring rivals, most of them anyway, Moore enjoyed a long, long career – during which he gave his sport some unforgettable moments.
In 1936, after changing his name from Archibald Lee Wright, Moore began one of the greatest careers in boxing history. Moore was one of the best fighters of his era, but because he fought in an age of racial discrimination he was made to wait until age 36 before getting a title shot. The elusive title shot finally came in 1952, against Joey Maxim. Moore won handily over 15 rounds for the world light heavyweight championship.
Now everyone knew how good he was and why plenty of fighters/managers had conveniently ducked him. Archie was to hold on to his title throughout the rest of the 1950's and well into the '60's.
Moore beat former champ Maxim twice more in defence of his title and then in 1954 he made his Madison Square Garden debut, knocking out Harold Johnson, who had held a previous victory against him, inside fourteen rounds. Then, after flattening Carl "Bobo" Olsen in three rounds, Moore decided to try his hand up at heavyweight.
Facing the unstoppable Rocky Marciano for the world title, Archie surprised everyone by decking "The Rock" in the second round. Eventually, after a memorable bout, the champion got on top of things in round six, dropping Moore twice, before finally stopping him for good in the ninth round. It was Marciano's last fight. As for Moore, following a number of non title fights at heavyweight, he eventually stepped back down to light-heavyweight and once again claimed the world title via a 10th round stoppage over Yolande Pompey in London on June 5, 1956 (Moore being one of the greatest fighters to have ever fought in England).
Archie then stepped up to heavyweight once again and though, he would have liked another crack at Marciano, Rocky's retirement ruled this possibility, out. Moore always maintained that if the referee hadn't got between himself and the still stunned Marciano in their title fight he'd have gone in for the kill after the second round knockdown. Instead Moore believes referee Harry Kessler gave the 'shaky' champion precious seconds in which to recover. Is there any substance to this claim? Archie always told the truth, that's for sure, so who knows?
Whatever the case, Moore wound up facing Floyd Patterson in a match to decide Marciano's successor. Despite having a huge edge in experience over the 21 year old Floyd, Archie just could not cope with his blinding speed. Archie was knocked out inside five rounds and Patterson became the youngest man to win the heavyweight title.
In a routine world title defence back down at light-heavyweight, against Tony Anthony in 1957, Archie appeared to be simply going through the motions. But any doubts boxing fans may have had about his commitment to the sport were quickly erased when Moore fought one of his greatest ever fights. Defending the light-heavyeight crown against French-Canadian, Yvonne Durelle, Archie was forced to display every ounce of his fighting ability in order to keep his title.
In what turned out to be a great fight, Durelle stunned Moore in the first round, knocking him down three times and appeared to be a certain winner. But, somehow, the champion managed to survive the opener and then, incredibly, claw his way back into the fight. Moore was put down again in round five but by now Yvonne was tiring and Archie made him pay for letting him off the hook. Moore floored Durelle in the seventh and tenth rounds before ending matters in the 11th round of one of the greatest fights of that era. This fight would be talked about for years. Archie himself was proud of his brave comeback and said that all fighters dream of being in an epic "knock down, drag out fight such as this".
How does one follow such a classic? With a rematch, naturally. Unfortunately for the fans, this time Archie won easily inside three rounds. "It was a hard fight, I just made it look easy", Moore said afterwards. Then came the last title fight of his career. In June of 1961, Archie out-pointed Guilio Riualdi over 15 rounds, but was then stripped of his world championship for not fighting former knockout victim Harold Johnson.
Around this time Archie began training a brash, young upstart by the name of Cassius Clay. The winner of Olympic gold in 1960 had undeniable talent but the strict disciplinarian in Moore rubbed against all that Clay was about. They soon parted company, leaving Cassius to seek out Angelo Dundee from Miami. However, Moore and Clay would meet again – this time in the ring. One of Clay's early managers, Bill Faversham, upon hearing of the friction in training camp, had remarked to Moore that "Maybe Clay needs a good spanking". Archie's response was "he sure does, but I don't know who's going to give him one, including me." In 1962, two years after so aggravating him as his teacher, Moore tried to do just that.
Quite incredibly, whilst aged 47, Archie was to fight the man who is today generally considered the best heavyweight of all-time. It was no contest, as Moore himself had feared. The speedy Clay stopped "Ancient Archie" in round four, as he had predicted. But not before tormenting Archie verbally with references to the training techniques he had tried to impose on him. Clay enjoyed this, all the more so after being subjected to what he had regarded as disrespect for someone with his all too obvious talent.
As far as his own fighting days were concerned, Archie would have one more fight, a win. He defeated Mike Dibias in early 1963, before bringing down the curtain on a truly great fistic career.
Moore's final pro record reads a simply incredible 185 wins with 23 losses and 11 draws. His KO wins read an even more amazing 132. Moore passed away in December of 1998 at the advanced age of 81.