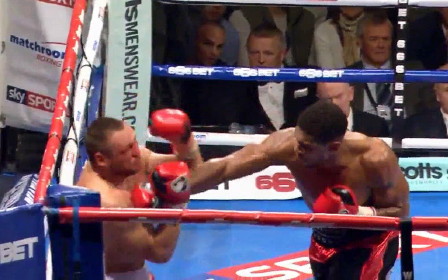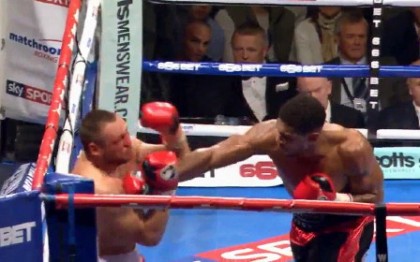 Big punching British heavyweight prospect Anthony Joshua (11-0, 11ko) – tipped as a future star by many – takes another step toward his "acid-test" fight with solid American veteran Kevin Johnson on May 30th with a scheduled 8 rounder against South American journeyman Raphael Zumbano Love on Saturday as part of Matchroom Sports Sky Sports broadcast from Birmingham.
Whilst nothing but a win is expected, the Olympic gold medalist is making all the right noises ahead of the contest, promising an "explosive" performance.
He said to Sky Sports;
"Saturday is very important. My conditioning is improving day by day and my focus is fully on this fight. I want to put on an explosive performance for the fans."
Joshua, who was originally scheduled to box Johnson in January but withdrew through injury, is one of the "Golden Eggs" of the Matchroom Sport stable and has thus far in his career been matched carefully and considerately – as you do with any young fighter.
There have been growing calls for his progress to be accelerated mind you, such is the natural talent, power and athleticism he displays. He has yet to be "tested" in the eyes of many as he hasn't taken a clean shot, has yet to go beyond three rounds and has largely fought guys with losing records.
The fight with the 34 year old Johnson is designed to represent that next-step test. The American is known for his durability and has clearly operated at a level above. Going the distance with Vitali Klitschko in 2009 was the pinnacle for him but even these days he has boxed the likes of Tyson Fury, Dereck Chisora and Manuel Charr so the eyes will certainly be on AJ's performance for comparative purposes.
Some of Joshua's critics cite Frank Bruno and his fight with "Bone Crusher" Smith in 1984 as a portentous omen as Joshua and his bulky physique is often compared to the British icon. Bruno, his muscles using vital oxygen – gassed out in the 10th of that fight and was duly knocked out. It was his first time in deep water too.
We will see if Johnson can take the Gold medal winning Olympian to the later rounds or absorb all of what the Brit will give out. Or if he can – once again – survive. I'm not suggesting he represents what Smith did but we shall see how Joshua performs in the fight.
Even there, the win is expected – it's just how he is going to do it. In my eyes he could really do with getting a few rounds under his belt. Then hopefully some more of the questions fans have will be answered.
It's maybe worth mentioning at this point that new WBC champion Deontay Wilder only got "tested" for real and answered his own questions in his title winning performance in January.He'd had 30-odd fights before that. If the rumours of his upcoming voluntary defence against Eric Molina are true I'm not sure how anyone can criticise Anthony Joshua.
Promoter Eddie Hearn has mentioned previously he is mindful of how long he can hold his fighter back before he lets him off the leash completely.
It would seem Joshua himself is aware of the clamour of the British public in particular to see him fight a name like Dereck Chisora, David Price or even Tyson Fury. A showdown with old amateur foe and fellow undefeated prospect Dillian Whyte is a fight that would also do well on a London Matchroom card in the eyes of Brits. Promotional and TV restrictions must always be considered in such things but the fans want meaningful fights.
Of potential future fights, Joshua said;
"It's about building momentum and that was halted recently through injury. I'm going through a process and we've spoken about certain fights and they will happen"
"I will do things my way though. I have from the start and I will continue to do that. Everyone wants to fight me and I want to fight everyone but I can't fight them all at once. This isn't WWE – this is boxing. We will do it at the right time and one at a time."
Yet before all that we get to see the warm-up Saturday against Love and the next step of the Anthony Joshua story. It will certainly be a knockout in the first third of the fight by my reckoning and we can await the "test" of Kingpin and then the sterner ones that are sure to unfold beyond that.
The heavyweight scene is opening up. Anthony Joshua is surely a name for the world to keep their eye on….
Many thanks for reading.
I'm now on twitter – @Undilutedpoison