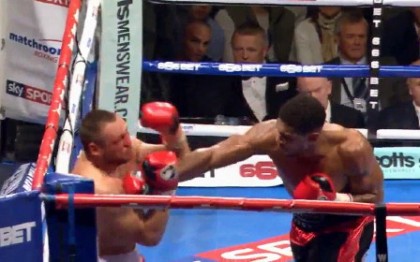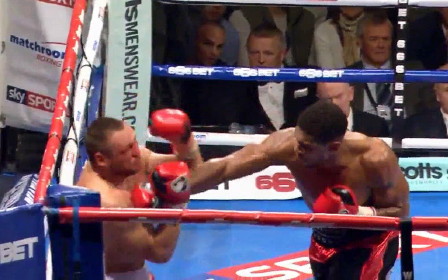 Eddie Hearn is indeed building up Anthony Joshua (12-0, 12ko) as the next British heavyweight boxing hero and it's true that his hopes for the London 2012 Olympic medalist are extremely high.
The unbeaten knock out artist is arguably the future "face" of the Matchroom Boxing brand and Hearn is praying Joshua will capture the public imagination in much the same way fellow Brit Frank Bruno once did in terms of his enormous popularity – and he believes the Watford man can emulate what Hall Of Famer Lennox Lewis did in terms of his extraordinary 3x world title winning career.
The next step for the big-punching prospect comes on Saturday when he takes on solid American Kevin Johnson (29-6-1, 14ko) on the 'Rule Britannia' Sky Sports Box Office card from London.
While a win is certainly expected – it's the manner in which it will come that is the most intriguing, with the 35 year old Johnson never having been stopped in his 36 fight professional career thus far.
Anthony Joshua is yet to hear the bell for the 4th round himself, with most of his hand-picked victims failing to even get out of the 2nd round.
Johnson, who entered the ring to sell the fight after Joshua's blowout of Raphael Zumbano Love earlier this month, has promised he has the antidote to defeat the young Brit and de-rail his 'hype train', telling Sky Sports;
"He is a media hype job and let me tell you this. Once this dude is out of the way, I'm going to show you the future of the heavyweight division is right here."
While nobody should pay too much attention to that statement, the durable American has promised that he won't come just to be negative and go into survival mode as we have seen from him in the past.
The pinnacle of his career was back in 2009 when he lasted the distance with Vitali Klitschko, yet Johnson has admitted that the intermittent years – and poor performances – have been his own doing – and he won't be making any of the same mistakes this time;
"For the last two years I didn't even train and I didn't even care but the days of hurting my career are over. I blew it by not training and just turning up – but not for this, not for this right here."
"Let me tell you how real it is – this preparation tops the Vitali Klitschko preparation and that guy was then the biggest in the world. For Vitali I was 60% – this I'm 100% so I don't know what else to say. I'm really afraid of myself to be at this point right here. I'm going to be explosive."
I think the shine gets taken off any fight when the date for the next one is already penciled in on your Boxrec – as Joshua's is. A TBA for the big July card in Manchester when Scott Quigg and Kiko Martinez headline the bill, has already been announced.
It's a sure sign of what Joshua is expected – and will – do against Johnson.
So don't expect a shocker. But it's certainly interesting to see just how far this one will go….
Twitter @Undilutedpoison