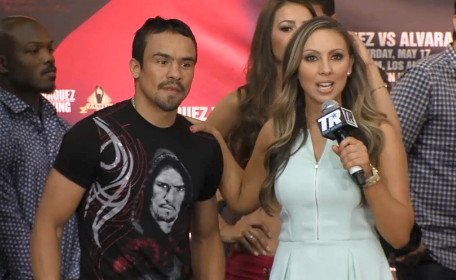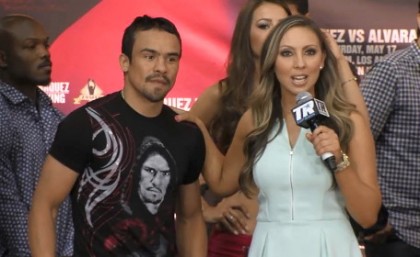 "C'est magnifique mais c'est pas la guerre." (It's magnificent, but it isn't war).
~Marshal Pierre Bosquet in 1854, as he watched English cavalry charge toward their doom in a brave but ill-advised attack upon a deeply entrenched Russian artillery battery during the Battle of Balaclava.~
Although Tennyson's poem remains the most famous piece of writing about the Charge of the Light Brigade, Bosquet's quote may well be the most succinct, and appropriate description of what took place that day. You really can't hope to do much better in terms of trying to express the mixture of admiration and incredulity that one would feel when watching an event like this take place before your eyes. And, that's the reason why this author has decided to begin the article with these words; because he has a feeling that they'll be uttered by more than one boxing fan as they watch an entirely different sort of battle take place at the Inglewood Forum this Saturday.
Make no mistake: the bout that's been scheduled to take place between Juan Manuel Marquez and Mike Alvarado has the potential to provide the viewer with plenty of action, and some moments of true magnificence. In fact, this is almost guaranteed to happen, given their respective approaches to combat.
Alvarado is a tough, aggressive, fan friendly brawler known for his willingness to walk through as much fire as his opponent can deliver simply to have the opportunity to return it in kind. That's not to say that he completely lacks skill- against Brandon Rios in the rematch, and even at points against Ruslan Provodnikov he proved capable of working off the jab and stepping back to create space for his power punches. Still, one gets the impression that he's never all that thrilled about having to do so. He much prefers to take a more direct approach to defeating an opponent. That's just who he is.
As for Marquez, he's proved time and again that he's willing to meet this type of opponent head on. He's a superb boxer of course, with a seemingly endless array of combinations and feints and counter punches at his disposal. But what makes Marquez such a legend in the sport is the fact that this technical acumen is augmented by a warrior's heart. Dinamita has never been one to retreat when confronted by an opponent's charge. Instead, he'll stay in the pocket, wait for an opening to appear, and then fill it with a well timed punch (or punches) of his own. Only at that point will he slide away from his foe, so that the process can repeat itself.
So, it's an appealing match-up. A classic match-up, really. The younger, bigger, stronger fighter will press ever forward and try to overwhelm his opponent with constant pressure and a steady stream of combinations. The older, more experienced veteran will, in turn, calmly wait for the chance to time him with something on the way in. Fights that feature this type of dynamic often tend to be pretty exciting, and this contest should prove to be no exception to that rule.
The thing is, an exciting fight isn't always competitive; and there's reason to believe that this bout will cease to be all that competitive after several rounds have elapsed.
The reason for this statement hinges upon one simple factor that need to be taken into consideration when discussing this match: Marquez is better than his opponent. It's not that Alvarado is without talent, or is a bad fighter in any way. He would not be a former 140lb world titleholder if that were the case. But, he's not just facing another former titleholder in this upcoming encounter on Saturday…He's about to face a genuine legend who has not only won multiple world titles across four divisions, but has also guaranteed himself first ballot induction into the International Boxing Hall of Fame upon retirement. Even at the age of 41, in the twilight of his career, Marquez still resides on a different and higher level than Alvarado. Consider: Two fights earlier, Marquez scored his signature victory- a devastating one punch knockout over his eternal rival, Manny Pacquiao. In contrast, Alvarado's best win came at the expense of Brandon Rios- who subsequently lost every single one of the twelve rounds he boxed against a returning Pacquaio late last year.
More to the point, this isn't the first time that Marquez has been in this kind of match-up. Against Juan "Baby Bull" Diaz and Micheal Katsidis, he was confronted with younger, larger, stronger opponents who attempted to overwhelm him with work rate and pressure, or to bludgeon him into submission with power punches. In both cases, he did pretty well for himself. He didn't have things all his own way, it should be noted, and was hurt in the early rounds of both of these fights. Still, in each case, Marquez was able to overcome this difficulty, find his groove in the middle rounds,and then accelerate from that point until such time as he was able to force a stoppage. Since Alvarado employs a similar approach, and doesn't necessarily bring much more to the table than those two did, it stands to reason that the result should be similar.
That isn't to say that Mile High Mike won't try to give the Mexican different looks when the bell rings to initiate combat. One can easily imagine a scenario where Alvarado begins the bout by attempting to box at range, in order to make the best possible use of his edge in height and reach. And, he may well enjoy some early through the use of this tactic. As has already been established, he's not a bad boxer when he chooses to be- and he's facing someone who tends to start slowly and take two or three rounds to gain the measure of his foe. It's therefore very possible that Alvarado will likely have the lead after the first three or four rounds are completed.
But, that's the point when Marquez tends to figure out fighters like Diaz and Katsidis and now Alvarado. Fighters like that don't have the capability to attack in speedy staccato bursts like Pacquiao, nor do they after the same off-time rhythm and awkward improvisational ability of a Tim Bradley. Fighters like the three mentioned march exclusively to a standard 4/4 drum beat- and that's a rhythm that Marquez can groove to every time he fights.
Once he works out Alvarado, he'll use the eye for detail that he gained through his training as an accountant to spot an opening and drop a right hand into it. The right hand may not produce the same reaction as The Punch That Launched One Thousand Memes, but it will likely have some sort of effect on his opponent. It will draw blood, or raise swelling or cause him to wince a bit in pain. At that moment, Alvarado's natural impulse to attack will override any desire that he or his handlers might have had to stay with his game plan, and he'll step forward to return the favour.
And, that's the moment when the competitive portion of the fight will come to an end.
For, at that point, he'll be vulnerable to another counter punch; and once that punch connects it will become clear that Marquez's own rhythm will have been established. Even if Alvarado makes a concerted effort to return to the game plan in the rounds that follow, Marquez will have found the way to draw him back into the kind of fight that suits him best. That plan will involve baiting Mike into a charge, so that he'll have the best chance to rain down fire upon him. Eventually, that plan will take effect, and then it will simply be a question of how many charges Alvarado is able or willing to make before he's cut down…or until someone decides to finally call off the attack.
That's the author's view of how this fight will unfold, but he'll admit that it's hardly beyond the realm of possibility that this view might be mistaken. Marquez is in his 40's, and has been in a lot of tough fights. Maybe he'll become old on Saturday. Maybe Alvarado, despite having shipped enormous punishment in each of his last five fights, will have enough left to rise to the occasion and produce the fight of his life. Maybe the two will meet in the middle and produce a fight with two-way action and multiple shifts of momentum throughout the course of the full twelve rounds.
Maybe this fight will produce what boxing fans refer to as being a "war", after all. Stranger things have happened.
Yet, even it isn't that kind of war, it should still produce moments of excitement as we watch a fighter who possesses superior artillery repel the charge of a brave, but ultimately over matched opponent.
It should still prove to be magnificent…
Of that, there's very little doubt.
The pick: Marquez TKO10