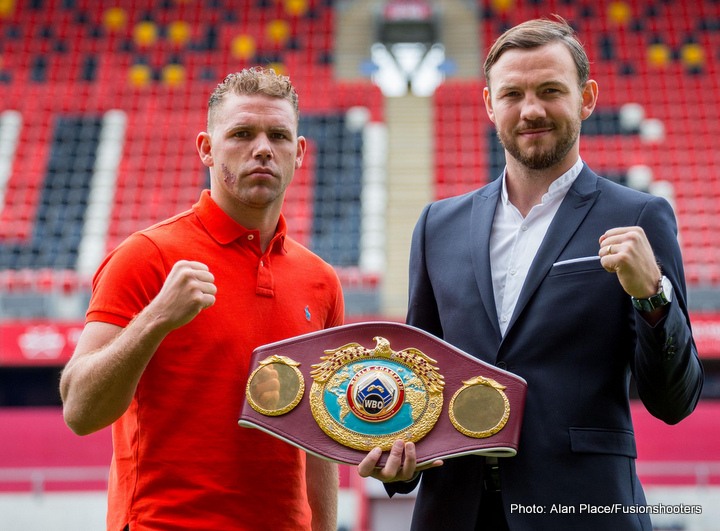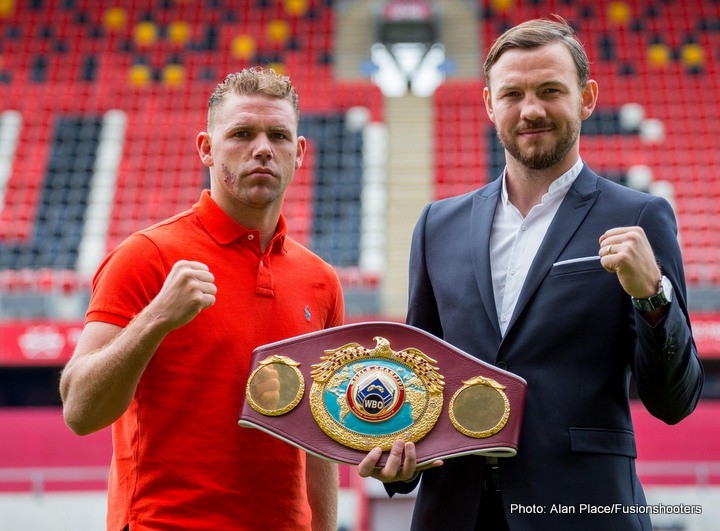 "I'm very proud to bring this fight Limerick" were the words of WBO 160 lb champion Andy Lee earlier today, when his September 19th fight with unbeaten mandatory challenger Billy Joe Saunders was officially announced via a press conference at Thomond Park, Ireland.
Lee, who won his title against dangerous Russian puncher Matty Korobov last December, spoke to iFLtv to talk about the history making bout, which will be the first time that two men of traveller origins have contested a version of a world title – and in his eyes, there will be only one winner.
Sadly for the fighters involved, and Queensbury promotions – who look after Saunders – today's presser was slightly overshadowed by (Matchroom Sport promoted) Carl Froch's retirement announcement, which someone more cynical than myself, might have considered a deliberate move?
Lee is however, relishing the occasion of boxing in his hometown, and says he knows exactly what he must do to win.
He said of his English opponent;
"Billy Joe is a great fighter and a great boxer and he starts fast. Me? I have started slow in my last few fights and then come on strong, so we'll meet somewhere in the middle I assume, and I know if I land the right punch at the right time, I can knock anybody out."
Lee is however incredibly respectful toward former Olympian Saunders, who hasn't boxed since defeating bitter rival Chris Eubank Jr last November, and is more than aware of the sense of honour and fighting spirit the Hatfield man possesses.
"He's a tenacious fighter. He fights with a lot of pride and a lot of passion and I think he's highly competitive. I'm – for want of a better phrase – gonna have to beat that out of him. I have to make him accept defeat first in his mind and then make that a reality for him."
"He's a very fast fighter, throws a high volume of punches and he's very skilled. (He's a) Good mover and you can see he has a lot of ability. I know it's gonna be a hard fight and his biggest attribute is that he's undefeated. I'm gonna have to make him accept a loss."
"I've faced similar styles before and I've beaten undefeated fighters before so it's nothing new. What is new is this occasion – a stadium fight in my hometown, and that will bring it's own pressures – but I'll have to deal with that as well as the fight."
Lee will no doubt bring more experience to the ring, with 16 more pro outings, as well as having boxed on the road in America for large chunks of his career against a higher calibre of opposition than Saunders has faced as yet.
Once a student of legendary Kronk trainer Emmanuel Steward, he has for the last 3 years boxed beneath David Haye's former trainer and noted tactician, Adam Booth, and has seen vast improvements in his game throughout the duration of the hook-up.
"I believe I'm learning all the time. Me and Adam, our understanding of each other has grown deeper every day with our work in the gym and there is a lot more to come."
And Lee expects the fruits of that hook-up to be evident on September 19th;
"There's a lot of respect between me and Billy Joe, and that will continue after the fight – but he understands and I understand, that when that bell rings we'll be fighting and trying to take each others head's off."
Following the history making fight, Lee has his eyes on a couple more big fights, before getting out of the sport with his faculties intact.
The 31 year old said of the post-Saunders landscape;
"Then I will fight Gennady Golvkin maybe – or Miguel Cotto. One of the other champions – and then sail off into the sunset."
Twitter @Undilutedpoison