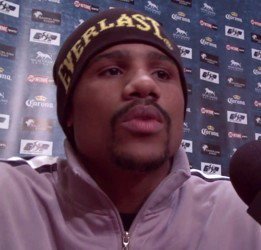 American Andre Dirrell is still hopeful of a rematch with current WBA super-middleweight champion Carl Froch. At this point it has to be seen as an unlikely prospect because if Froch is turning down fights with guys he has not faced in the past like James DeGale and Bernard Hopkins, it is unlikely that he would face a fighter he has already beaten in Dirrell.
Carl Froch has had a long career with a very long undefeated span for British and Commonwealth titles before going 10 – 2 – 0 (5KO) in world title fights. In his twelve world title fights he has held the WBC, IBF and WBA titles at one point or another.
His resume includes wins over exceptionally good opposition including an undefeated Jean Pascal, an undefeated Andre Dirrell, an undefeated Lucian Bute and an undefeated George Groves. He also has big wins over Jermain Taylor, Mikkel Kessler, Glen Johnson and Arthur Abraham. Looking over the sport of boxing you will not see many resumes that include the calibre of fighter that Carl has been in with. He only has one outstanding loss on his record and that was to long time number 2 pound for pound talent Andre Ward.
At 37 years old and with 5 back to back world title wins since the loss to Andre Ward, there is a sense now that Carl Froch is looking for one or two big fights to round off his career and call it a day. For those fights Froch is looking for a number of boxes to be ticked and these include the money, the effect on his legacy and ultimately his chance of success.
Generally in the fight game a boxer must take on the toughest challenges around to make himself into a star but the thing is once you reach the top of the mountain you are in the position to pick and choose your opponents, we can see this throughout boxing. The guys at the top of the 122 class are avoiding Rigondeaux, the guys at the top of the 147 class are avoiding Thurman and the guys at the top of the 160 class are avoiding Golovkin, this has become commonplace in the sport.
Froch originally targeted Julio Cesar Chavez as his opponent as it ticked all the boxes. The money would be good, he would be able to fulfil his dream of headlining a card in Vegas, he would get a lot of exposure and on top of that it is a fight he would likely win. We have seen Chavez Jr struggle in two fights with Brian Vera and Froch is a better fighter than Vera. This is a good fight and if Chavez can win his next one it still may be a fight we see.
To get back to the point I do not think Dirrell is in with a shot at Froch as he doesn't bring the same level of money and fame to the table that would be available in a Chavez fight, so it would be better if he focuses his attention on the other names in the division.