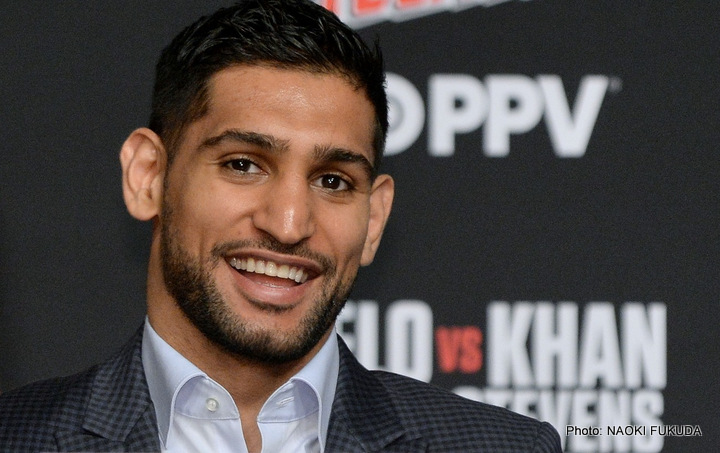 Not too long ago, reigning WBO middleweight champ Billy Joe Saunders expressed serious interest in having an all-British fight with Amir Khan. Now, in light of Saunders' superb win and performance against David Lemieux, BJS is aiming for much bigger fights. In fact, the gifted southpaw wants a fight with either Gennady Golovkin or Canelo Alvarez; Canelo of course being the last man to have fought Khan, knocking him out in quite disturbing fashion last May.
So Saunders has his targets, clearly. As for Khan, he has missed out on any fight with BJS, but the former 140 pound champ says he is ready to fight again, next March in the UK. If the return does go ahead then, Khan, now aged 31, will have been out for almost two full years. Khan last boxed in the UK in April of 2013, when he scored a tough, up-from-the-floor, razor-thin decision over a rejuvenated Julio Diaz (interestingly, WBC heavyweight king Deontay Wilder made an appearance on that Sheffield card, starching Audley Harrison inside a round in a non-title affair).
Khan, who has "enjoyed" a stint in the jungle on reality TV show "I'm a celebrity, get me out of here," trained every day during the weeks he was in Australia, and he told The Sun how "it is time" to return to the ring.
"I am going to fight in March," Khan told the tabloid. "I was training in the jungle every day, I'm glad I went, it was detox. I came back and I was in shape. I want to fight in the UK, I think it is time."
Khan will almost certainly return as a welterweight, considering his brave but ultimately disastrous catch-weight challenge of Canelo. Still a big name, in the UK especially, Khan could, maybe, make one last run at something big. There is still that domestic grudge-match with Kell Brook (although Brook is set to go up to 154 in the new year, and Khan, as we know, is not effective when boxing at anything higher than 147).
Then there are possible return fights with Danny Garcia (where is "Swift," by the way; and is he really going to fight Brandon Rios next year?) and Lamont Peterson (who fights new welterweight star Errol Spence in January) for Khan. It could be a tough road back for him, but the Bolton warrior has never lacked the necessary guts and courage to succeed.
Khan, 31-4(19) has been out of action for far too long and he might even get a hero's welcome on his return.