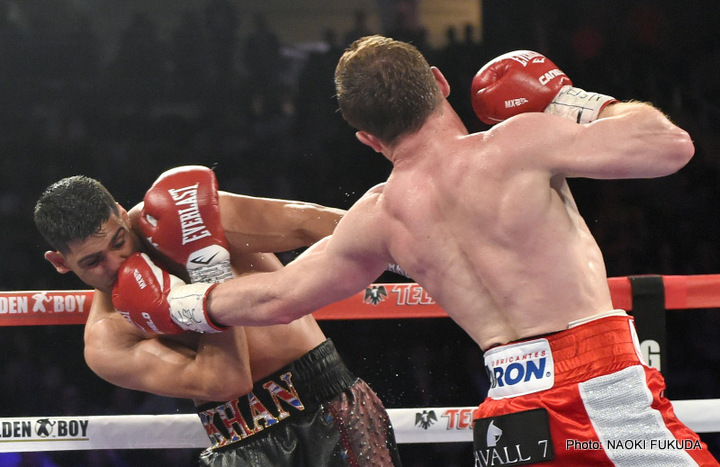 Amir Khan, last seen being KO'd by Canelo Alvarez in his brave 155-pound challenge of a fight back in May, says he hopes to be back in action in a big fight in January. Speaking with Sport360, the former 140-pound champion says he has "two options," in a fight with either Danny Garcia or Manny Pacquiao. Khan also revealed how he has undergone hand surgery so as to fix an old problem with his right hand.
"I've had this hand problem since my second (pro) fight when I broke my hand," Khan told Sport360's Alex Rea in Dubai. "Since then it has never been the same. The doctor told me that the ligaments were destroyed so, after seven years, I finally got it operated on. I was told I have only been fighting with 30 percent power so I'm glad that it is fixed as I need to be able to throw my right hand with full power. I will be ready to fight in January. I'm mandatory for [Danny] Garcia's belt so that is a big fight for me right there."
Khan also mentioned a possible fight with superstar Manny Pacquiao, who is widely expected to return to action in November. Khan is not bothered by the recent comments Bob Arum made about him – with Arum calling him "yesterday's news" and saying Khan is not a legit opponent for Pac-Man – and he says Arum is just bitter.
"I think he's scared and it's also because I'm not with Bob Arum, I'm with Al Haymon," Khan said of Arum's less than flattering remarks. "I think Bob's always been bitter against me, he's always had the bitterness against me. I've got two options Danny Garcia and Manny Pacquiao. I'm not the guy to be scared of any fight."
Khan claims Arum "knows what would happen in that fight," between he and Pacquiao, and Khan has said himself a number of times that it would be a hard fight for Pac-Man. Khan was also less than complimentary towards Kell Brook. Khan does give Brook credit for taking on Gennady Golovkin (Khan picks GGG to win) and he says a fight between himself and Brook can still happen – but Khan says he still doesn't like his fellow Brit.
"Certainly I still think a fight between myself and Kell will happen because he has proven himself now by being willing to step into the ring with Golovkin," Khan said. "The UK public want to see that fight and it is a fight I would like to give them. I still don't like him, though, in fact I hate him."
Strong words indeed, and fans might find themselves asking why Khan has such a dislike for Brook (how interesting it would have been to have witnessed the spar or spars they had back when they were up-and-coming youngsters – is this where the "hate" comes from?) Will this British grudge-match actually happen? As for the other two options he spoke of, Khan will be unlikely to get that big fight with Pacquiao (or you would think so anyway) but Garcia might have to defend against him next year if he's to keep his WBC belt.
Will Khan be able to hit harder now that his right hand has been fixed? If so, fans will wonder why the 29-year-old took so long in getting it fixed in the first place.