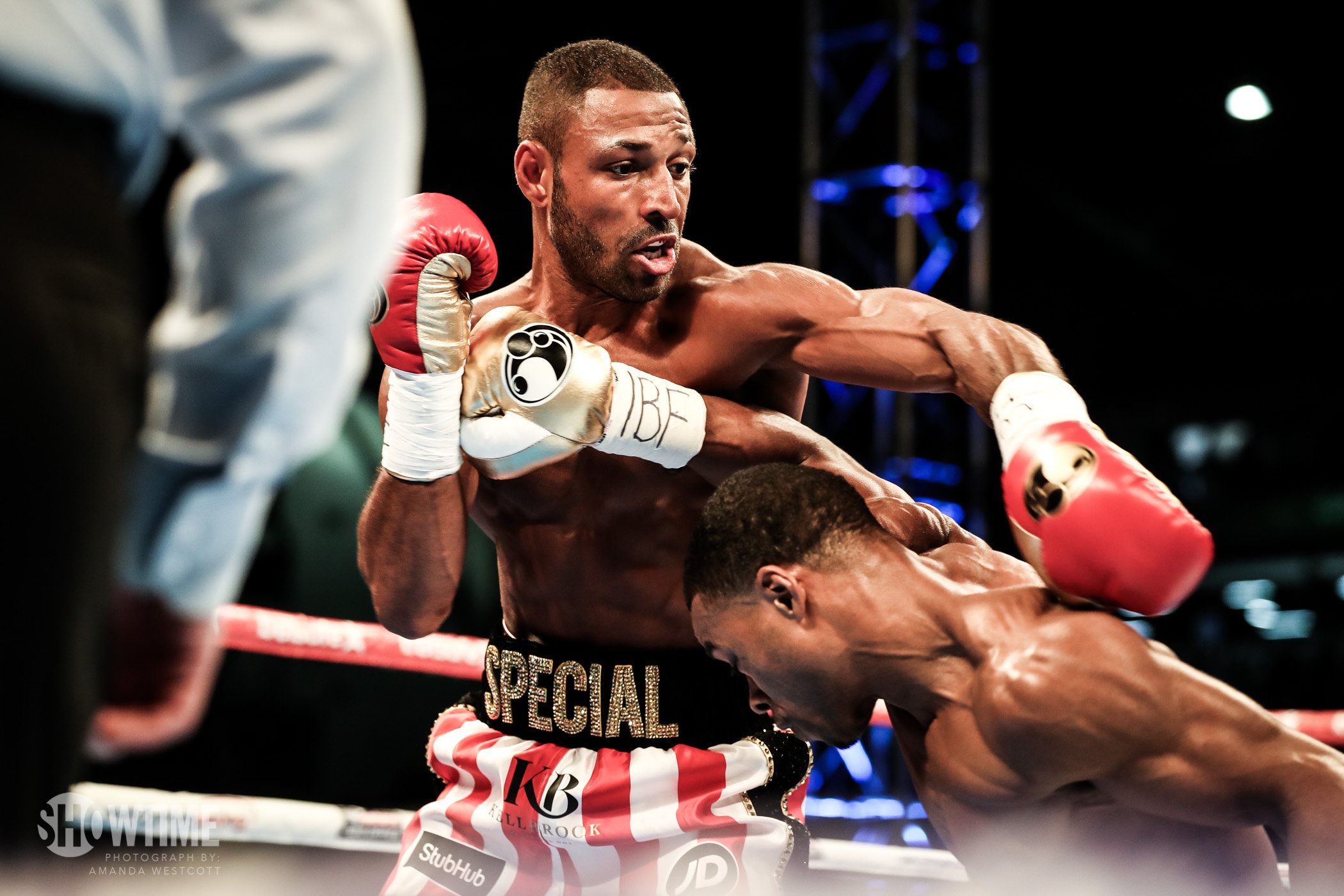 Amir Khan-Kell Brook; or should that be the other way around? Just who is the A-side in this all-British clash, one that seemingly will not go away? Both fighters, if they're not quite drinking at The Last Chance Saloon, are both close to entering the tavern.
Neither former champ has won a fight in a long, long time – Khan last registering a win in May of 2015, Brook last emerging victorious in March of 2016. But despite this recent run of defeat (against nothing but elite fighters it must be pointed out; with Khan losing to Canelo Alvarez and Brook coming unstuck against Gennady Golovkin and Errol Spence) neither man is ready to call it quits quite yet.
Khan wants to become a world champion again, so does Brook – but Brook might just be sticking around for something else: that one-time domestic blockbuster with the man he has again dubbed "Queen" Khan. Brook has at times appeared almost obsessed with facing Khan and of, as he puts it, "smashing him." Again this week, Brook called out the man he sparred with all those years ago.
"I want to get in there and beat Queen Khan up," Brook said during a Q and A session with App Empire UK. "We all want to see me stood over him, saying, 'listen, I told you.' We want to make that fight happen. We all want to see it."
But do fans still crave this fight? Go back a couple of years and yes, we all wanted to see it, and badly. But now, with Khan having been out for so long and with Brook suffering serious and possibly career-threatening facial injuries in his last two fights? Yes, the fight would still sell, but no longer is either man able to genuinely claim to being the best in their weight class – or even the best welterweight in Britain.
Brook's obsession with Khan is something of a mystery. Just why does "The Special One" have such a desire to prove he can beat Khan when he claims his British rival is in no way the real deal anyway? Why doesn't Brook take aim at the best 154 pounders (where he should certainly move up to)? Yes, the payday would be good, but if Brook did beat Khan would he really benefit from it aside from financially?
Khan, his failings aside, has always wanted to fight the best; not just fighters he was sure he would defeat, and to his credit he has actively sought out return fights with two of the men to have beaten him – in Danny Garcia and Lamont Peterson. Brook cannot be expected to go looking for revenge, against either GGG or Spence, as he has outgrown 147 but is no middleweight (as Triple-G proved in a painful manner inside five-rounds) – but it's getting a little old, Brook's constant calling out of a "chinny," "rubbish" and "fake" fighter in Khan.
Besides, Khan has turned down a fight with Brook so many times, what on earth makes Brook think he will take it now? Both men are trying to move on from defeat; Brook needs to move on from calling out Khan. That ship has sailed. Imagine Nigel Benn and Chris Eubank fighting in 1996/97, after both men had lost a good deal in losing more than a couple of fights each, instead of in 1990 (and then again in '93). Is this an unfair comparison to what a Khan-Brook fight would be in 2018 compared to what it would have been in 2014 or 2015?