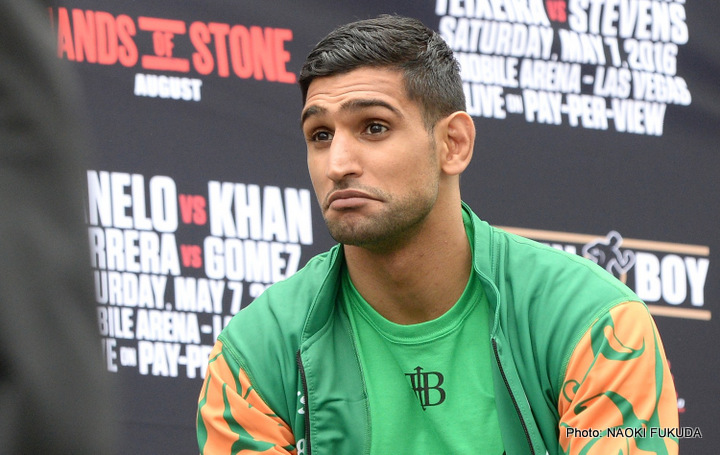 It's been said more than a few times and by more than a few, that British stars Amir Khan and Kell Brook have no remaining big fight in their respective careers other than one against each other.
As fans know, former IBF welterweight champ Brook is coming off two painful stoppage defeats, to Gennady Golovkin and, just under two months ago, Errol Spence Jnr. Khan, the former 140 pound champ, has not fought since being taken out by Canelo Alvarez 14 months ago. But though Brook is planning to return, hopefully, he says, before the end of the year, Khan is reluctant to finally face him in what would still be a genuine all-British blockbuster.
Khan doesn't want to fight the man he has had such a long grudge with, he says because the fight would be "bad for his health." Khan, who is planning his own ring return this year – his "new" right hand ready for battle having been successfully operated on – says Brook should forget all about fighting on and instead retire.
"I'm very surprised he is carrying on because he can harm himself and harm his career," Khan said in speaking with Sky Sports News HQ. "If I was him, or his advisors, I'd tell him to retire and enjoy life. After two big losses, two bad losses as well, if he's thinking about fighting me that could be a third big loss and bad for his health."
Despite what Khan says, there are still millions of fight fans in the UK who would very much like to see this particular rivalry put to bed before one or both of Brook and Khan retires. And fans would pay handsomely to see a big outdoor stadium clash featuring Khan and Brook. Besides, if they do fight on yet do not fight each other, who else can either former champ command such a stage and such a payday against?
Khan, though, went further, insisting Brook no longer has "the heart for it."
"In his fight against Errol Spence, he took a knee and gave up," Khan said of Brook. "In my opinion, he was doing really well in that fight, and he could have won it, there was only two rounds left. But he just went on his knee and didn't want any more of it. Us fighters, we are into the ring until we die or get knocked out – that's the only way you can get rid of us. With Kell, I think when he showed that he gave up, and didn't want any part of the punches, it just shows to me that his heart is not in it."
Some people agree with Brook, while others say it is simply ludicrous to call a fighter whose eyesight is on the line, as Brook's was in the Spence fight, a quitter. Brook, upon hearing Khan's words, will no doubt want to get in the ring with him and punish him for what he has said.
Sadly, it doesn't seem he will ever get the chance. Khan Vs. Brook is a hugely intriguing fight that just does not look like taking place. Ever.