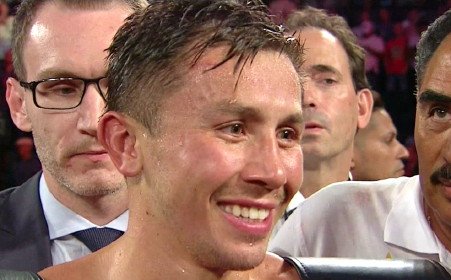 With 30 victories (90% KO rate) and no losses, the Gennady Golovkin express has arrived. The time of realization has arrived, and the time of appreciation is nearing fast, as GGG is clearly one of the most exciting and feared fighters in the sport of boxing today.
There is always a lack of fighters that ultimately guarantee a knockout for your money spent, but at a 90% rate thus far, Golovkin is that very fighter that brings boxing fans exhilaration from bell to bell. His fan base has exploded over the past year, and his ability to generate profit is on a very steady rise.
Danie Geale (30-3-0) is a solid fighter with a very respectable record, and was supposed to be the bigger challenge for Golovkin thus far. Based on Gennady's resume, of the bigger names such as Gabriel Rosado, Nobuhiro Ishida, and Matthew Macklin, Geale was the biggest threat. At least that was the plan. As many had projected, GGG did not need too much time to knock Geale out, and was able to finish the fight in the third round via another KO.
As his career progresses, his opposition must also be brought up to a new higher standard. GGG facing Andre Ward was always a heated topic of the boxing community, but it has never materialized, or came close to it. Now, the forever lasting question of 'who is next' is once again tearing into the fans as well as team Golovkin.
For a while, aside from Ward, Cesar Chavez Jr. was mentioned as a possible foe. Slowly over time, the boxing enthusiasts as well as Golovkin himself stopped mentioning Chavez Jr., and the idea gradually vanished, with two main options remaining.
One option is for Golovkin to step inside the ring against Saul Alvarez. There is no doubt that the fight would generate a tremendous amount of interest, and would most definitely be an exciting one to witness. Canelo brings an army of boxing fans anywhere he goes to fight, and Golovkin is the man who introduces fighters' backs to the canvas. This would in my opinion be a very dangerous fight for Canelo, much than it would be for Golovkin. Most fighters have no trouble connecting on Alvarez, and most of them don't have nearly as much power as Gennady does. Can Canelo continuously take the punishment while dishing out enough of his own to win the fight?
The other option, and one that Golovkin seems to like even more, is to face the newly regenerated Miguel Cotto. Cotto is ready for face anyone, as long as they are willing. There isn't anyone too big, too strong, or too fast for Miguel, and that's what makes him a fan favorite in most fights.
"It's the biggest name that will get in the ring with him," stated Tom Loeffler via the Dailymail.co.uk in regards to GGG fighting Cotto."'That's our target. Miguel had a victory. He and Gennady Golovkin would be the biggest fight in the Garden and it's a unification fight," suggested Loeffler.
It would be difficult to disagree with Loeffler on the popularity of a fight like that. MSG and Miguel Cotto are practically married, thus the arena would sell out with any Cotto fight being held there.
As far as the competitive edge of a fight like that, it's a bit convoluted, in that while generally Cotto can take a punch and give one back all night long, it's unlikely that he can do that with power punchers as we have seen in Cotto vs. Pacquiao. It's no secret that Golovkin's speed is not to be compared to Pacquiao's, nevertheless the destructive raw power of his punches should by now be respected by all. In other words, Golovkin is capable of knocking Miguel Cotto out.
"I want to fight him next and prove to the world without a doubt that I'm the best middleweight in the world," said Golovkin. If Cotto is what team Golovkin is aiming at, I think that this fight might just come to fruition.
More @ https://www.facebook.com/VitaliFightPress