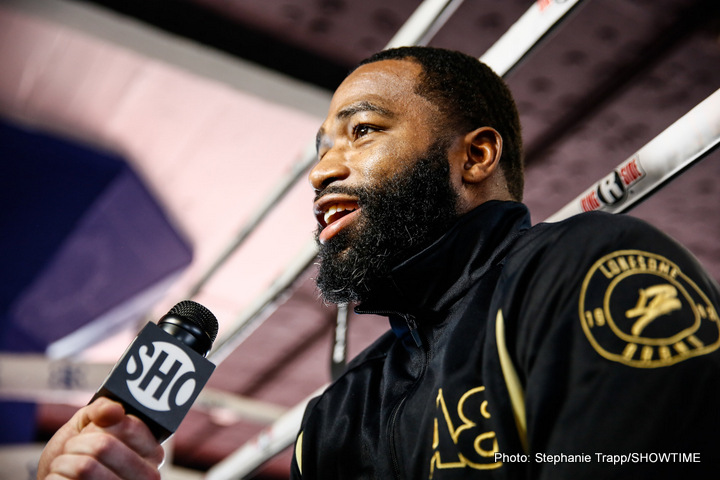 It seems Adrien Broner just cannot keep himself out of trouble. "The Problem," (and how much is the former four-weight champ going to live to regret choosing that particular ring nickname!) has been captured on video hitting an unknown man on the Las Vegas Strip this past Friday night; sending the man down and out with a vicious, apparently unprovoked punch to the head.
TMZ caught the incident and though security people apparently talked with Broner and then allowed him to leave the scene, it seems he will at some point have to face charges of assault. The video captures an initially happy Broner allowing fans to take pictures with him, then, for some unknown reason, Broner loses his temper, repeatedly shoving the woman with him as she tries in vain to get him to calm down. Then, further down the Strip, Broner lets loose with a nasty right hand to the head of the unknown victim.
The footage is not of high quality but the sound of the punch landing is both clear enough and sickening. Broner may well pay another visit to jail if this mess is not cleared up. And how on earth Broner can possibly justify his actions is a question anyone who watches the short video will be asking themselves.
Let's hope that the victim, whoever he is, is okay. Looking at the hard punch that decks him, this passer by may well have suffered some serious injuries.
As of Sunday morning UK time, Broner has yet to make any statement over just what happened on Friday night.
Broner, 33-3(24) last boxed in July of this year when he was soundly outpointed by Mikey Garcia in a fight that was widely considered to be Broner's last chance to finally show his full potential. Who knows, we may well have seen Broner's final ring appearance. At one point in time, back in 2011 to 2013, Broner had plenty of people excited over his chances of becoming a great fighter.