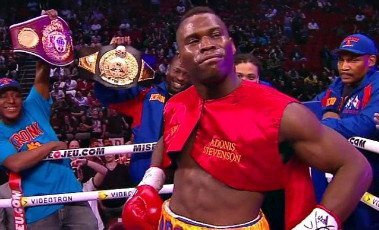 By Joseph Herron: On Friday, October 12th, a super fight will break out in the Super Middleweight division at the Bell Centre in Montreal, Quebec, Canada.
Slated to be televised this week on Wealth TV, at 9PM EST, two of the biggest punchers in the very competitive 168 pound division will square off in an impactful IBF title eliminator. Popular hometown KO artist Adonis "Superman" Stevenson (18-1, 15 KOs) will take on the always dangerous Don "Da Bomb" George (23-2-1, 20 KOs) in yet another intriguing match-up within the entertaining Super Middleweight division.
While most fight scribes and boxing pundits are viewing this fight with eager anticipation, lifelong boxing coach Ronnie Shields is observing this match up with a very meticulous eye.
The elite level trainer's Super Middleweight standout, Edwin "La Bomba" Rodriguez (22-0, 15 KOs), could easily find himself in the ring with the eventual winner sometime in 2013.
The always astute Mr. Shields speaks out on this superb Friday night fight.
"This is a great fight for boxing fans," professes the world renowned fight trainer. "Both men have devastating punching power and can easily end the fight with one punch. If you like knock-outs, then you won't want to miss this fight because someone is definitely getting knocked out on Friday night."
Although the prolific boxing teacher recognizes the always lingering knock-out potential for both combatants, Ronnie "thinks" he has a favorite to win the October 12th pairing.
"I think I like Adonis Stevenson to win this fight. Just for the simple reason that Edwin has told me so much about this kid. Edwin has been in the ring with both fighters, and he said that Adonis hurt him and dropped him in the amateurs. He said that he had never been hurt like that before."
"Even though he got up and finished the bout, he said that he had never been hit that hard. Edwin feels that Adonis is the stronger physical fighter and his skills might be a little sharper than Don's."
While no one can deny the awesome punching power of the Haitian born southpaw, who has won his last five fights by way of devastating knock-out, there is a concern regarding the 35 year old fighter's chin.
On April 16th, 2010, "Superman" was served a piece of kryptonite by hard punching journeyman Darnell Boone in Salisbury, Maryland. The previously undefeated Stevenson walked right into a hard right hook in the second round of what was supposed to be an eight round trajectory bout.
Despite being perfect since training at the legendary Kronk Gym in Detroit, Michigan, there remains a lingering doubt among various fight scribes concerning the strong Super Middleweight contender's beard.
Ronnie's meticulous trainer's eye sees an opportunity early in the fight for Donovan George.
"Even though Adonis is the stronger man and will have the southpaw advantage going into this fight, Donavan George is one of the hardest punchers in the division and can hurt Adonis with the straight right hand. If Don's right hand bomb can get to Stevenson's chin before the hometown fighter gets confident, he can win the fight."
While both men are fierce competitors in the ring, many fight fans aren't aware that Stevenson and George are very good friends outside of the ring.
Edwin, Adonis, and Donavan helped Andy Lee prepare for Julio Cesar Chavez Jr. this summer and spent a lot of time together in Detroit, Michigan. The three fighters even went fishing together and played on the Kronk Gym softball team collectively.
Ronnie assures the fight viewing audience that their mutual respect will have no affect on the fight's outcome.
"They could be the best of friends before the fight. But once that bell rings, they're going to try and take each other's heads off. Believe me; they're going to be vicious enemies for about an hour on Friday night. The fight fans will see, once that bell rings, all their friendship will immediately go out the window."
"It's going to be a great, great fight on Friday night!"