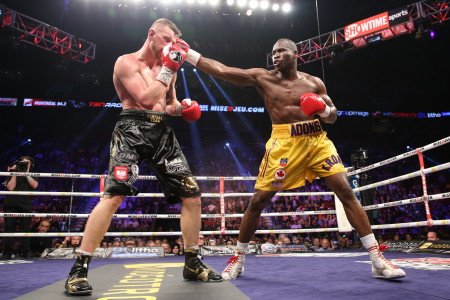 (Photo Credit: Stephanie Trapp/SHOWTIME)Adonis Stevenson won via a UD on Saturday night against Andrzej Fonfara but lost credibility as "The Superman". Perhaps he did enough to win beyond doubt and he knocked down Fonfara twice but he struggled in the second half of bout and went down himself.
Fonfara is an unheralded and light punching prize fighter but he has several years of high level amateur experience as a cadet. Amateur boxing usually instills good technique and steady skills through methodical coaching. Fonfara showed resilience and good form which helped him to survive the initial onslaught and stand his ground in the second half of the bout.
Adonis Stevenosn not only disappointed fans, he was exposed and out boxed at times by an average boxer. Despite his concussive power and good chin, Stevenson proved to be a one-dimensional fighter with rudimentary boxing technique and fragmentary skills. He had only one gear and very spurious defense. He got away with it initially when he was fresh and focused but ran out of ideas when he could not get an early stoppage. His opponent was disciplined and Stevenson was uncoordinated and sluggish. He only relied on single backhand power punches and could not throw more than two shots at a time effectively. He was essentially a "one-armed bandit" and had nothing else but a big left hand.
"The Superman" would only fight at long and mid-range and his idea of combination punching was to load up and throw a big shot, check to see how the opponent was doing and then throw another one. His jab (if any) was a lazy slow motion effort that started from the waist and ended up there. Nothing was coming behind the jab, he saved his left cross for spectacular single shot assaults. His idea of a double jab was to throw one in this round and another in the next round. He acted as if the "one-two" was a risky long flurry.
His balance, footwork and head position were unacceptable for an elite boxer. Whenever he threw a shot, he shifted his weight too far forward and lost balance. He worked form flat feet and lost balance in defense as well. His defense was to simply back away and freeze after the second shot. He backed away too far to be able to counter and his feet were out of position for him to punch at all while going backwards. When the opponent threw combinations Stevenson would take one huge backward step, then freeze and close his eyes with his mouth open. He kept his arms low and telegraphed his best shot by lowering the hand further to get momentum, bringing the shoulder back and finally firing. His game was a one way street, no pace variation and angle shifts and he moved mainly in the wrong direction. He was easy to hit and countered only if Fonfara missed, otherwise he closed his eyes like a beginner wishing the punches away while being off balance and off guard.
Stevenson's body movement was stiff and his hand defenses were non-existent. Being flat footed all the time he did not use slips and ducks effectively and his speed was limited. When he had his opponent in trouble he just did not know how to finish him, no combination punching and not enough speed and agility to apply his power at close range or through tight defense.
His rhythm and feet position were strange for a high level fighter, he needed to be flat footed and immobile to throw a shot. Moving and punching of his toes, slipping and pivoting and throwing shots, feinting and hitting seemed to be outside his skill set. His guard was down all the time, he bent forward and his defense was his offense. He deterred his opponent with his power but he was laughably easy to hit. Stevenson's coach was so frustrated he started demonstrating footwork and moves with real time speed b/n rounds 11 and 12 – he was 15 years late for that.
Rigid and out of rhythm, Adonis Stevenson seemed to be lacking a lot of boxing basics. There was no boxing fluidity in his movement, perhaps he did too much weight training but he simply did not look like a boxer last night. He should avoid Sergey Kovalev as if he has the measles and he should cross to the other side of the street if he meets Hopkins. Andre Ward and Gennady Golovkin would easily outclass "The Superman" any given day of the week.