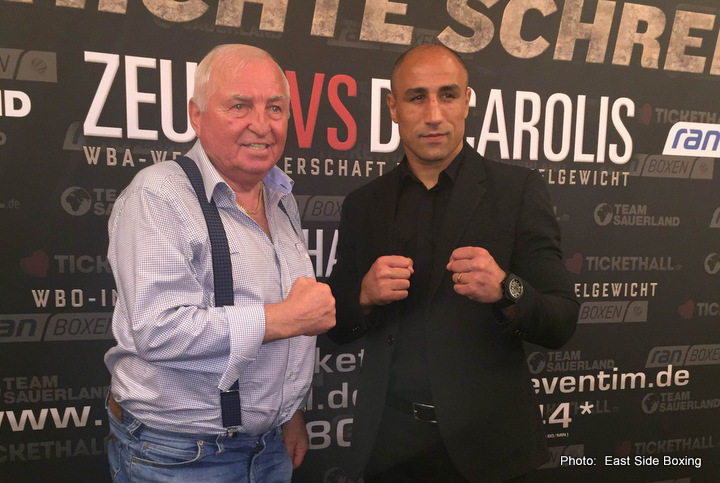 Thomas Hansvoll expects Tim-Robin Lihaug (15-1, 8 KOs) to upset the odds and score a career-defining win over former two-weight World Champion Arthur Abraham (44-5, 29 KOs) on July 16 at the Max-Schmeling-Halle in Berlin.
The Norwegian duo have been hard at work preparing for the WBO International title fight, and although Lihaug enters the bout as an underdog, Hansvoll is confident the 23 year-old has what it takes to beat an ageing Abraham, who he believes has 'lost his hunger'.
''Abraham is a legend in the sport, but I think he has lost his hunger,'' says Hansvoll. ''I've watched all his fights so I know a lot about him, and I've been a boxer too so I can tell when a fighter is a little tired of the whole thing, and I think that is the case with Abraham. He has been there and done that, and he's not so interested anymore.
''I don't want to say anything bad about him because I respect him as a fighter, and he was a hero of mine, even when I was fighting, but when you get older and you've made a lot of money, it can be hard to find the motivation. You can see that in his last two fights against Gilberto Ramirez and Martin Murray. He doesn't have the same hunger anymore, and it's sad to see.
''Tim, on the other hand, is a young up and coming fighter, and I believe the time is right for him. He knows this is his big chance and he knows he has nothing to lose. All the pressure will be on Abraham, as people don't expect so much from Tim, but we know what he is capable of and we're very confident he can win.''
Hansvoll, a thirty-two-fight veteran and former World title challenger, says he intends to draw on his own experience inside the squared circle to guide his fighter to victory.
''I started boxing when I was ten years old, and I was fortunate to have a good amateur career and a good professional career,'' he explains. ''I went to Paris to challenge Bruno Girad for the WBA World title in 2002, and I was the underdog when I beat Ole Klemetsen in 2001. I've been in similar situations to Tim, and I will use all this experience to help him.''
The WBO International Championship fight between Tim-Robin Lihaug and Arthur Abraham will provide chief support for Tyron Zeuge's WBA World Super Middleweight title challenge against Giovanni De Carolis. Tickets are available online via www.eventim.de and www.tickethall.de or by calling +49 (0)1806-570044.
Abraham faces Lihaug on July 16 in Berlin
'King' Arthur Abraham (44-5, 29 KOs) faces Scandinavian star Tim-Robin Lihaug (15-1, 8 KOs) on July 16 at the Max-Schmeling-Halle in Berlin, Germany.
Abraham returns for the first time following his defeat to Gilberto Ramirez, and the former three-time World Champion is eager to get back on the World title trail starting with a victory against the 23 year-old Norwegian
''My goal is to become World Champion again and I will not let anyone stand in my way,'' said Abraham. ''Tim-Robin Lihaug is a good, young fighter but he will learn the hard way what it takes to make it to the top.
''I never underestimate any of my opponents and I will prepare myself to be in top shape. I want to put the disappointment of losing to Ramirez behind me and prove I still have more to give. I'm looking to the future now and that starts with a good win on July 16.''
Lihaug lands a dream fight with the German star following a series of impressive performances, which have included one-sided victories over previously undefeated domestic rivals Simen Smaadal and Arne Ernstsen.
''I'm very excited about this opportunity,'' said Lihaug. ''Abraham has been a great champion for many years, but I wouldn't have taken this fight if I didn't think I could win. He is beatable and I'm coming to Berlin to win.
The Norwegian fighter believes his age and desire could prove the decisive factor in their super middleweight clash. ''Abraham is 36 years-old and has already won a lot of titles and made a lot of money, whereas I'm a young, hungry fighter, and I think that will give me an advantage,'' he says.
''This is like a World title fight to me, it means everything. I've been in training camp since the beginning of January and I will be in the best shape of my life on July 16. I want to prove myself and there is no better way of doing that than by beating Abraham.''
''This match-up has all the ingredients of a great fight,'' said promoter Kalle Sauerland. ''In one corner we have Arthur Abraham, one of the most successful German boxers in recent history, and in the other Tim-Robin Lihaug, one of our emerging stars from Scandinavia. Both men are at very different stages in their careers, but both men want the same thing – a shot at the World title!
''Arthur is aware he cannot afford another defeat, and Tim knows a victory can catapult him into international stardom. There is a lot on the line and there can be only one winner. This is guaranteed to be a fascinating match-up!''
Abraham and Lihaug's clash provides chief support for Tyron Zeuge's WBA World Super Middleweight title challenge against Giovanni De Carolis. Tickets are on sale now and available via www.eventim.de and www.tickethall.de.