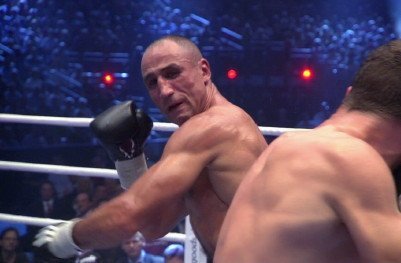 If there was any question whether Arthur Abraham (38-4, 28 KO's) is shot and needs to retire it was answered tonight with his awful to watch 12 round unanimous decision win over Giovanni De Carolis (20-5, 10 KO's) at the EWE-Arena, Oldenburg, Niedersachsen, Germany. Abraham was unable to cut off the ring and handle the little bit of movement from De Carolis during the action. I didn't see any improvement in Abraham's game whatsoever from his defeat to Robert Stieglitz.
Abraham looked like a fighter that could no longer pull the trigger on his punches. It was pretty sad to see. Abraham still had the same turtle defense that Robert Stieglitz tore into earlier this year, and it was unbelievable that he was using it against the light hitting De Carolis.
The judges scored the fight 120-108, 119-109 and 119-109. I think a more reasonable set of scores would have been 116-112 X 3.
Abraham got away with an awful lot of ugly rabbit punches and the referee just stood there letting him tee off with the punches to the back of De Carolis' head. Abraham also did a lot of shoving and shouldering during the break. I don't know why the referee didn't lift a finger to at least give Abraham some stern warnings for his dirty tactics.
De Carolis did little to try and win the fight after the third round. He constantly moved in circles playing keep away and making Abraham look uncoordinated to say the least. If it was a better fighter that Abraham was fighting tonight instead of the fringe contender De Carolis, he would have been picked apart and made to look like a clumsy, over-the-hill fighter. But De Carolis failed to make Abraham pay by not nailing him with shots despite having plenty of opportunities to do so.
Abraham will now face WBO super middleweight champion Robert Stieglitz next in a third fight between them. If all it takes for him to keep getting fights against Stieglitz is to beat a couple of fringe contenders each time instead of fighting a top #1 or #2 guy, I guess we could see Abraham fighting Stieglitz four, five and six times. But I'd like to think that the World Boxing Organization will finally step in and force Abraham to actually fight someone good like George Groves, who probably will clearly end the cycle of Abraham vs. Stieglitz fights.
Abraham's promoters need to look for the biggest fight they can get for him and then cut their ties with a good cash out fight. I don't know if Abraham-Stieglitz is the biggest fight they could make. They might be better off angling to get him a fight against Carl Froch or Andre Ward. At least Abraham would have a good excuse if he were to be beaten by them because they're clearly much better fighters than Stieglitz is.
***
Undercard results:
Jack Culcay UD 12 Guido Nicolas Pitto
Marcos Nader RTD 6 Luis Crespo
Anatoliy Dudchenko UD 12 Robert Woge
Tyron Zeuge UD 8 Achilles Szabo
Enrico Koelling KO 3 Gyorgy Marosi
Otto Wallin TKO 3 Gabor Farkas